BlackBerry GPS - Benefits and Top Apps
Published: June 20, 2012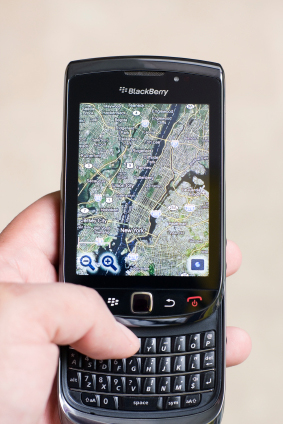 BlackBerry GPS apps make it easier than ever to keep a pinpoint on your location and navigate to where you need to be. Having GPS software on your BlackBerry can be useful for long trips or for simply finding a cafe or restaurant you've never been to before. Installing GPS on your BlackBerry is a more convenient (and usually cheaper) option than getting a specialized GPS unit installed in your car. Let's take a look at some of the basic elements of GPS for the BlackBerry, how it works, and which software and apps provide the best accuracy and most comprehensive functionality.
The Basics of BlackBerry GPS
For starters, what are the major benefits of having GPS on your BlackBerry? One of the biggest ones is security. It's reassuring to know you can access location information and directions any time, at any place, as long as you have your phone on you. It helps you avoid what can be otherwise frightening situations, such as getting stuck late at night in a part of town you don't know, or getting a tire puncture in a remote area.
On the downside, most GPS apps for BlackBerry don't offer the same accuracy and range of features as an advanced in-car GPS module. You may find the location data you can access through an app is limited to particular areas or out of date.
While some BlackBerry phones may come with GPS tracking applications already installed, in most cases you're going to have to find an app yourself and download it. Just open up the web browser on your device and find an appropriate app, then download and install it. Below we've listed some of the best apps for GPS along with some pros and cons of each.
BlackBerry GPS Software
We've examined a mix of free and paid apps to determine the best choices available. Here are some of the top picks:
BlackBerry Maps - This is a basic map app ideal for urban locations and is probably the best starting point. It will cover the needs of the majority of BlackBerry owners looking for a convenient GPS solution.
AAA Mobile - This app is recommended if you travel long distance regularly by car. The big con on this one? The price tag – at $9.99 per month, it's one of the more expensive options on the market. In short, it's not for light users but includes detail and functionality that will prove useful for someone who has demand for GPS data on a daily or weekly basis.
Mapquest Navigator - Not quite as expensive as the AAA Mobile option at $49.99 per year, but it doesn't offer the option of a lower monthly payment. This app can be more useful than the BlackBerry Maps option in some cases due to more detailed and accurate directions.
There's a wide range of other apps on the market that serve more specialized functions, but these three will cover most of the needs of the average urban traveller.
Other Uses for GPS on BlackBerry phones
A recent trend has shown GPS being used for slightly different purposes than simply getting accurate directions: it's now being used as a tool by suspicious spouses to track the whereabouts of their partners. While of course we don't encourage this type of use for GPS, it is worthy of note that GPS apps on BlackBerry phones are simply one more new technology making it easier to catch an unfaithful partner.
On a related note, some businesses are now using GPS on BlackBerry phones to keep tabs on their employees. This is a more ethical use of the technology – provided of course that the employee knows they are being tracked. In this way it can be used to ensure employees who work off-site under their own supervision are in fact where they should be.
BlackBerry GPS App Buying Tips
So how do you make a final decision on which app suits you best? Ultimately you want to weigh up how often you'll be using the app and in what contexts and then compare by price. There's no point getting a free or cheap app that doesn't provide the functions and accuracy you need, so figure out what you'll actually be using the app for most often and then find which app will do it best, for the lowest cost.
Browse all the other GPS articles and features.
---