Custom Topo Maps: Are They the Best Choice?
For the greatest flexibility in choosing United States topo maps, ordering custom topo maps is a great option. A custom topo map, centered on any area, can take the place of anywhere from 2 to 16 conventional maps. That could save you a lot of money.
Custom topo maps are available from MyTopo and AdventureStation.com. Both of these online sources create maps on state-of-the-art printers from 1:24,000 USGS maps. This is the largest scale in which USGS publishes maps. 1:24,000 means that one inch on the map equals 2000 feet on the ground. The print quality between the two companies is very similar.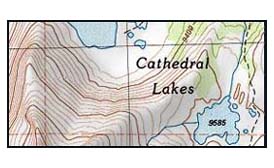 With both MyTopo and AdventureStation.com, custom topo maps can be made in a horizontal or vertical orientation and printed on plain paper, laminated paper, or waterproof and (very) tear-resistant paper called Teslin. Teslin is perfect for outdoor use. You get to choose between two types of coordinate systems (longitude/latitude or UTM) and have that system printed as a grid overlay if you wish.
Custom topo maps at MyTopo come in three sizes: 18"x24", 24"x36", and 36"x44" at four scales: 1:15,000, 1:24,000, 1:25,000, and 1:30,000. They will ship the maps either rolled or folded. The best thing about MyTopo is that they have a guarantee - if you're not satisfied with your map, simply return it for free replacement or full refund.
AdventureStation.com makes maps in many sizes. The scales they are printed in are 1:24,000 and 1:30,570. So if you need a really big map, this is the way to go. AdventureStation.com also offers a shaded-relief option and their lamination is UV resistant.
---