Golf GPS Handheld Systems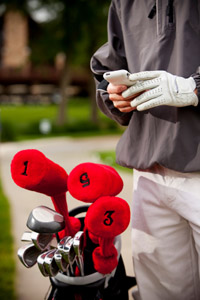 Golf GPS handheld systems are changing their functions and information by improving the once player enhancement-only devices to those that offer full course management. The reasoning behind this new golf GPS design is to provide players with the accurate distance between the course holes, the playing field, and other pertinent features such as obstacles golfers may encounter on a particular course. Itís also important to note that these GPS systems require minimal obstructions, so a course with a lot of trees may not provide a reading as accurate as a course with only a few trees.
What is A Golf GPS Handheld Device?
A golf GPS handheld device is a piece of equipment ranging in size from that of a smaller cell phone to a larger television remote which acts like a computer but has very specialized functions. A GPS, or Global Positioning System, is basically a digital or electronic map that tells you where you are, from pinpointing your exact location with degrees of longitude and latitude to stating the overall city or state in which you are currently located. This device measures distances and elevations and can show you specific details about the geography of the area you are in, such as waterways and mountains. For these reasons, the GPS came to be a useful tool on the golf course and has since been customized to cater to golfers by providing detailed course information that can impact a golferís game.
Benefits of a Golf GPS Handheld System
Many different types of golf GPS devices are available from a variety of manufacturers, each one with its own unique features and functions. Of course these unique features are just to give the manufacturer a competitive edge but overall, the basic functions and benefits of a handheld golf GPS are quite similar. Since golf GPSí have come onto the market, they have been receiving positive reviews from all different types of golfers, some brands even being endorsed by professionals.
The reviews on these products state that using a golf GPS speeds up your golf game because it allows you to take more accurate strokes, resulting in fewer swings per hole. Each hole on a course is accurately measured so that you know the exact distances and donít have to spend time looking for markers and you no longer need to worry about how far away a bunker or water hazard is from your location.
The golf GPS handheld system contains different maps, such as aerial, touch screen, rotating, or scanned images that show the depth of the course, the back yardage, and the front carry. These maps also show a significant number of obstacles at one time so that you can be aware of whatís around you and on the course even if you canít see the course challenges.
Another benefit of this type of GPS is that it helps you to decide what club to use based on the accurate information the system provides you about the course. It tells you where the smart zones are and lays out numbers such as the yardage to the hole, the bunker, the bunker in the fairway, and the lay up.
Sources of Golf GPS Handheld
When most people think of a GPS, they think of a standalone specialty device, which is how the majority of the golf GPSí are, but a couple of alternatives are available. If you want to avoid buying a golf GPS and the possible yearly fee associated with it you have the choice of simply downloading an application to your smart phone. By doing this you save money by paying a one time, small application fee and the application is a great way to try out the product so that you can determine whether or not you like it, how often you would use it, and if itís worth it for you to invest in the actual golf GPS device.
The second alternative to buying a handheld golf GPS is to link up this service to your Palm PDA or Pocket PC. Either of these options allows you to import maps from websites or via scanning and they are easy to adjust. You can input data, add notes for each hole on a course, and keep score for any number of players. Some of these services can automatically pull up the course on which you are playing and let you preview the course before you get there, giving you an advantage over your opponents.
Features
Each golf GPS has its own features as well as standard functions that can help you play a better game. Some of the things you may want to look for before purchasing a handheld GPS for your golf game include:
Course Memory
Power Source and Battery Life
Reliability
Resistance to Water
Belt Clip
Computer Compatibility
Course Library
Graphic Display/Color
Size
It is also important to consider whether or not the device is user friendly, its price, if there is a yearly subscription, and if the company provides a warranty.
The USGA
The USGA makes all the rules in the game of golf and comes out with a new book every two years based on events or individual suggestions that may change the way golf is played. Surprisingly enough, the use of a golf GPS handheld system was a topic of controversy but was finally admitted to the 2006-2007 edition of the book based on a 2005 ruling. The rule states that a golf GPS can be used during a game if it is used only to measure distance and not anything else that could impact a personís golf game, such as measuring the wind.
The approval of the USGA to use a golf GPS handheld device shows its importance in the modern game of golf and supports the benefits of its use. If you are interested in trying out this new game technology but are not quite ready to make a purchase, check with the course as many of them now rent out these devices.
Sources:
http://golfgpshandheld.com/
http://www.starcaddy.com/index.cfm
http://www.gpsbusinessnews.com/Callaway-Intros-New-Golf-GPS-Handheld_a2772.html
http://www.golflogix.com/
http://www.youtube.com/watch?v=MWSZripAjP0
http://www.usga.org/news/2005/September/USGA-Announces-New-Interpretations-Of-Golf-Rules/
http://www.gps-practice-and-fun.com/golf-gps.html
Browse all the other GPS articles and features.
---