GPS Maps: Enhance Your GPS Experience
with GPS Maps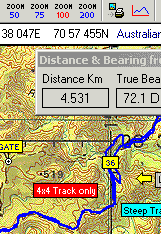 GPS maps provide point of interest coordinates, map images, route data, and track data for GPS receivers. GPS map software is made for PDAs, laptops, desktop PCs, and specific brands of GPS units. Manufacturers include Garmin, Magellan, National Geographic, TopoGrafix, and DeLorme.
(Browse all the other GPS articles and features.)
Many GPS maps have the capability to upload waypoints, routes, and tracks to some GPS units. As an example, if TopoGrafix GPS maps are listed as having this capability with a particular model GPS receiver, this does not mean those maps are compatible with all of that GPS's manufacturer's products. Find out specifically about your GPS receiver before you buy.
Free GPS Maps
There are a number of sites on the Internet that offer free GPS maps. Travel By GPS has many GPS maps from around the world. Travel By GPS has a search feature where you can enter your preference, whether it be hiking, fishing, driving, or boating.
See a complete list of free GPS maps here.
GPS Maps for Desktop PC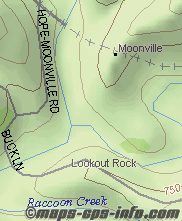 With most of the following software you can view maps, plot routes and waypoints, and usually much more. Most can be used with PDAs.
DeLorme has several choices:
Street Atlas USA 2005 offers 4 million points of interest (POI) and address-to-address routing with comprehensive GPS capabilities.
The Street Atlas USA 2005 Plus version includes 31 million business phone listings and many other advanced features.
Topo USA 5.0 has detailed topo maps. Read the full review here.
DeLorme update: (March, 2009) The topo product is currently Topo USA 7.0. There are quite a few improvements. Read a brief update here.
Using Google Maps with your Garmin GPS Device
National Geographic Topo! allows you to work with seamless raster images of USGS quads. Read the full review here.
Fugawi - Create your own digital maps from any scanned map or existing map database. Fugawi can be used without GPS to plot positions and create a GIS database.
MapTrax has a line of topo maps covering Australia and New Zealand.
ExpertGPS displays waypoints, routes, and tracks on USGS topo maps and aerial photos. For use with Garmin, Magellan, and Lowrance GPS receivers.
Maptech's Digital ChartKit for nautical applications runs on a PC, displaying your real-time vessel position and key navigation information. Available areas are much of North America, Central America, northern South America, much of Europe, South Africa, and New Zealand.
GPS Maps for PDAs
DeLorme Street Atlas USA 2005 Handheld creates address-to-address routes anywhere in the U.S. directly on Pocket PC and Palm OS handheld computers.
MapTech Outdoor Navigator includes easy download access to over 60,000 USGS topographic maps and NOAA nautical charts. For $19.95 you get the PDA software and unlimited map downloads. Can be used with or without GPS.
Microsoft Pocket Streets 2005 gives you GPS maps for your Microsoft Windows Mobile–based device or Smartphone. Find points of interest for most of North America and Western Europe.
Brand-Specific GPS Maps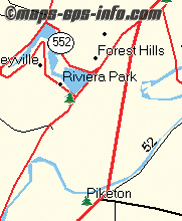 Garmin has a large number of MapSource CDs that cover city streets and metro areas, roads and recreational points of interest, lakes and fishing spots, and topo maps.
Magellan's line of GPS maps are the MapSend series. They have many CDs for roads and highways, city streets, topo maps, and nautical charts.
Generating custom Garmin GPS maps
Here is a link to an article that gives step by step instructions for generating a map which is downloadable to Garmin GPS receivers. Generating Custom Garmin Maps
See related information at Free GPS Software.
Browse all the other GPS articles and features.
---