GPS PDA: An Introduction to Using a PDA as a GPS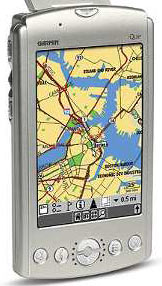 Interested in a GPS PDA? Just so we're all on the same page here, a personal digital assistant (PDA) is one of those little hand-held computer gadgets that people are always poking with little sticks.
(Browse all the other GPS articles and features.)
Actually, many people find them indispensible. You can use them for a calendar, notes, calculator, mail and contacts. There's more: PDAs can become a phone, a camera, and of course, a GPS receiver. A great site all about PDAs is MobileTechReview (formerly PDA Buyers Guide).
Two Main Operating Systems
There are two major types of PDAs: Palm operating system (OS) and Pocket PCs. Palm OS PDAs are made by Palm, Sony and Handspring. Pocket PCs are made by many companies, including HP, Toshiba, and Dell. They have touch screen LCDs which respond both to the stylus and your finger, and most have color displays. Because the PDAs' screens are larger than most handheld GPS screens, the PDAs are great for displaying maps.
GPS PDA Form Factors
There are several ways you can have a GPS PDA:
For an explanation of each of these (except sleeve), see Pocket PC GPS. For an explanation of sleeve, see GPS iPAQ.
Related Information
For GPS PDA information relating to Palm, click here. For Pocket PC GPS, click here. Although iPAQ is considered a Pocket PC, it is popular enough that we have a separate page for that. Go here for GPS iPAQ information.
Browse all the other GPS articles and features.
---