GPS Personal Locators: High-Tech Peace of Mind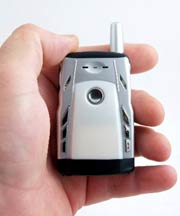 Technology over the past few years has taken what originally seemed beyond the grasp of the individual to a tool that fits into a person's pocket. Prime examples of that technology are GPS personal locators, devices that utilize GPS (Global Positioning System) to keep track of individuals.
(Browse all the other GPS articles and features.)
Most GPS personal locating systems operate like this: the device that the person carries contains a GPS receiver. The device transmits the GPS data over a GSM/GPRS (cell phone) system. Depending on the system, the location data can be accessed on a website or transmitted to a control center, which then contacts the appropriate people. Many of the systems that allow information access on a website let the user see the GPS location in real-time on a moving map.
Other systems work by sending the data by satellite instead of a GSM/GPRS system. Although considerably more expensive, the use of satellites to transmit location data has the advantage of working almost anywhere on earth, while a GSM/GPRS system has limited geographical coverage.
Most systems cost about what cell phone service costs per month. That is in addition to the cost of the equipment, which ranges from less than $200 to over $4000.
Cell phones can be used to track people. However, with most cell phones the user can't access the GPS data. The data is received by a location-based service provider or 911 dispatcher who then directs the information to the necessary personnel. For more information, see GPS Cell Phones.
Examples of GPS Personal Locators
Wherifone GPS Locator For Children is a small GPS cell phone. A parent can find a Wherifone via Web or phone access, and see its location on a street map or an aerial photo. One can also see where the phone has been throughout the day. These are only available in the USA.
Enjoy this interesting GPS personal locator demo
Alzheimers patients also benefit from the use of GPS personal locators. Such persons often wander off and consequently are in a potentially dangerous situation. With a service such as provided by SekurCell, one can easily locate the patient. Once fully charged, the SekurCell's battery can last anywhere from 5-10 days, depending on usage. You can locate the missing person on demand 24/7 from SekurCell's web portal.
GemTrac provides GPS personal locators with multiple options. Web-site based and controlled by a password security, the system includes several programmable features. An SOS button sends the current location to preset email or phone numbers; Emergency Voice calls two preset phone numbers; and Emergency Audio allows the tracker to hear ambient sounds surrounding the GemTrac. The service also offers a Geofence/Safety Zone feature, which allows a parent to set a geographical "safe zone" for the child. If the child leaves the area, the GemTrak notifies the parent. This feature is also good for elderly or injured adults, particularly for Alzheimer's sufferers, who may not even realize they need help.
SPOT Satellite Messenger is another type of GPS tracking device. The size of a small walkie-talkie, SPOT provides the same type of emergency alert button, but is the only tracker which uses the GPS satellite network and links the location to GPS maps. In addition, a preprogrammed voice message can be added to the signal.
PocketFinder® is a water proof and rugged GPS personal locator, that has three different models for people, pets and vehicles. Is has a very easy to use system, you only have to login with your details to a website address that they will provide and from there you will be able to locate anyone or anything that you want.
Zoombak is another GPS personal locator that offers three different models, starting with $99.99 plus a service plan fee. This GPS locators can be use just as PoicketFinder, with people, pets or cars.
Rodsum also offers different types of GPS personal locators that may be just what your looking for to buy for your children or pets.
Several companies offer GPS personal locators and each may provide a wide range of options. In the same manner of cell phones and home security systems, the cost of GPS personal trackers includes the equipment (receiver) and a fee for monthly monitoring. Prices vary depending on features and options. Receivers start around $100 for a receiver and at least $20 per month for monitoring.
Note that though the GPS is world-wide, not all receivers are capable of monitoring the entire world. Be sure to inquire as to the range of the receiver before making a purchase.
See related information at GPS Cell Phone Tracking.
Browse all the other GPS articles and features.
---