GPS Review - Garmin iQue M5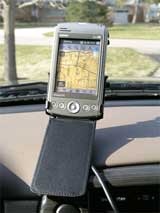 March, 2005
by: A. Lamar
Introduction:
Featuring the latest Microsoft® Pocket PC software, Windows Mobile™ 2003 Second Edition, the iQue M5 supports portrait/landscape screen orientation for easy viewing of documents, videos, and web content. The embedded Bluetooth® transceiver allows the user to establish a personal-area network with computer systems and Bluetooth-enabled devices such as mobile phones, other PDAs, and printers. The flip-up antenna is adjustable for best GPS reception. The MapSource City Select CD-ROM includes more than five million points of interest (POIs) in the U.S. and Canada.
This place often has the best GPS prices...
---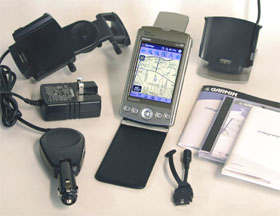 What You Get:
iQue M5 organizer with GPS
Automotive windshield mount with integrated charger and speaker
protective flip cover
metal stylus
USB ActiveSync cradle
AC power/charging adapter
Quick start guide
Installation and application CD-ROM with manual
MapSource City Select North America v6 CD-ROM
Optional accessories:
Leather carrying case
Automotive friction mount
Travel kit
external GPS antennas
MapSource CD-ROMs
---
What It Does: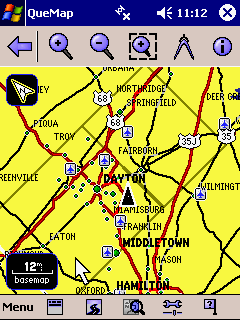 The iQue M5 has five main navigating pages (shown at right and below). The Map Page has the option of a Pan Toolbar which allows you to zoom in and out, measure distance, and display location information. It also gives you the option using the pan tool or zoom tool. Tapping the Scale icon brings up the choice of scales from 800 miles to 120 feet. At the bottom of the screen is an icon that cycles through showing navigating directions, navigating directions and trip data, or hide these two items. Other icons are Find, Route, Map Detail, and Where Am I?
On any of the Find Pages you can search for a destination by:
Near Current Location
By Name
Near Route Destination
Near Other
Near Current Route
Near Map Pointer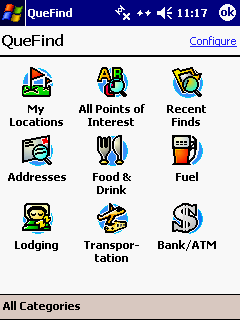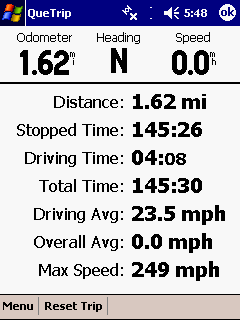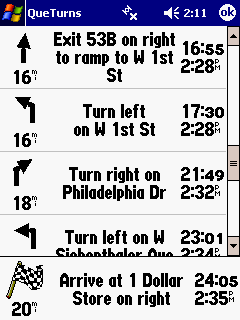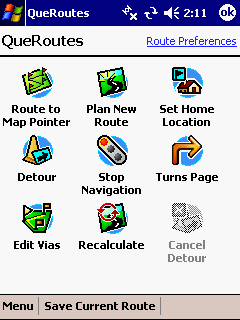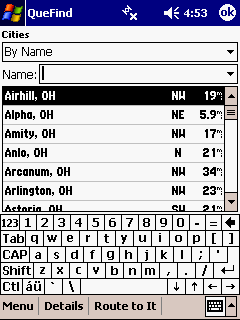 You can see on the Point of Interest (POI) Find Page above, some of the categories available. In addition to the Find choices shown are: Services, Transportation, Emergency and Government, Manmade Places, Water Features, Land Features, Anchorage, Facilities, Fishing Sites, Navaids, Marine Services, Restricted Areas, Wrecks and Obstructs, and Tides.
With the Find Cities page (at right) you can scroll through the list and choose the city or you can use the keyboard and type in the city. The Find Addresses page (not shown) has fields which you can fill in or select from a list. If you're looking for a street that has a prefix (like "North") you choose the root name (such as "Main") and the M5 prompts you to select the prefix from a list.
Using Routes
One way to easily create a route is simply choose a point on the Map page and tap the QueRoutes icon. Complex routes involve extra stops called "Vias." Vias can be added and rearranged at any time. You can even tell the M5 to determine the most logical order. During an active route you may want to detour from the original route because of traffic or construction. You can detour around a certain length of your route or a certain turn.
You can set the M5 to avoid certain types of roads when creating routes. For example, if you choose to avoid U-turns, the unit does not create a route involving a U-turn unless absolutely necessary. You can also completely avoid specific roads or specific areas so that the M5 will never create a route that included that road or area.
The iQue M5 integrates GPS functions with Windows Mobile software so that you can create routes to your Contacts. For each Contact, you can create a special Location that contains GPS information. Then, just open Contacts and create a route. Another potentially useful feature is Routing to Appointments. The M5 has integrated GPS functions with the Calendar so that you can create routes to your appointments. For each appointment, you can create a special Location, just as you can in Conacts.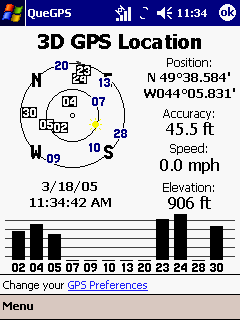 Customization
The M5 has many ways of customizing most of the functions. Here are a few:
Language
GPS mode - WAAS or battery saver
Units - distance, speed, direction, elevation, and depth
Map orientation
Map color
Map detail
Off-road navigation
Data fields - customize the data fields that appear at the top of the Map page by changing the color and the amount and type of fields that appear
Zoom options - control which map elements appear at a given zoom level
Additional Features
Measuring distances - Using the Distance tool on the Pan Toolbar, you can measure any straight-line distance on the map.
Track logs - Tracks are like little footprints that show you exactly where you have traveled. Each footprint, or track point, contains information about your position and speed and the current time. You can save your tracks and display them on QueMap.
Almanac - Using data from GPS satellites, the M5 can provide information about sun and moon positions and predict the best times for hunting and fishing. You can view sun and moon or hunting and fishing information for any given date and location.
---
Specifications:
Physical:
Size: 5"H x 2.8"W x .8"D (127 x 72 x 20 cm)
Weight: Appr. 5.99 ounces (166 g)
Display: 3.5" diagonal (53 x 71 cm), 240 x 320 pixels, QVGA transflective TFT display, 64K colors
Antenna: flip-up adjustable
Performance:
Receiver: 12 parallel channel WAAS-enabled
Acquisition time: Cold – appr. 45 seconds
Warm - appr. 15 seconds
First time - appr. 2 minutes
Update Rate: 1 second continuous
Position Accuracy: less than 15 meters (49 ft)
less than 3 meters with WAAS

Navigation:
Tracks: 25, with 1500 points per saved track and maximum of 10,000 active track points
Routes: automatically calculated with turn-by-turn instructions
Number of Routes: 50, with up to 50 points per Route
Trip Computer: resettable odometer, timers, average and max. speeds

Power:
Source: Removable 1,250-mAh replaceable lithium-polymer battery delivering 5-7 hours of continuous PDA/GPS use or 12VDC from vehicle
Internal system:
Operating system: Windows Mobile Edition 2003 Second Edition
Embedded capabilities: GPS, IrDA, integrated Bluetooth transceiver, and vibrating alarm
Audio hardware: Microphone, speaker, 3.5mm stereo headphone jack, MP3 player, and message playback
Networking: Bluetooth, IrDA, SDIO, USB
Processor: 416 MHz Intel® PXA 272 Xscale® processor, dedicated 48 MHz ARM7 GPS coprocessor
Internal memory: 64MB RAM, 64MB ROM
Expandable memory: SD

Standard applications:
QueMap, QueFind, QueGPS, QueTrip, QueRoute, QueTurns System Manager, BTExplorer (by Stonestreet One) Sprite Backup (by Sprite Software)
Moving map features:
Basemap: Built-in routable basemap contains state and country boundaries, lakes, rivers, streams, airports, cities, towns, coastlines, state and interstate highways, local thoroughfares, and secondary roads within metro areas CD-ROM: Accepts downloadable map detail from Garmin PC-based MapSource® City Select® CD-ROM which provides street-level detail, addresses, listings of nearest restaurants, hotels, ATMs, and more
Price:
Suggested Retail: $749.99 USD
Mean Price Available on Internet: $647.00 USD
---
Practical Use:
Installing the battery is the first step. One nice thing about the M5 over the iQue 3600 is the fact that the M5 has a removable, rechargable lithium-ion battery. Then the M5 gets placed in the well-built cradle for charging. After four hours of charging it's time to insert the Companion CD into the PC. From this CD I install Microsoft Outlook and ActiveSync. Next the USB cable attached to the cradle gets connected to the PC. After synchronizing, maps are loaded onto the M5. The unit will accept an SD card if you find you need greater capacity for maps.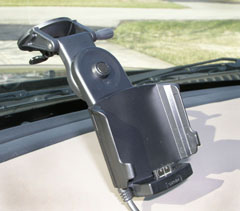 The vehicle mounting bracket is the suction cup type and it seemed sufficient to hold the M5. The one thing I think is a negative, albeit a small one, is that the vehicle mounting bracket has the power wire permanently attached. It would be handy to have the option to use the M5 wirelessly as it does have its own battery. Another small nuisance is the leather screen cover. It's nice to have but it does look kind of sloppy hanging there on the dashboard. It can be removed completely, but then there's just one more thing to keep track of. I'm not through yet. The stylus cannot be inserted or removed while the M5 is mounted to the windshield.
The GPS is activated by moving the antenna out of its resting position to any one of the four active positions. Satellite acquisition was quite quick at less than 30 seconds on a cold start. Signal strengths were very good and the M5 seemed to keep a good lock in questionable situations (such as tree cover, tall buildings, etc.). I suspect that the flip-up antenna being away from the body of the M5 has something to do with the good performance.
For one test I chose a destination that would take me through some unconventional traffic situations. For instance I came to one point where the voice instructions say "keep left." Well, "left" was really "straight." It was at an intersection that had a road diverging off to the right. So in a sense, the directions were correct in saying "keep left." In this case it meant "as opposed to right.
When you need to make two maneuvers in rapid succession, the voice will prompt both maneuvers at the same time i.e. "Turn left and arrive at destination on right" so you can be prepared to go the correct way. For one destination I chose "All Points of Interest" and used the keyboard to "type" the name. Using the stylus on the on-screen keyboard was a challenge. I have somewhat shaky hands and I kept either choosing the wrong key or would double-strike a key. I did notice, however, that over a period of time I got a little better at using the keyboard.
One other nice feature worth mentioning is the ability to choose between night, day, and auto for the display. "Day" is just a normal looking display and "night" is configured to be easier to see for night driving. Auto will automatically switch from day to night when the sun sets. Another convenient feature is that when navigating a route, the map automatically scales to show the next turn. The M5 does so many neat things that there's too many to mention them all here. Suffice it to say that if you want it to do something a certain way, chances are it will do it.
---
Cons and Pros:
Cons:
Screen occasionally difficult to see in certain sunlight situations.
Package does not include a manual for the PDA functions.
Pros:
The convenience of a PDA and GPS in one.
Replaceable battery.
Unit has many useful functions.
---
Conclusion:
If you're buying the M5 because it's a cool new gadget, I think the price is a bit much. But if you really can make use of a PDA and GPS, you would be getting a good product by a very reputable manufacturer. The negatives are small and for most people, insignificant.
This place often has the best GPS prices...
---