GPS Review - Garmin eTrex Vista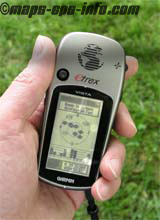 April, 2004
by: J. Chartwell
Introduction:
The eTrex Vista is small and it has only five buttons on the sides of the unit plus a "Click Stick" button on the face for easy operation. This unit is packed with features. The eTrex line also includes the basic eTrex, Camo, Venture, Summit, and Legend. All 6 eTrex units are in similar cases but vary in color. The eTrex Vista has map support for Garmin's MapSource CDs.
This place often has the best GPS prices...
---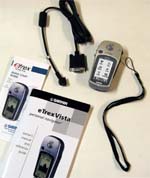 What You Get:
The Garmin eTrex Vista GPS receiver
lanyard
owner's manual
quick-start guide
PC data cable
Optional accessories:
Carrying case
Belt Clip
Auto Power Adapter
Data Cable (bare wires)
Bicycle Mounting Kit
PC Cable/Auto Power Adapter
MapSource Map Data CD-ROMs
---
What It Does:
All information needed to operate the eTrex Vista is found on six main display screens called 'pages.'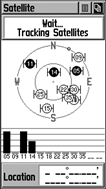 The Satellite Page provides a picture of satellite signal tracking, tells you when the unit is ready for navigation, and shows your location coordinates. On the Satellite Page is a "Skyview" graphic that represents a view looking up at the sky from your current location showing satellites and their assigned numbers. Also shown on this page are signal strength bars for each satellite. The stronger the signal, the taller the signal bar.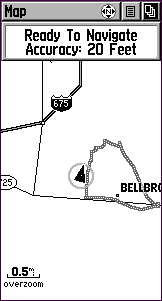 The Map Page displays your present position and direction of movement using a triangular 'Position Icon' that is centered on the map. As you travel the map display leaves a "trail" (track log) of your movements. The map also displays geographic details such as major rivers, lakes, highways, and towns. A higher level of detail can be obtained by downloading maps from a CD ROM mapping program. The map scale can be changed from 120 feet to 500 miles.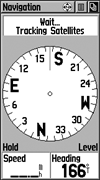 The Navigation Page provides active guidance with a rotating compass ring that shows your course over ground (track) while you're moving and a bearing pointer to indicate the current direction to your destination (bearing) relative to the course over ground. The Compass Ring works as an electronic compass (which can be turned on or off) functions as a magnetic compass when you are stationary. Or, when the compass is in the on mode and you are moving, the heading is controlled by the GPS receiver. The Status Window at the top of the page shows you the name of your destination, the distance, and the time to go. Two data fields are provided, and can be programmed to display a variety of navigation data. The "bent" (bearing) pointer arrow alerts you to the upcoming turn while you are navigating a route. When you get within 15 seconds ETA of the current point, the pointer "bends" to indicate the direction of the turn to the next point while still showing the direction to the current point.
The Altimeter Page provides you with a variety of elevation information: A status window that displays current elevation and current rate of ascent/descent, a profile of barometric changes overtime, and two user-selectable data fields. The status window is located at the top of the page and displays the current elevation and your current rate of ascent or descent when moving. It can also display the ambient barometric pressure. The profile field is located in the center of the page and can be configures to display either elevation or ambient barometric pressure plots as selected from the altimeter page options menu. Data fields at the bottom of the page are user-selectable and display a variety of recorded or current data. The page options menu allows you to select the type of information and how it is to be displayed. Page options include: 'Plot over time', 'plot over distance', 'view elevation plot', 'view pressure plot', 'zoom ranges', 'view points', 'reset', 'calibrate altimeter', and 'restore defaults'.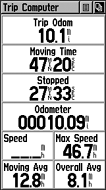 The Trip Computer Page provides a variety of data fields with read-outs of current information as you travel. There are over 27 data field options and definitions such as bearing, elevation, ETA, heading, speed, and trip odometer.

The Main Menu Page provides you with a directory of the eTrex Vista's advanced features. From the Main Menu Page you can mark and create new waypoints; find map items such as cities, interstate exits, addresses, points of interest, etc.; create routes; save tracks; setup system operating features; or access and use unit accessories.
---
Specifications:
Physical:
Case: Fully-gasketed, high-impact plastic alloy, waterproof to one meter for 30 minutes
Size: 4.4"H x 2"W x 1.2"D (11.2 x 5.1 x 3.0 cm)
Weight: Appr. 5.3 ounces (150 g) with batteries; 3.7 ounces (105 g) without batteries
Display Size: 2.1"H x 1.1"W (5.4 x 2.7 cm) backlit LCD
Antenna: Built-in patch
Temperature Range: 5 to 158 degrees F (-15 to 70 degrees C) (operating)
User Data Storage: Indefinite – no backup battery required
Performance:
Receiver: Differential-ready, 12 parallel channel
Acquisition time: Cold – appr. 45 seconds
Warm - appr. 15 seconds
First time - appr. 5 minutes
Update Rate: 1 second continuous
Position Accuracy: less than 15 meters (49 ft)
1-5 meters (3-15 ft) with DGPS corrections (requires optional differential beacon receiver input)
Less than 3 meters (10 ft) WAAS with DGPS corrections (requires optional differential beacon receiver input)
Navigation:
Waypoints: 500 with name and graphic symbol
Routes: 20
Map datums: over 100
Tracks: 10; automatic track log
Position formats: 18
Electronic Compass accuracy: +- 2 degrees (+-5 degrees at extreme latitudes)
Barometric Altimeter accuracy: 10 ft; Range: -2000 to 30,000 ft
Power:
Input: Two 1.5 volt AA batteries
Battery Life: Up to 12 hours
Price:
Suggested Retail: $214.27
Mean Price Available on Internet: $159.50 USD
---
Practical Use:
The eTrex Vista is quite small, but not as small as Garmin's Gekos. It has a band of rubber around the sides, top and bottom, giving a good grip and feel. The rubber-covered battery compartment door helps to resist sliding around on the dashboard or console when used in a vehicle. A bayonet-type latch makes access to the batteries easy.
My test unit took a quick 73 seconds TTFF out of the box. Subsequent cold starts were about 45 seconds. During a 1.5 mile "neighborhood test walk," the eTrex Vista had an estimated location accuracy of as little as 15 feet. Marking waypoints and naming them for selected locations was not as easy as the more basic units, but that is to be expected from a device that does as much as the Vista.
The "Goto" feature is fundamental to a GPS receiver. After reaching the most distant point of my walk, and enabling "Goto," the screen displayed the direction I needed to go to reach my starting point. As I followed the indicated direction, the time to arrival and distance is also displayed. The distance is shown in miles down to one-tenth of a mile, then switches to feet (if units has been set to statute). Upon arriving at my starting point, the distance remaining was within 60 feet of being accurate.
Another useful function is the "TracBack." On a separate test I walked to a certain point, then enabled the TracBack on the eTrex Vista. This allowed me to retrace my route back to the beginning. The compass arrow was fairly accurate in guiding me to my starting point. A handy feature was the screen displaying "approaching turn" when I got close to a point where I needed to make a sharp turn.
I wanted to use the route feature, so I plotted a route with Garmin's MapSource software and downloaded the route to the eTrex Vista. I enabled "navigate" and followed the pointer on the compass face. The unit maintained an adequate signal on the console of my car (not up on the dashboard). The pointer indicates the intended direction of travel and "bends" (it actually looks more like "broken") when approaching a turn. I had so much fun doing this I did it twice!
The owner's manual says "The eTrex Vista is designed to be held and operated in the left hand, but it can be held and operated using the right hand as well…" It can, of course, be operated in the right hand, but using the Click Stick obstructed the view of the screen. Another minor irritation was the use of the Click Stick. The Click Stick is a five-way switch (up, down, left, right, and press in). Occasionally, I would intend to push it up, down, left, or right and actually pressed it in (or vice-versa).
Testing under conditions of moderate foliage cover and next to 60-foot sheer cliffs showed that the eTrex Vista held its signal fairly well, and maintained a lock enough satellites to enable me to navigate.
---
Cons and Pros:
Cons:
Small screen size
Battery life somewhat short
Difficult to find "hold level" position (necessary for compass accuracy)
Pros:
Good TTFF
Good retaining of fix
Lots of features
---
Conclusion:
The eTrex Vista has WAAS capability which means significantly improved accuracy. This is one advantage over the eTrex Summit. Being of the more expensive handheld GPS units, it has just about as many features as a handheld can have. The calendar and calculator can actually be quite practical. Also included is the "Jumpmaster," an accessory for skydivers. The screen size is small, but it has a higher resolution than the less expensive half of the eTrex line, allowing more information to fit on the screen. If you can justify the higher cost by determining how much you will use the additional features, then the eTrex Vista is a good choice.
This place often has the best GPS prices...
---