GPS Review Magellan RoadMate 500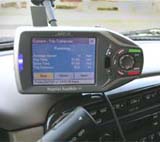 Octobor, 2004
by: J. Chartwell
Introduction:
The Magellan RoadMate 500 portable auto navigation system has voice prompting, turn-by-turn guidance and touch screen technology. It calculates your route and automatically updates your directions when you decide to take a detour. Easily download the regions you travel in (up to 100 MB file size) to the included memory card, from 4 CD ROMs containing advanced mapping of the entire U.S. and Canada. Freely download and overwrite new maps before traveling to new regions. A comprehensive list of points of interest in your selected area makes it easy to choose your destination quickly. Search by name or category for gas stations, restaurants, hotels, ATMs, sights, amusements and more.
This place often has the best GPS prices...
---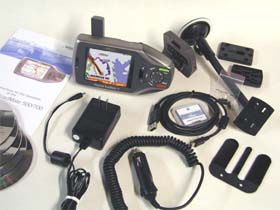 What You Get:
RoadMate 500 receiver
Cradle
Windshield mount
USB cable
AC power cable
Auto power cable
PC application Quick start guide
Basic user's guide
128MB Compact Flash card
Reference guide CD-ROM
Application & map CD-ROMs
Optional accessories:
External Antenna
256 MB pre-authorized CF memory card
Travel carrying case
Swivel mount adapter
Protective pouch
Portable dash mount
---
What It Does:
Select Destination
The first thing to be done is choose a destination. A destination can be created by entering the street address that you want to go to. You have two options, "Search By City" or "Search By State." Use "Search By City" when you know the city that the address can be found in. Use "Search By State" when you don't know, or are unsure of the city name. You will be given a listing of all the cities for the state you select that have the street name you are looking for.
The Address Book can store up to 100 addresses for each of the three users you have available. When you select "Address Book" you are given three options. Selecting "Previous Destinations" lets you select from a list of the last 20 destinations you had visited. You may also save an address from the Previous Destination list to your address book. "List Addresses" displays a list of all the addresses you have in your address book. "Create New Entry" lets you create a new address and put it in your address book and at the same time, set it as your destination.
Points of Interest (commonly referred to as POI's), are locations of commercial, recreation landmarks or services that are preloaded into the Magellan RoadMate. These range from restaurants, parks, gas stations, banks to schools and police stations. The purpose of the POI database (accessed through the "Dining, ATM, Gas..." menu option) is to provide you a list of popular destinations that you might be interested in going to, without having to add them to your address book manually. These POI's are very useful while traveling in an unfamiliar city.
An intersection of two streets can be used as a destination for your trip. The search for the intersection can be done whether or not you know the city. If you know the city, you can start there, if you are unsure of the city, you can start with the state.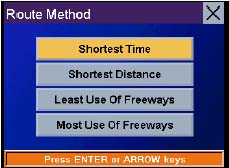 Route Method
Every route calculated is based on the Route Method criteria selected. Every time a new destination is selected, the Magellan RoadMate prompts you for the method that will be used to calculate the route. There are four methods available:
1) Shortest Time: This selection calculates a route that should take the least amount of time using speed limits and other information in the database. Other factors, such as traffic conditions, cannot be used in the calculation of shortest time.
2) Shortest Distance: This option calculates the route using the most direct route to the destination. This route may not be the fastest due to lower speed limits, left turns or other factors.
3) Most Use of Freeways: This selection calculates the route using freeways as much as possible.
4) Least Use of Freeways: This selection calculates the route avoiding freeways whenever possible.
Traveling to Destination
The Magellan RoadMate has three screens you can use to assist you in traveling to your destination: the Guidance screen, the Maneuver List screen and the TrueView 3D screen.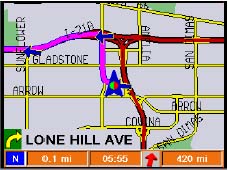 Guidance: When a new destination is selected and calculated, the Guidance screen is displayed. This screen displays a map of your surrounding area along with the planned route and information about the route. This screen can also be accessed when you have no route by selecting the "Map" button or by pressing the View button while viewing the Select Destination screen.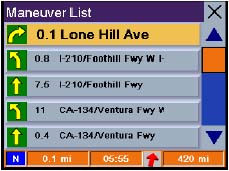 Maneuver List: This screen is available only when your are traveling to a destination This screen displays a list of the maneuvers you will need to follow to arrive at the destination. It can also be used exclude a maneuver and re-route you to your destination. To access the Maneuver List screen, press the View button while viewing the Guidance screen.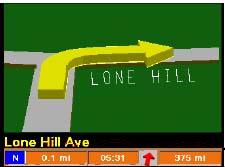 TrueView 3D: This screen displays the next maneuver as a 3D graphic. It will help you know which lane to be in and provides you with an easy to follow picture of the next maneuver. To access the TrueView 3D screen, press the View button while viewing the Maneuver List.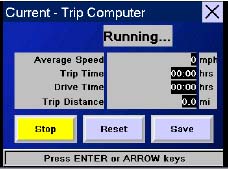 Trip Information
The information for a trip can be saved to the Magellan RoadMate as a report and viewed at any time, providing you easy access to previous trip information as well as the one you are currently on. When you begin a new trip and you need to record the information, access the Trip Computer. There you can save the information displayed for the current trip (if needed) and reset the Trip Computer to zero in preparation for your new trip.
---
Specifications:
Physical:
Size: 3.25"H x 6.5"W x 2.0"D (8.26 x 16.5 x 5.1 cm)
Weight: 10 ounces (284 g)
Display: 2.25" x 3.0" (5.7 x 7.6 cm), High resolution TFT LCD full color display automatically adjusts to lighting changes

Points of Interest
Over 2 million Points of Interes
Price:
Possibly as low as less than $700.00 USD
---
Practical Use:
To start using the RoadMate 500 you first install the PC application software and insert the supplied 128MB CF card into the receiver. The application, called the Data Extraction Tool, allows you to select the region(s) for which you want maps. The Tool tells you how much room is on the memory card (about 122MB) and each region is labeled as to how much memory it needs. Many of the regions are such that only one or two can be uploaded to a 128MB card at a time meaning that purchasing a larger card is possibly a necessity if you will be traveling any distance. With this system it is not possible to view maps and create routes on your PC.
When it came time to install the RoadMate 500 in my vehicle, I was skeptical of the suction cup mount. After using it though, I wouldn't hesitate to rely on it for normal use. The display was somewhat difficult to see in direct sunlight but I don't think it was any more of a problem than other makes or models.
There are 14 tutorials (on the RoadMate itself) that are helpful in learing how to operate the unit. Searching points of interest by name often required careful attention to detail. For instance leaving out an apostrophe out of the name of a popular pizza place returned only two locations that were many miles away. Adding the apostrophe brought up 100 locations.
After having chosen my destination, the RoadMate 500 quickly calculated the route. Next I have the choice of Shortest Time, Shortest Distance, Least Use of Freeways, or Most Use of Freeways. After telling the unit I wanted Shortest Distance, the display changed to a map with the route highlighted in an easy-to-see purple (although the color of the map can be changed to several configurations).
The voice guidance volume seemed adequate but may occasionally may be hard to hear if there is a lot of noise in the vehicle. Announcements of approaching intersections were made about one-half mile in advance, then again about 400 feet away. A chime sounds just before the turn. Following the cursor on the map compared to my actual location proved that accuracy was quite good. I should note for those that have a technical inclination, you cannot see individual satellite strength or satellite position with this unit. General satellite signal strength is indicated on the map page by a color code.
---
Cons and Pros:
Cons:
Display can be difficult to see in some sunlight conditions.
No satellite info page
No ability to view maps or create routes on the PC
Pros:
Useful tutorials
Generally easy to operate
Many ways to customize the functions
---
Conclusion:
The user interface on the RoadMate 500 was rather simplistic which is good if all you're concerned about is just getting from point A to B. If you're a little technical, you may be disappointed in the lack of some features like not being able to see individual satellite strengths and satellite position. Also, if you want to view maps and plot routes on your PC you'll have to look at another model. For the average user, there are no other reasons not to be pleased with this unit.
This place often has the best GPS prices...
---