Handheld Marine GPS Offers Flexibility and Security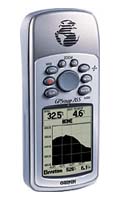 Sailors, fishermen, and recreational boaters all have a great need for accurate, timely information relating to navigation. The recent explosion of GPS navigation tools has added valuable resources to every water-loving explorer.
(Browse all the other GPS articles and features.)
A variety of software, hardware, and subscription services can be used to find the perfect combination for your needs. The first order of business, however, is to determine what type of GPS unit you will use on your boat, ship, or raft.
Benefits of a handheld receiver
GPS receivers are as diverse as their applications. Mounted onboard systems, laptop computers, and handheld devices are common ways to receive GPS data in the marine navigation world. Each system has advantages, but the most versatile is a handheld marine GPS unit.
Handheld marine GPS units enable users to perform a variety of functions critical to marine navigation and can also cross over to land applications. The same GPS unit can be used to plan your trip to the coast and your trip away from the coast…a true masterpiece of modern technology.
While the screen on a handheld unit is often quite smaller than a mounted on-board system, the quality is the same. The same harbors, docks, peninsulas, islands, and lighthouses are available on a handheld device. The typical unit has up to 128 megabytes of internal memory - adequate for most any adventure.
Many handheld marine GPS devices, including the Garmin GPS Map 76cx, include a microSD card slot that enables the unit to handle optional maps, pre-planned routes, or other data. The devices can easily be synced with a laptop for easy viewing and then removed from the boat when a shore trip beckons.
Marine handhelds differ slightly from the typical handheld GPS unit. For example, marine devices are waterproof (for obvious reasons) and float in water. Careless fumbles or stiff breezes don't mean the end to your investment, although it might mean taking an unplanned swim. Marine units also feature chart-plotting functions that cater specifically to marine navigation.
There is nothing quite like feeling the breeze coming off of the water as you glide effortlessly across a lake, river, or ocean. There is also nothing quite like being stranded in an endless sea of nothingness without the slightest idea where to turn. Marine GPS software is the antidote to disorientation - it can take away your worries and fears. The only thing it won't do is make an excuse for missing work...but you probably already know how to do that.
What do they cost?
Brand names like Garmin and Magellan have embraced the marine GPS navigation world and provide several models to suit any need. Handheld marine GPS units from these manufacturers range from $175-$375. Accessories include extra disk storage, expandable antenna, suction cup mount, and carrying cases.
There is a handheld marine GPS device for every need. These ultra-versatile units will make your next water adventure, and every one after that, a time to remember.
See related information at Marine GPS and
Browse all the other GPS articles and features.
---