Handheld GPS: Navigate the World
From Your Hand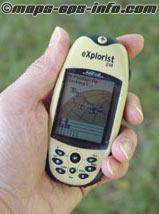 There are different forms of GPS. A few of the most common ones are:
Automotive
Handheld
PDA
Laptop
Aviation
Marine
(Browse all the other GPS articles and features.)
Handheld GPS units can vary somewhat in size. The smallest ones are about the size of small cell phones. The largest ones are the size of a typical television remote control.
They are self-contained, meaning there are normally no external attachments. There are some exceptions:
Some receivers can run on external power, such as from a car
A few models have a jack for an optional external antenna
Some units can be connected to a laptop or PDA for expanded uses
Although a GPS PDA is hand held they are treated here as a different class.
Read handheld GPS reviews here
What are the uses for a handheld GPS?
Handheld GPS units are used mostly for hiking and hiking-related activities such as hunting and geocaching. They can be adapted easily for automotive, bicycle, or marine use with optional mounting kits.
See a handheld GPS in action
Handhelds receive signals reasonably well in cars, but they don't work well for a major function of automobile GPS - driving directions. Unless there is a passenger to navigate, it would be unsafe to for the driver to rely on the handheld GPS, as it has no voice guidance.
Advantages and disadvantages
Cons:
Limited features
Small controls
Pros:
Less expensive than other forms
Can be used for many applications
Can be adapted from one application to another
Manufacturers
Brunton - A manufacturer and marketer of outdoor equipment. Their current GPS offerings are two handheld recievers.
Fortuna - Established in 1974, Fortuna Electronic Corp. specializes in designing and producing computer parts and communication products such as desktop PCs, notebook PCs, fax/modems, LAN cards, and other PC peripheral products.
Garmin - Garmin has products that serve aviation, marine, automotive, wireless, OEM, and general recreation applications. They have an extensive line of GPS products.
Lowrance - Lowrance Electronics, Inc., has been manufacturing and marketing sport fishing SONAR and Global Positioning System (GPS) mapping instruments for over 45 years. They currently have about nine handheld GPS products in their line.
Magellan - Magellan Corporation was founded in 1986. In 2001, Thales, an electronics company with a significant presence in global markets for defense, aerospace and information technology and services acquired Magellan. Thales Navigation now markets its global consumer line of GPS solutions under the Magellan brand and its global professional line of GPS solutions under the Thales Navigation brand. Magellan has a wide range of choices for handheld GPS receivers.
Read handheld GPS reviews here.
Browse all the other GPS articles and features.
---