Marine GPS Software Opens up
a Whole New World of Adventure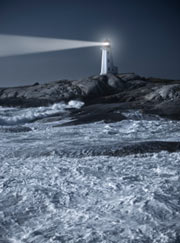 Whether on land or on sea, it is vitally important to know where you are and where you are going. On water, however, it can get a little tricky. Fog, absence of landmarks, and disorienting shorelines can make marine navigation a formidable challenge. With the right marine GPS software, water enthusiasts can ensure their safety and enjoyment like never before.
(Browse all the other GPS articles and features.)
There are a variety of GPS software programs available on the market today. Leading brands such as Nobeltec, Digiboat, and Furuno provide quality GPS software for all types of marine applications. These software programs give boaters access to powerful tools for water navigation, are easily used in a variety of GPS devices, and offer unprecedented flexibility for any user.
Tools for Success
When navigating around rocky shores, through deep inlets, across never-ending seas, or on confusing lakes, proper data is crucial. Hazards and hidden obstacles can creep up on the most experienced boater, especially in poor weather. GPS software, specifically designed for marine applications, helps take the sting out of those unknown rocky outcroppings or shallow pools. This software is typically loaded with thousands of map databases that chart every rock, nook, and cranny in navigable waters. In most situations, the software also includes photos, a marine facilities database, light list, and much more. Subscriptions to other services give users up-to-date information and changes. GPS software prices range from $200 all the way up to $1400.
Adaptability to GPS Devices
Marine GPS software is compatible with virtually any type of GPS device on the market. Handheld devices, quite possibly the most popular of any GPS system, are a great option for marine travel. These devices offer flexibility to navigate on land or on water, and the software works perfectly for these diverse applications. Users can plot a course taking them through a variety of terrain and water features.
Another way to utilize the marine GPS software is by using a chartplotter. While these GPS systems are a little bit more expensive, they offer several functions that could prove useful on the water, such as a large screen, better reception, and easier readability. GPS software can also be used on a laptop computer, PDA, or smartphone. The flexibility and usability of the software is apparent in its broad use across all media forms.
User Flexibility
Users with a device loaded with marine GPS software enjoy unprecedented flexibility and function. Before a trip even begins, explorers can search through map databases to discover intriguing points of interest, perfect fishing spots, breathtaking campsites, or family-friendly picnic spots. Once a vision for the trip is formed, navigators can easily plot a route that will include every desired piece of the itinerary.
GPS software is also perfect for finding weather windows for long passages. Historical and current information help sailors understand prevailing winds, weather, and current patterns. Pilot charts can be printed for easy plotting and stored on the computer or GPS device for real-time updates. The detail and user-friendliness of the software gives every mariner the opportunity to take the trip of a lifetime…over and over again.
There is nothing quite like feeling the breeze coming off of the water as you glide effortlessly across a lake, river, or ocean. There is also nothing quite like being stranded in an endless sea of nothingness without the slightest idea where to turn. Marine GPS software is the antidote to disorientation - it can take away your worries and fears. The only thing it won't do is make an excuse for missing work...but you probably already know how to do that.
See related information at Marine GPS and
Browse all the other GPS articles and features.
---