Map of France: A Source for All Kinds
of Maps of France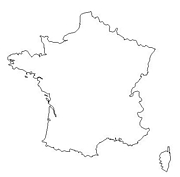 Click for printable map of France
(Browse all the other World Maps.)
Map of France links to other maps
For purchase
Paris Walking Tours
A wealth of current, practical information on Paris; self guided walking tours, orientation, hotels, history, culture, and maps helping you make the most of your Paris stay. Insights on everyday life, etiquette, tips on transportation, restaurants, monuments and museums from a long time resident of Paris.
France Of Interest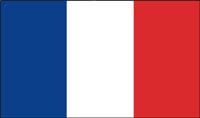 France is almost twice the size of Colorado at nearly 340,000 square miles. It is the largest West European nation. France is mostly flat plains or gently rolling hills in the north and west. The remainder is mountainous, especially Pyrenees in the south and the Alps in the east. Its climate is generally cool in the winter and mild in the summer, but has mild winters and hot summers along the Mediterranean. There often is an occasional strong, cold, dry, north-to-northwesterly wind known as mistral. The highest point is Mount Blanc at 15,772 feet.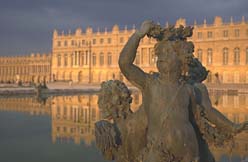 Cave wall paintings indicate the traces of a reasonably advanced cave society who dominated the area during the Paleolithic ages. The recent history of France started in 1000 B.C. when the Celts swept into western France. Greek settlers then made their way into the southern coast area of France during the following ages. The Greek civilization affected the social and political life of Celts. Soon the Greeks became a challenging power in the region, against Rome. In 52 B.C. Julius Caesar defeated the Celts and took control of the entire region. After this victory, Rome controlled the destiny of the area for nearly 500 years.
Rome's rule over the region ended in 476 A.D. after many barbaric invasions. King Charlemagne was crowned as the Holy Roman Emperor in 800. His most important contribution to Europe was to introduce a strong governmental tradition. A major historical event was the Hundred Years War between England and France, which lasted from 1337 until 1453. The French Revolution happened in 1789. This event marked the end of Royal dynasty. In 1799, Napoleon Bonaparte seized control of France after his successes in Italy. He crowned himself in 1804. The 19th century became a time of insurrection for France.
France's 60,424,213 people have great ethnic diversity. While French is the official language, there are also a number of regional dialects. Alsatian, is spoken in Alsace and in parts of Lorraine. A small number speak Flemish in French Flanders. In Celtic Brittany, Breton is still spoken. Roman Catholicism is by far the largest religion in France, claimed by about 80% of the population. France also has a large Muslim population, estimated at 3 to 5 million. There are smaller numbers of Protestants and Jews.
See related information at United States Maps
Browse all the other World Maps.
---