Map of Thailand: A Source for All Kinds
of Maps of Thailand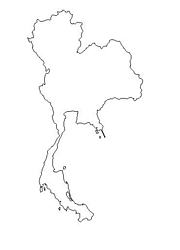 Click for printable map of Thailand
(Browse all the other World Maps.)
Map of Thailand links to other maps
For purchase
Thailand Road Atlas - A 9.5" x 12" Atlas by Michelin.
Political Wall Map - Exclusively developed by Maps.com and GRAPHI-OGRE and not available in any store, this wall map was created using high resolution vector digital imagery with state-of-the-art print on demand technology. This process allows Maps.com to offer over-sized laminated wall maps. Ideally suited for light reference, this political wall map includes cities, airports, rivers, lakes, and major roads (not numbered). Available in three sizes.
Discover the best of everything on the island of Phuket at Phuket Beaches.com
Phi Phi Thailand Diving Some of the greatest diving in Thailand Liveaboard special offers.
Thailand Of Interest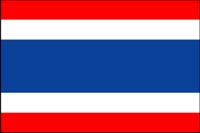 At 198,455 square miles, Thailand is about twice the size of the state of Wyoming. The terrain consists of a central plain, the Khorat Plateau in the east, and mountains elsewhere. The climate is tropical; rainy, warm, cloudy southwest monsoon (mid-May to September); dry, cool northeast monsoon (November to mid-March); southern isthmus always hot and humid. Doi Inthanon is the highest point at 8452 feet.
A unified Thai kingdom was established in the mid-14th century. Known as Siam until 1939, Thailand is the only Southeast Asian country never to have been taken over by a European power. A bloodless revolution in 1932 led to a constitutional monarchy. In alliance with Japan during World War II, Thailand became a US ally following the conflict.
Thailand's ethnic groups are divided as Thai 75% and Chinese 14%. It's religions are 95% Buddhism, 3.8% Muslim, and only 0.5% Christianity. The two languages are Thai and English, with ethnic and regional dialects.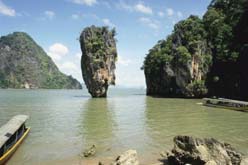 Thailand has a free-enterprise economy and welcomes foreign investment. Exports feature textiles and footwear, fishery products, rice, rubber, jewelry, automobiles, computers and electrical appliances. Thailand has recovered from the 1997-98 Asian Financial Crisis and was one of East Asia's best performers in 2002. Increased consumption and investment spending and strong export growth pushed GDP growth up to 6.3% in 2003 despite a sluggish global economy.
See related information at United States Maps
Browse all the other World Maps.
---