Map of Oregon: A Source for All Kinds
of Maps of Oregon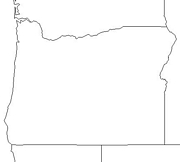 Click for printable map of Oregon
(Browse all the other World Maps.)
Map of Oregon links to other maps
Downloadable
For purchase
Oregon Of Interest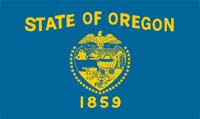 Spaniard Rodriguez Cabrillo sailed to the mouth of the Rogue River in 1543, but extensive exploration of the area didn't take place until the 1700s. Lewis and Clark traveled across the region during their 1804-1806 expedition. Russia and Spain had both claimed the region, but relenquished their hold by 1827. By then, the area was known as the Oregon Territory. Oregon became the nation's 33rd state in 1859.
Oregon has a $3 billion lumber and wood products industry, and an $800 million paper and manufacturing industry. Its salmon-fishing industry is among the world's largest. In agriculture, the state leads in growing blackberries, black raspberries, red raspberries, boysenberries, loganberries, peppermint, and hazelnuts. It is second in the nation for raising snap beans, onions, hops, and prunes.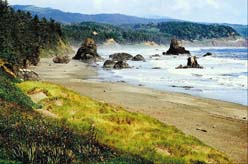 Oregon has developed gradually as a manufacturing state with the low-cost electric energy provided by dam. Leading manufactured items are metal products, chemicals, paper, machinery, food packing, aluminum, and electronic equipment.
Oregon has more ghost towns than any other state. It also has the deepest river gorge in North America, Hells Canyon at a depth of 8,000 feet. Crater Lake, the nation's deepest, is in Oregon as well as the largest sea cave in the world. Oregon is one of only two states without self-serve gas stations (the other is New Jersey). Oregon's state flag is the only one to have a design on each side.
See related information at United States Maps
Browse all the other World Maps.
---