Palm GPS Software Gives Users
One More Pocket-Sized Tool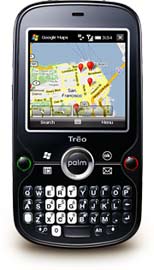 Never before have human beings been so connected to information regarding their whereabouts. In years past, GPS receivers were the only method of receiving data pertinent to any type of navigation.
(Browse all the other GPS articles and features.)
Now, with the introduction of wireless connections, smart phones, and PDAs, more users are capable of tapping into the wonderful world of GPS applications. Owners of a Palm device can now access thousands of GPS databases with specially designed Palm GPS software.
GPS works by linking your personal GPS device (in this case a Palm unit) with satellites in space and allows users to pinpoint their exact location as well as find nearby points of interest pre-loaded on a central database. With the correct Palm GPS software, users can count on the Treo, Pre, or Centro in their pocket to accurately guide them to the closest movie theater, to that obscure seminar location in a foreign city, or to their warm car after a long hike in the woods.
Palm as a GPS Receiver
By loading Palm GPS software to a smartphone or PDA, users gain all of the benefits that were once only available to dedicated GPS units. There are several benefits to using a Palm device as a GPS receiver. First, users will typically always have the device with them. Unlike other devices specifically designed for automobiles or outdoor expeditions, the Palm can be used in a variety of fashions.
Users already know that the "pocketablility" of the Palm makes it an easy tool to use for gathering up-to-the-minute information while at lunch, in the office, or on the golf course. The GPS function simply adds another vital tool the chest. When used in an automobile, the Palm is not to be outdone by other specialty GPS receivers. Car adapter kits allow drivers to situate the Palm at a location that is suitable for navigation on the road.
Software Solutions
GPS software (specifically designed for use with Palm devices) works with Palm OS or Palm webOS - the standard operating systems for Palm devices, or with Windows Mobile operating systems. Companies such as TomTom, Efficasoft, Infogation (Odyssey Mobile), and Deluxeware offer unprecedented access to current databases that chart restaurants, gas stations, hotels, and any other location imaginable. Most of these software options are available in the $15-$75 range, depending on options.
Mapping software can be loaded onto a PC for route planning and easily synced to the Palm device. Because map databases are large and robust, users will want to use an SD or multimedia card to store the data they will need at any given time. Most software comes with CDs of worldwide maps that can be downloaded as needed, such as adding the Venice maps for that trip to Italy next summer.
Not only can Palm GPS software get you where you are going, it can perform a wealth of other timesaving functions. For example, GPS software can help track travel time and expenses for business travelers, calculate fuel costs for specified trips, and link to airline data in order to secure an appropriate flight. With the wide array of companies offering GPS software for Palm devices, there is sure to be a perfect fit for every user.
See related information at GPS Palm and
Browse all the other GPS articles and features.
---