Pocket PC GPS - An Introduction
Pocket PC GPS is a term that can be used to generally refer to any personal digital assistant (PDA) that has GPS capability. Technically, Pocket PC is software by Microsoft for PDAs.
Pocket PC also refers to any PDA that uses the Pocket PC software, as opposed to the Palm operating system, which is proprietary to the Palm brand PDAs. A popular brand of Pocket PC is iPAQ, by Hewlett-Packard.
Check out my information on GPS iPAQ.
(Browse all the other GPS articles and features.)
Pocket PC vs. Palm
The Pocket PC operating system generally has greater functionality over Palm units, but, except for some of the more basic models, the Pocket PC is a little larger. And, there is something to be said for the simplicity of Palm. Palm also has an extensive line of accessories.
For Pocket PC GPS there are several ways to go. We'll look at the cons and pros of each. The following information excludes iPAQ. Click here to learn about GPS iPAQ.
Compact Flash
Bluetooth
Cabled to a car-powered GPS receiver
Cabled to a hand-held GPS receiver
Integrated PDA/GPS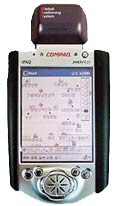 Compact Flash - Compact Flash (CF) is one of the standards for PDA attachments that attach via a slot on the PDA or its sleeve. For a Pocket PC GPS answer, a compact flash GPS card is a relatively inexpensive choice.
There are two minor disadvantages. The CF GPS of course requires power, so it will drain your PDA's batteries quicker. As you can see in the illustration at right, the CF GPS sticks out of the top of the PDA, making it a little clumsy.
For one example of how one could achieve a Pocket PC GPS, click here.
Bluetooth - Bluetooth technology enables communication between devices without wires. For example, one could hold or wear a PDA with Bluetooth capability that is linked to a GPS receiver in her or his backpack.
Bluetooth is ideal for use in an automobile due to the fact that the GPS receiver can be placed against the windshield for a better "view" of the sky. Because of the added flexibility, one is going to pay more for a Bluetooth system for her or his Pocket PC GPS requirements. The extra expense is because in addition to being a GPS receiver, it also incorporates the rather new Bluetooth technology.
Cabled to a car-powered GPS receiver - For use with your Pocket PC, a mouse-type GPS receiver is available. It's called "mouse-type" (because it looks like a computer mouse) to distinguish it from the relatively expensive self-contained GPS receivers made especially for automobile use.
If you're going to be using GPS in your automobile, then this option makes sense for three reasons. To begin with, the mouse gets its power from the automobile, meaning it won't drain the batteries in the PDA. Next, mouse-type GPS units generally include a Y-cable that will also power the PDA. Finally (and this is a big advantage), the mouse-type units are usually the least expensive way to go. The disadvantage to this Pocket PC GPS solution? Because this type runs off of the car's power, it is pretty much limited to in-car use, as any other use would be quite awkward.
Cabled to a hand-held GPS receiver - Most hand-held GPS receivers will accept an accessory cable with which you can hook up your GPS unit to your Pocket PC. If you need a GPS unit for use in different ways, this may be the method to consider.
With a hand-held GPS unit, it can be used for walking and hiking, or in your automobile. In addition, it's a less expensive way to go. The Pocket PC with its larger display is good for viewing maps. And if you need to, you can always use the hand-held GPS receiver by itself. The disadvantage, obviously, is that you now have two gadgets (connected with a wire) to worry about.
Integrated PDA/GPS - Mitac sees the Mio 168 as a PDA first and a GPS second. They realize the importance of offering and supporting a full featured Pocket PC running Windows Mobile 2003. However, Mitac thoroughly evaluated GPS hardware and mapping solutions in their quest to offer the best integrated GPS solution.
The Garmin iQue M5 also supports Windows Mobile 2003 and uses Garmin's own Que GPS software which is the same as the software used on their Palm OS iQue 3600. Read the GPS review Garmin iQue M5 here.
Go here for more on pocket PC GPS.
See related information at GPS PDA and
Browse all the other GPS articles and features.
---