PDA GPS Software Give PDAs
Even More Superpowers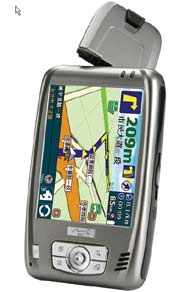 Think of a device that not only fits in your pocket, it connects you to the internet, schedules your appointments, keeps track of your contacts, works as a radio and/or book, and takes photos. Not long ago, such a device was beyond our comprehension.
(Browse all the other GPS articles and features.)
Today, a PDA is as common as any piece of electronic support. One thing that may be overlooked, however, is the capability of these PDAs to be transformed into one of the most desirable electronic gadgets: a GPS unit. With the right PDA GPS software, your PDA will quickly become an indispensible tool for personal, professional, and recreational use.
GPS Capabilities in a Condensed Device
GPS receivers communicate with satellites to pinpoint the user's location and coordinate map data stored on software. Most GPS users have dedicated units that stay in an automobile, boat, or backpack. The advantages to using a PDA as a GPS receiver are clear: users will have flexibility in cross-over applications and still retain the other functions of a PDA.
PDA owners will not need separate pieces of equipment for GPS capabilities, internet access, organization, and entertainment. The all in one nature of a PDA is the perfect host for a GPS unit. One more tool in the shed will add significantly to usability and performance.
Minimizing the need for multiple electronic devices will not only be more convenient, it will save money. While dedicated GPS receivers start at around $100 for a basic model, PDA GPS software that will enable conversion starts as low as $20.
Some of the most popular companies that produce PDA GPS software include TomTom, Efficasoft, Infogation (Odyssey Mobile), and Deluxeware. These companies offer a variety of options for any type of PDA. Typically, these software systems work in conjunction with operating systems like Palm OS and Windows Mobile.
GPS Applications
Once installed, GPS software for PDAs opens a multitude of doors. Users can access thousands of pre-loaded points of interest with several search options. Up-to-date information is available through optional subscription services or internet options. Restaurants, theaters, libraries, sporting venues, and much more are a mere click away. Once a target is determined, the GPS-enabled PDA will act as a tour guide to safely transport the user to the destination.
Optional car adapter kits ensure ease of travel while on the roads by placing the PDA in a convenient, hands-free location. Turn by turn directions help even the most directionally challenged. Users will be privy to information such as estimated time of travel, useful shortcuts, and cheap gas stations along the way.
The PDA GPS software includes waypoints and terrain information for locations outside the city limits. GPS-enabled PDAs give hikers, fishermen, and campers a clear path to and from their favorite refuge. Routes, points of interest, and rendezvous points can be planned ahead of time on a PC and easily transferred to the PDA.
All in one convenience is the hallmark of the PDA. With the addition of mapping and travel capabilities through PDA GPS software applications, the PDA has added to its already robust arsenal. Users will find every GPS function needed while retaining the flexibility of their personal electronic do-it-all.
See related information at GPS PDA and
Browse all the other GPS articles and features.
---