Map of Arizona: A Source for All Kinds
of Maps of Arizona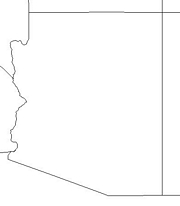 Click for printable map of Arizona
(Browse all the other World Maps.)
Map of Arizona links to other maps
Downloadable
Blank Outline Map - A printer-friendly document.
Roads - You can zoom in and print your own maps at a large scale.
For purchase
Arizona Of Interest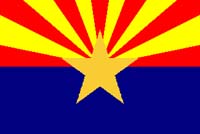 The early explorer Francisco Vásquez de Coronado entered what is now known as Arizona in 1540. The area remained under Spanish and later Mexican rule until the Mexican War, starting in 1846. A traveler named Joseph Ives, in describing the Grand Canyon in 1857, said "...Ours has been the first and will doubtless be the last party of whites to visit this profitless locality."
Annually, nearly 5 million people visit the Grand Canyon, one of the world's greatest natural wonders. The southern half of the state is mostly desert interrupted by mountains reaching northwest to southeast across the central part of the state. The Gila River, a major tributary of the Colorado, flows west across the all of Arizona. The state shares the largest artificial body of water in the nation, Lake Mead, with Nevada.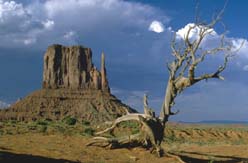 There were over 200,000 Native Americans in Arizona according to the 1990 census. That was almost 6% of the state's population, the third highest such concentration in the United States. They include Mohave, Navajo, Apache, Hopi, Yavapaí, Hualapai, Havasupai, Paiute, Tohono O'Odham, Pima, and Maricopa. Poverty is prevalent among these peoples. Agriculture is the mainstay of their economy, but lack of water for irrigation makes farming challenging. Supplemental income is made through the production of handicrafts. These include turquoise jewelry, leather goods, pottery, and woven items. Tourism and mineral rights have also brought income to the tribes.
See related information at United States Maps
Browse all the other World Maps.
---