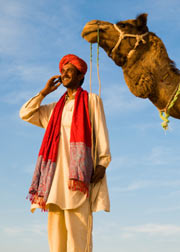 Now that your phone knows where you are, so can the rest of the world
Although most people think of a GPS unit as a way to get driving directions, it can be used for so much more. Parents can use them to monitor their children, friends use them to keep up with one another's hangouts, and travelers use them to find local information and directions wherever they are. These and yet-unimagined uses are only going to become more commonplace, as products such as Apple's iPhone 3G and T-Mobile's G1 bring cell phone GPS tracking and applications into more and more people's pockets. And with the right software, one can even have free GPS cell phone tracking.
Parents are now able to rest easier, knowing that their son or daughter is at a friend's house or safe at school without embarrassing them with phone calls from "mommy and daddy." By using their own mobile phones or the Internet, mom and dad can quickly check to see where their kids are, getting peace of mind while allowing their children to have more freedom and independence.
Watch a phone's movements on your computer
An example of this functionality is the InstaMapper software, which allows people to record and track their movements for free. InstaMapper allows you to log into their Web site to view your location on a map, and provides access to the raw data for use in creating your own maps or other applications. Motivated Web developers can even use the free Google Maps API along with their InstaMapper data to create a custom map on their own Web site that updates in real time.
With social networking sites overtaking all other Web sites in popularity, it's no surprise that the Facebook and MySpace generation is turning GPS-enabled phones into an extension of that social connectedness. And for a generation used to finding everything online without having to pay for it, free GPS cell phone tracking is a perfect fit.
Know where your friends are
Free applications exist which allow people to securely allow updates about their location to be sent to friends, or to see which friends are nearby right from their phones. Why call everyone to see who's busy when you can instantly know which of your buddies are at the Starbucks around the corner? Sites such as BuddyWay provide free GPS software for cell phones, and add features such as reviewing previous trips and sharing your current location with friends.
For travelers and people living in large metropolitan areas, cell phone GPS has opened up many new doors — sometimes literally. With GPS coordinates, your phone's Web browser can direct you to wonderful restaurants and out-of-the-way boutiques you might never have otherwise found, even if you walked through that same neighborhood a hundred times. And while people tend to associate GPS navigation with driving, mapping software such as Google Maps now makes walking directions available — an invaluable resource for people in cities with a lot of foot traffic.
Free GPS cell phone tracking has practical uses for everyone
While the most obvious uses of GPS technology involve finding places (or people) on maps, creative developers are finding ways to help everyone get more out of the technology. Free programs let joggers track their route, speed, and time on their phones, taking the guesswork out of the distance they travel on those winding back roads.
Visitors to theme parks and large shopping malls can save the location of their parking spots in their phones, so finding the car at the end of the day isn't like trying to find the cheese at the end of a maze. To find these applications, check the online marketplace set up for your phone first. For the iPhone 3G it's the App Store, and for T-Mobile G1 users, it's the Market. Both are accessible right from the phones. In addition, a comprehensive free GPS software resource lists dozens of GPS phone applications.
For the more adventurous, there's a popular new hobby, known as "geocaching," which allows people to make a note of the places they find interesting things or fantastic views, then pass them on to others on the Internet, who then visit recommended spots near their homes. As time goes on, free GPS cell phone tracking will only see wider and more varied use, and it's a true success story of technology bringing people together and making them more active, rather than the opposite effect that many new gadgets tend to have.