If you're a drone fan, it is foolish to be unaware of the perfectly budget-friendly drones you can get these days. Thanks to the advancement in drone technology and the ability to built battery-timing quadcopters, you can now fulfill your passion of owning super-cool four-engined drones. Long gone are the days of chopper-style planes. In fact, an online article states that over 2.5 million personal drones were sold in the year of 2016. This was three years back, and the figure has only risen exponentially since then.
The most budget-friendly ones that are equipped with the best technology out there can be purchased under $500. Instead of providing you with a simple comparison list, we include a wide range of mix in terms of features in top drones under $500. Take a look at the following:
1. DJI Spark
Majority of the online, credible reviewers have described DJI Spark as an entertaining gadget with super-exciting features. For $499, you can get your hands on a great drone with the optional remote control and other accessories. It is no bigger than a palm and can easily be launched, making it easier to kickstart. Not to forget, it is incredibly lightweight as well. It also includes both, GPS and GLONASS sensors that can communicate with up to 24 satellites at the same time.
Image via DJI
Apart from this, it further includes a 3D infrared sensing camera. On the camera front, it comes packed with a 1/2.3in sensor, capturing 12MP still images and 1080p video at 30fps. While the DJI Spark has plenty of advantages, including intelligent modes and excellent image quality, some of its cons include its gesture mode being a little unreliable.
2. MJX Bugs 2W
Safe to say, the MJX Bugs 2W is way superior to some of the most-expensive drones available. It comes equipped with the ability to connect with Wi-Fi and also includes several decent standard specifications such as a prolonged battery duration with the 2S 1800mAh LiPo.

Image via MJX Bugs 2W
It's also got a 6-axis gyroscope to enable a better flying experience. It boasts of an operating range of up to 1 kilometer and a solid camera. It even makes your flights more exciting through its FPV capability. Given its price, this is a fierce competitor in the market. However, you cannot mount your own camera on it, and the battery too takes a long time to charge.
3. Altair Outlaw
Anyone who understands the drone technology market knows that Altair is a company that is best known for its low-cost drones and an excellent reputation of taking care of its customers. Sometime, earlier this year, they went ahead and launched a new Tomahawk drone, an impressive effort as building their best aircraft that has come out yet.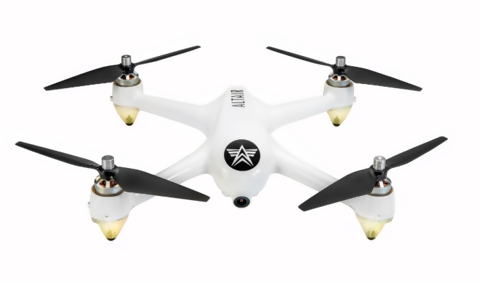 Image via Altair Retail
Dubbed as 'Outlaw,' the drone sports a built-in 1080p photo and video camera as well as a GPS Height Hold. With a total flight time of roughly 18 to 20 minutes, it features a maximum flight range of 800 to 1000 meters. Its FPV Video Camera goes on to cover a range of over 500 meters. The drone makes use of brushless motors and also includes a return to home functionality. Durability, however, remains a concern as there are no propeller guards in this drone. However, with a price of just $279, it is a solid competitor in this industry.
4. DJI Phantom 3
This drone can be easily described as a ready-to-fly quadcopter that includes an in-built camera, which is capable of capturing an amazing 2.7K-resolution video. Another one of DJI Phantom 3's pros is just how super stable it is, thanks to its three-axis gimbals. Packed with a solid 4480 mAh battery, it can give you a flight time of up to 20 minutes and can fly almost 3 kilometers away!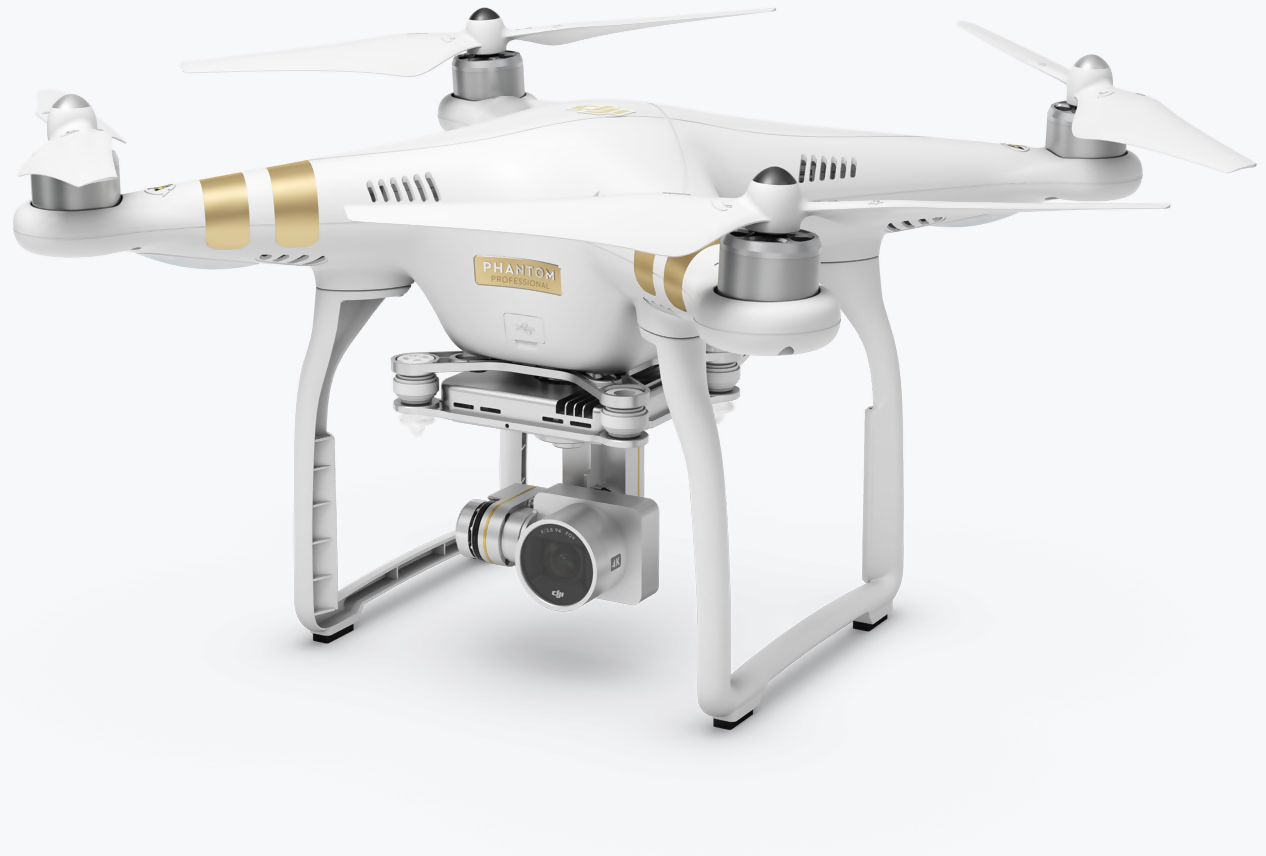 Image via DJI
The camera has a vast range of shutter speed options from 8 to 1/8000 seconds. This makes it possible to click photos of fast-moving objects and also high-exposure night photography.
Its Intelligent Flight Mode is what makes the drone much smarter and fun to fly too. However, one of its major drawbacks is that the drone's camera is impossible to remove or upgrade. It is even a pain to carry around as the landing gear fails to collapse and cannot even be removed easily.
5. Uvify OOri
Known as the "World's Smartest Race Drone," the OOri features three flight modes – a beginner, intermediate and racer one. The drone can quickly reach a speed of over 50 mph and comes with a rapid battery change and an on-screen display remote control.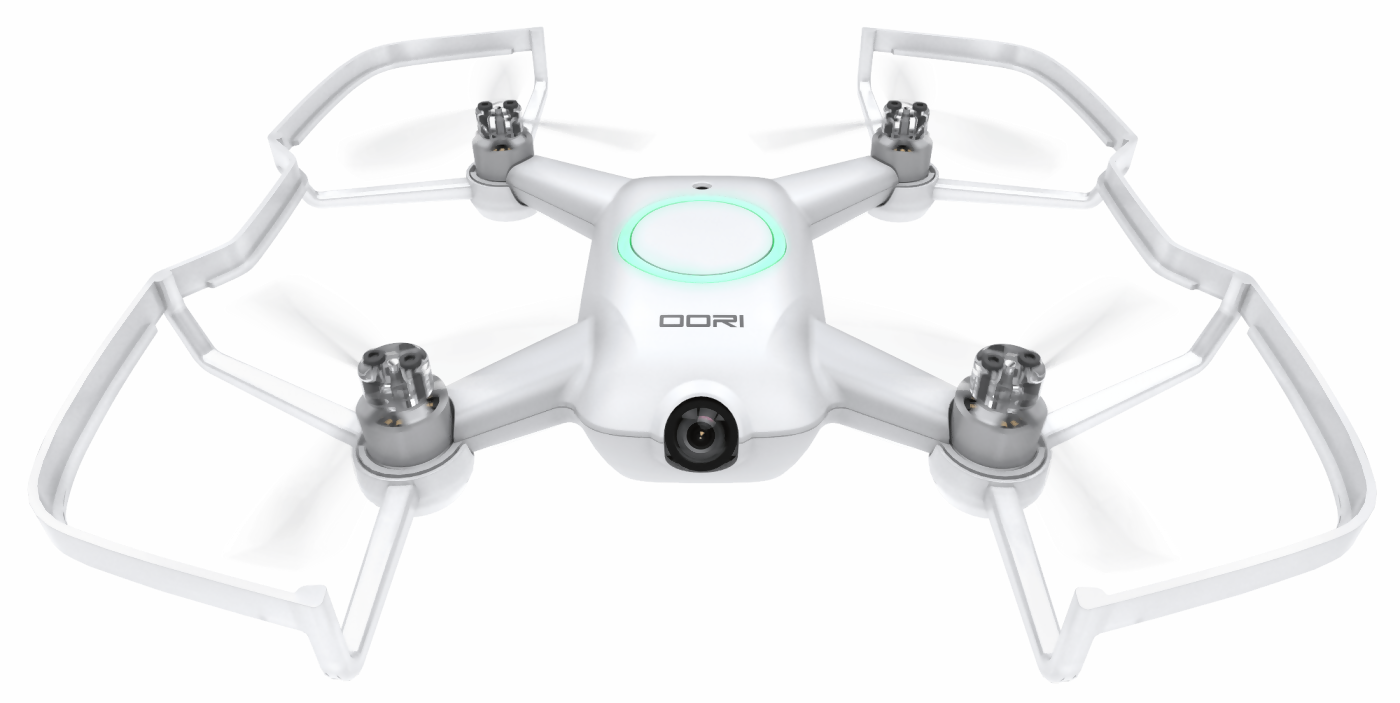 Image via Uvify
Another one of its highlighted features is the vision positioning system and assignable LEDs. It can fly up to a height of 500 feet. However, the flight time is relatively short at 5 minutes. The battery of the drone is fairly small too to reduce its weight and stands at just 660mAh battery. The drone comes along with a tool kit. Spare bolts and prop guards are also included in the package.
6. Walkera F210 3D
The Walkera F210 3D may look like it's a small little machine at just 210mm diagonally. However, it has got a lot more substance than one can imagine. Its body is built with carbon fiber that is thick as well as tough.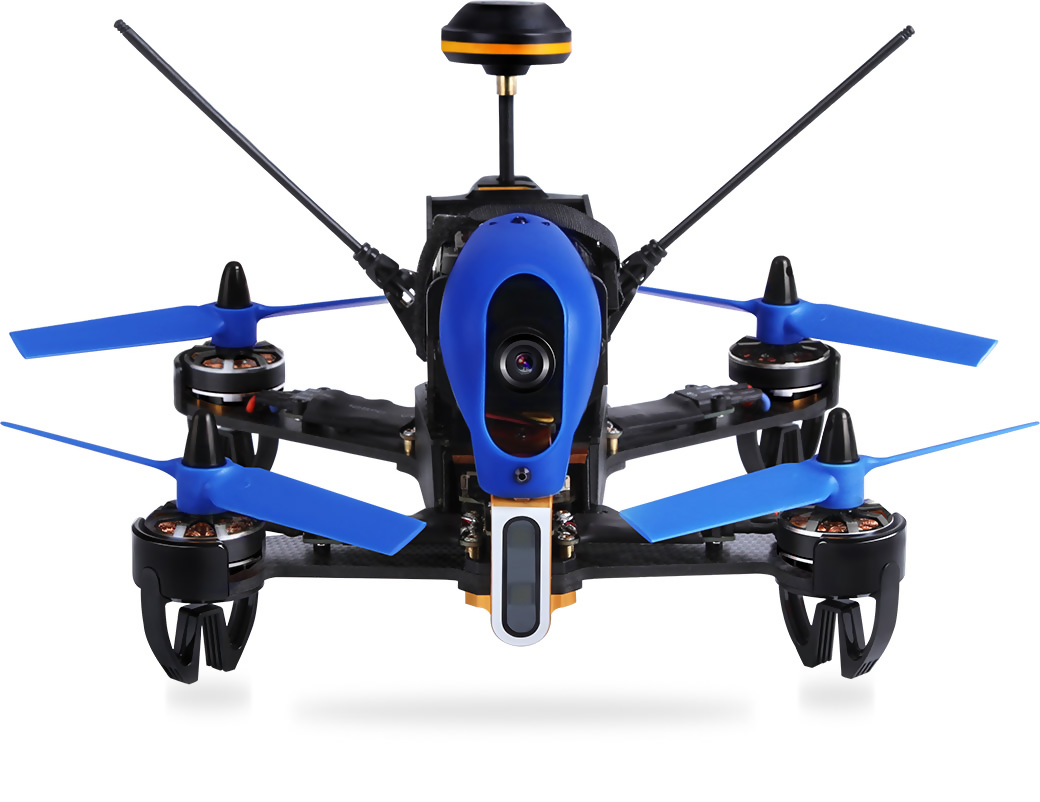 Image via Walkera
The antennas bend both ways, and the battery is a 4S instead of a 3S, feeding similar motors, which means they'll be capable of higher top speeds. The F210 offers different flight modes – advanced, intermediate, and stabilize. On the downside, the propellers are proprietary to Walkera, so it can be challenging to find replacements in the market. The same goes for the remote control.
7. Yuneec Mantis Q
The Yuneec Mantis Q looks sleek and has an incredibly futuristic touch to it. It's a very convenient drone to travel with as it can be folded into a small package of 6.2 x 3.7 x 2.2 inches. This is one of the most significant advantages of buying this drone.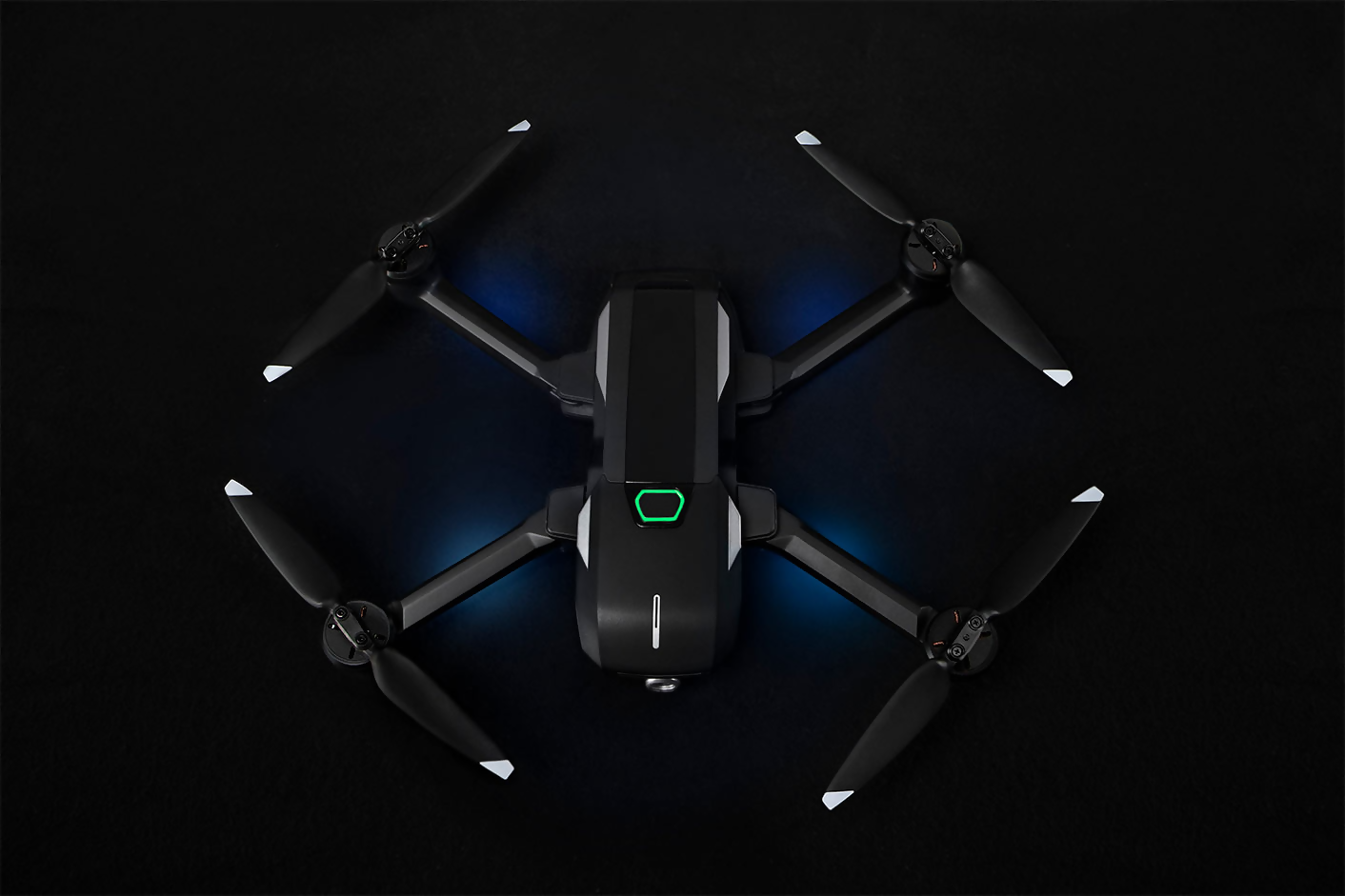 Image via Yuneec
Its body comes equipped with two fold-out Wi-Fi antennas. On the back of the controller, a USB Type-C and USB Type-A port are available. You can also put up your smartphone on the controller to watch the visuals from the view of the drone. The drone includes Journey, POI, and Visual Follow, which tracks a selected object with the camera.
With a solid 33 minutes of flight time and ability to click a 4K video, this is definitely a steal for just $499.99. However, due to no presence of 3 axis gimbal, the video is often not as stable.
8. Force1 UDI U818A
The UDI U818A is a brilliant drone for anyone who wants an all-round performer. While it's camera can click 2MP photos and 720p videos, it's flight time is fairly high at 9 minutes. The lightweight nature of the drone makes it the perfect one for beginners.
Image via YouTube
However, it falls short if you're looking for a drone that can go the distance. That's because it can only fly 120 meters away from you. There are even issues when it goes out of range on its own. However, if you're looking for a simple drone to start off, this is a great choice.
9. 3DR Solo Drone Quadcopter
This is a solid quadcopter that is extremely affordable at just about $450. It features game-like controls and also gives you a flight time of about 18 minutes. It's range too is pretty good and stands at 700 meters.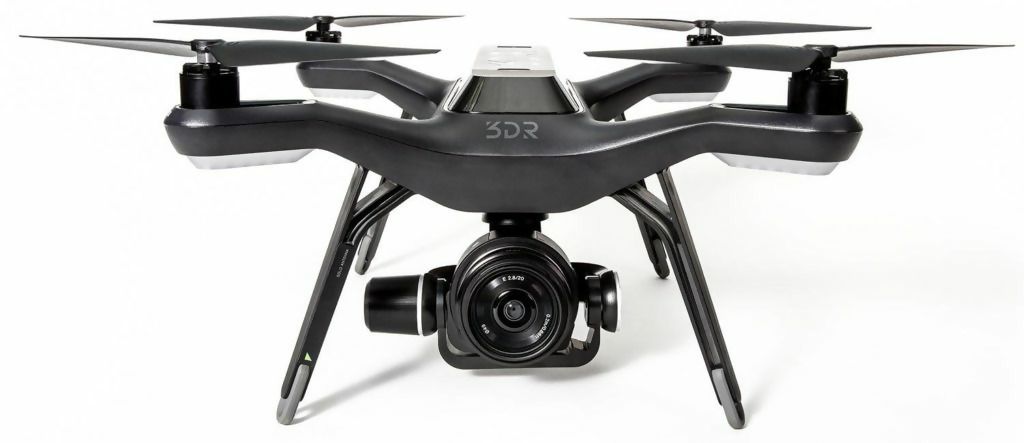 Image via 3DR
The best part about this drone is its speed. It can fly at 40mph and has inbuilt GPS navigation too. You also have the flexibility to replace the camera with yours. However, if you don't already own the camera, it might be an additional expense as the drone doesn't come with one unless you choose such a bundle. It also doesn't feature a gimbal and that can hamper the quality of your videos.
Depending on your preferences, you can pick your favorite drone and fly into the infinite. While you may have to do some trade-offs when you're in the under $500 segment, you can still get the perfect experience of flying a drone with these top-of-the-line drones.