Map of Florida: A Source for All Kinds
of Maps of Florida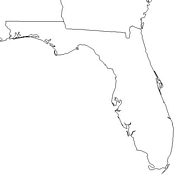 Click for printable map of Florida
(Browse all the other World Maps.)
Map of Florida links to other maps
Downloadable
Blank Outline Map - A printer-friendly document.
Roads - You can zoom in and print your own maps at a large scale.
For purchase
Florida Of Interest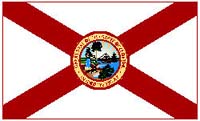 The "discovery" of Florida is attributed to Juan Ponce de León in 1513, although others knew of the territory previously. In 1763 the British took control of Cuba from Spain, then traded Cuba back to Spain for Florida. Spain once again acquired Florida until they gave it up to the United States in 1819. It became a state in 1845.
Tourism plays a major role in the state's economy; visitors spend over $36 billion annually. Walt Disney World, a huge theme park near Orlando; Universal Studios, a combination theme park and film and television production facility; and other features draw millions of tourists every year. Popular beaches, such as those at Daytona Beach, Miami Beach, and Fort Lauderdale, attract very large numbers of vacationers. With over 4,000 square miles of inland water and with the ocean easily accessible from almost any location in the state, Florida is fishing heaven. Other sites are Palm Beach, with its grand estates; Everglades National Park, with its wide variety of plant and animal life; and Sanibel Island's lovely accomodations.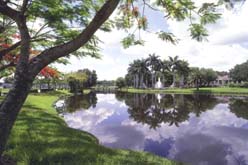 Florida leads the nation in the production of grapefruits, oranges, tangerines, tomatoes, and corn. Other major crops are sugarcane and many kinds of other vegetables. Commercial fishing (including lobsters, crabs, and shrimp) is an important industry. Cattle and dairy products are also play a large role in the agricultural economy.
See related information at United States Maps
Browse all the other World Maps.
---