Map of Georgia: A Source for All Kinds
of Maps of Georgia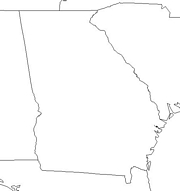 Click for printable map of Georgia
(Browse all the other World Maps.)
Map of Georgia links to other maps
Downloadable
Blank Outline Map - A printer-friendly document.
Roads - You can zoom in and print your own maps at a large scale.
Shaded Relief - Can be printed at two different zoom levels (click on the map to zoom).
For purchase
Georgia Of Interest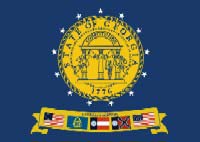 Explorer Hernando de Soto entered what is now Georgia in 1540. In 1733, James Oglethorpe first arrived at present-day Savannah and claimed the land he named Georgia in honor of King George of England. Georgia became a state in 1788. Dahlonega was the site of the nation's first gold rush in 1828. The first steamship to cross the Atlantic was the City of Savannah and originated in Georgia.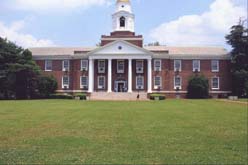 Manufacturing and agriculture remain important to the state's economy although the service and trade sectors create most of jobs in Georgia. Also contributing to the economy are federal facilities, such as Fort Benning, near Columbus; the Centers for Disease Control and Prevention, near Atlanta; and the Kings Bay naval base.
Cotton was once Georgia's most important crop, but has since declined in importance giving way to tobacco, peanuts, and corn. Georgia is the nation's largest producer of peanuts. Tobacco is the main crop in the southern two thirds of the state with peanuts occupying the southwest. The largest share of farm income is livestock and poultry raising. Cattle, eggs, and broilers are major products.
See related information at United States Maps
Browse all the other World Maps.
---