GPS Review - Garmin GPSMAP 60C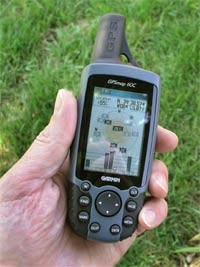 March, 2004
by: J. Snively
Introduction:
The GPSMAP 60C is a new all-purpose unit with many new features and sporting a 256-color, highly reflective display. This transreflective TFT technology provides excellent viewing while maximizing battery life (30 hours, typical use). It also makes for easy viewing in almost any lighting condition. Extra features include rapid automatic route calculation, an integrated outdoor calendar, a dedicated geocaching mode, and a bunch of indoor/outdoor GPS games.
This place often has the best GPS prices...
---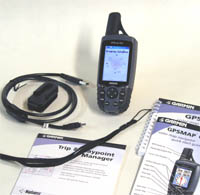 What You Get:
The Garmin GPSMAP 60C GPS receiver
USB interface cable
Wrist strap
Belt clip
Owner's manual
Quick start guide
MapSource Trip & Waypoint Manager CD-ROM
Optional accessories:
Auto Nav Kit which includes MapSource City Select for automatic routing functions
Marine mount
Automotive mount
Suction cup mount
Bicycle Mount
Carrying case
12 volt adapter cable
Power/data cable
Serial interface cable
AC adapter
Remote GPS antenna
MapSource CD ROMs
---
What It Does:
When you turn on the GPSMAP 60C, you can see the Power On Page followed by the Satellite Page, which is the first of the Main Pages. When navigating a route, the Active Route Page is also displayed. At the top of each page, a Status Bar provides current status information for several unit features: Power source (batteries or external power), satellite signal status, backlighting, alarm clock, and USB connection.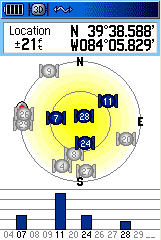 The Satellite Page shows a sky view array of the satellites overhead with your position centered in the array. The outer circle represents the horizon and the inner circle a position 45 degress from the horizon. The numbers displayed indicate the number assigned to each satellite. A bar graph at the bottom of the page displays the strength of signals from each satellite. When the receiver has signals from at least three satellites, the display at the top of the page changes to indicate position accuracy and location coordinates.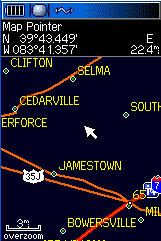 The Map Page (shown here in the nighttime view) is the primary navigation feature of the GPS MAP 60C. It displays a detailed map of the area surrounding your current location. You can use the Map Page to do the following:
Determine your current location and progress while moving.
Select and save a map point as a waypoint.
Locate and navigate to map items by following a route displayed on the map.
Customize the map display to your requirements.
Through the Map Page Options Menu, you can change the display of a variety of information for navigation. You can stop navigation to a destination, arrange up to four data fields to display the type of navigation information you desire and include a navigation guidance text message on the map page. You can select the type of data fields to display. You can change the way the map displays items by selecting your own settings for text size, what items are displayed and more. You can display the distance from your current location to other locations on the map. You can reduce the amount of map clutter to increase the visibility of roads and other geographic features.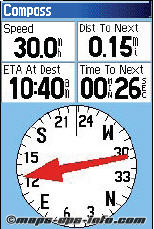 When navigation is in progress, the Compass Page provides navigation data and directions. It uses a graphic compass display and bearing pointer along with digital data fields to display information such as current speed, distance to the next point on the route, estimated arrival time, etc. You can choose from three or four data fields and select the type of data displayed in each from a list of options.
The Compass Page Options Menu is where you can stop navigation, switch between "course pointer" and "bearing pointer," and customize data fields to display the information that you want.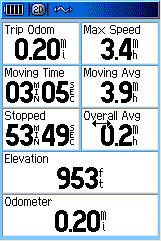 The Trip Computer Page provides you with a wide variety of travel data useful when navigating a long distance. It indicates your current speed, average speed, trip odometer and many other helpful statistics useful for navigation. You can customize the Trip Computer display however you want it, with a list of data options to choose from.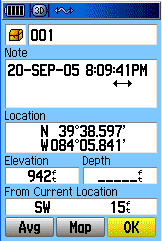 The Mark Waypoint Page allows you to mark and record your current (or any other) location as a waypoint and displays a name and a symbol for that waypoint. You can mark your current location at any time. Custom waypoint symbols can be downloaded from Garmin's website. You can mark a waypoint with the map panning arrow or as a "Man Overboard" (MOB). MOB is where you want to mark a location while on the water (with no available reference points) and come back to that point later. Also, you can project a waypoint from any map item and establish a new waypoint that is a certain bearing and distance from that map item.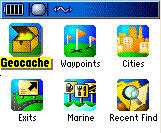 The Find Feature provides you with a method for searching for cities and exits, which are included in the GPSMAP 60C basemaps. If you have downloaded MapSource mapping data that contains additional map detail, you can search for points of interest, addresses and intersections. If you download BlueChart data, you can find detailed marine items such as wrecks and obstructions, NAVAIDS, and anchorages.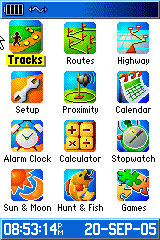 The Main Menu is the directory for all unit features not in the Main Page sequence with the exception of Mark Waypoint and the Find Menu, which have their own keys. The following features are on the Main Menu:
Tracks - allows you to maintain a record of your movements.
Routes - allows you to create a list of points that you wish to navigate to.
Highway - a graphic representation for navigating.
Setup - controls the settings for most of the features.
Proximity - acitvates an alarm for a defined radius.
Sun & Moon - sunrise and sunset times, moon phases, and sun and moon positions.
Hunt & Fish - best times to hunt and fish.
Calendar
Alarm Clock
Calculator
Stopwatch
Games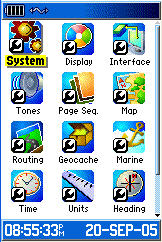 The Setup Page allows you to customize the GPSMAP 60C to your preferences. It does the following:
System - various settings for GPS operation, battery type, etc.
Display - screen display color, day/night viewing, backlight.
Interface - controls input/output format when connected to a PC.
Tones - customize signal tones for a variety of features.
Page Sequence - customize the order the pages appear.
Map - many map customization options.
Routing - customizes the manner in which routing functions behave.
Geocache - geocaching management.
Marine - allows setting of limits that activate alarms.
Time
Units - allows the selection of units of measurement.
Heading - allows the selection of heading and north reference.
Welcome Page - displays a message or your name and address on the Welcome Page
---
Specifications:
Physical:
Case: Waterproof to IPX-7 standards (one meter for 30 minutes)
Size: 6.1"H x 2.4"W x 1.3"D (15.5 x 6.1 x 3.3 cm)
Weight: Appr. 7.5 ounces (213 g) with batteries; 5.4 ounces (153 g) without batteries
Display: 2.2"H x 1.5"W (5.6 x 3.8 cm), (256 transflective) color TFT (160 x 240 pixels)
Antenna: Built-in quadrifilar, with external antenna connection (MCX)
Performance:
Receiver: Differential-ready, 12 parallel channel
Acquisition time: Cold – appr. 45 seconds
Warm - appr. 15 seconds
First time - appr. 5 minutes
Update Rate: 1 second continuous
Position Accuracy: less than 15 meters (49 ft)
less than 3 meters with WAAS

Navigation:
Waypoints: 1000 with name and graphic symbol
Routes: 50 reversible with up to 250 points each plus MOB and TracBack modes
Map datums: over 100
Tracks: 20; automatic track log
Power:
Input: Two 1.5 volt AA batteries
Battery Life: Up to 30 hours
Price:
Suggested Retail: $482.13
Mean Price Available on Internet: $439.50 USD
---
Practical Use: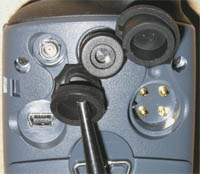 The first thing I notice about the GPSMAP 60C is that the screen appears to be as large as possible for the size of the case. It comes with a nice belt clip - this was well thought out. The belt clip is hinged (like a clothes pin) and it can also be quickly detached from the GPS. The back of the unit has a jack for an external antenna, USB connection, and the serial port. All are covered by rubber flaps.
The unit is only a little larger than an eTrex except the GPSMAP 60C has its antenna sticking out the top about 1 1/2 inches. As one would expect, the quad-helix does perform better when compared to units with a patch antenna. On initial start-up, it took 4 minutes to get a lock on three satellites. Warm starts ranged from 12 to 25 seconds while cold starts were about 40 seconds.
I took the GPSMAP 60C geocaching one fine, sunny day having already entered the coordinates. In my vehicle, I was disappointed to find that it didn't have rubber wrapped all around the sides like many other models do - it was more likely to slide around on the dashboard and console. The unit was a great companion in the forest - under moderate to heavy tree cover it did quite well. It got me within about 30 feet of the cache. When a geocache is found, it marks the cache as found, logs an entry in the calendar and provides an option that, when activated, shows the next nearest cache.
This receiver does so much, it's hard to cover it all. For instance, you can assign 19 different tones the various features and some of the tones are pretty funky. The GPSMAP 60C allows you to set your preferred page sequence among the Main Pages or add pages to display when you cycle the Page key. It has six different games, the Sun and Moon Tables can give you sun and moon positions for any time, date, and location on Earth, and the Alarm Clock even has a "snooze" feature.
---
Cons and Pros:
Cons:
No rubber on the sides (for gripping)
Pros:
Long battery life
External antenna capability
Highly customizable pages
---
Conclusion:
It's pretty good when the only negative I can come up with is the lack of rubber all around the sides of the unit (for gripping the dash or console of a car). And that shouldn't be a big deal since optional vehicle mounts are available. The bottom line is I was very impressed by the GPSMAP 60C. It does a lot and does it well.
This place often has the best GPS prices...
---