GPS Review - Garmin Street Pilot c340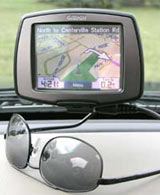 March, 2006
by: J. Snively
Introduction:
The StreetPilot c340 is a medium-sized navigation solution meant to be simple to use right out of the box. The unit tells you the name of the street, when and in what direction to turn. The optional FM TMC receiver lets you avoid traffic delays by telling the c340 to calculate a new route.
The StreetPilot c340 comes preprogrammed with detailed City Navigator® NT street data of the entire United States, Canada, and Puerto Rico and has almost six million points of interest. It has a 3.5-inch diagonal, TFT display with touchscreen and dual integrated speakers. It also has an internal lithium-ion battery for out-of-car route planning.
This place often has the best GPS prices...
---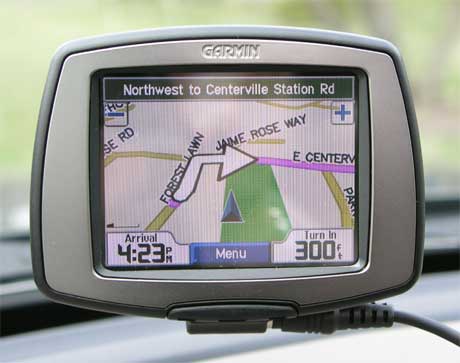 What You Get:
The Garmin StreetPilot c340 GPS receiver, preloaded City Navigator North America NT (full coverage), vehicle suction cup mount, dashboard disk, 12-volt adapter cable, PC/USB interface cable, USB drivers CD, quick reference guide.
Optional accessories: GA 27C remote GPS Antenna, A/C charger, dash mount, color faceplates (5 pack), carrying case, MapSource software, GTM 10 FM traffic receiver (required for traffic services).
---
What It Does:
Find It and Go!
The StreetPilot c340 has 18 categories from which to choose to begin your navigation - for example: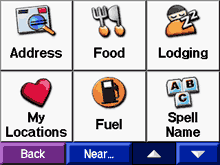 Address
Food
Lodging
My Locations
Fuel
Intersections
Shopping
Entertainment
Recreation
Cities
Browse Map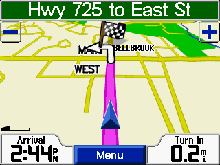 After selecting a category, you select a destination, and touch Go! The c340 will guide you to your chosen location with voice prompts, directions at the top of the screen, and a map with arrows. You can spell out the location by using the onscreen keyboard. Finding an address and finding intersections works similarly. Locations can also be found by touching a point directly on the map display.
My Locations
The c340 allows you to save any found places, including your current location. You can later navigate to those places by selecting "My Locations." Saved places can be edited by changing the name or map symbol. A home location can be saved for a place where you might return often. The unit also stores the last 50 recently found places to make returning to those places convenient.
Viewing Other Pages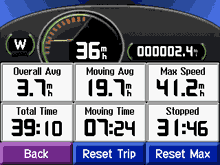 The Trip Information page gives useful statistics such as current speed, maximum speed, moving time, stopped time, and total time. The Current Route page is a list of turn-by-turn directions and the Next Turn page shows the turn on the map with the distance and time until that turn. The c340 also allows you to add a detour to your current route.
Customizing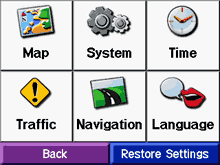 Map settings can be changed to show more or less detail. The map view can be made "track up" (which means that the direction you are heading is always at the top), "north up," or 3D. GPS mode can be switched to WAAS or it can be switched off to simulate routes indoors.
Other choices available:
Units of measure - kilometers or miles
Safe mode - can be enabled so that when the vehicle is moving, unit functions that require significant operator attention aren't a distraction.
Color mode - can be set to light background (daytime), dark background (night), or auto, which changes according to sunrise and sunset times.
Road preferences - faster time or shorter distance.
Text language - changes all on-screen text to desired language.
Voice language - changes the language for all voice prompts and messages.
---
Specifications:
Physical:
Size: 3.2"H x 4.4"W x 2.8"D (8.2 x 11.3 x 7.2 cm)
Weight: Appr. 9.5 ounces (269 g)
Display: 2.8"W x 2.1"H (7.2 x 5.4 cm); 320 x 240 pixels; bright, 16-bit LCD, with white backlight and touch screen
Data Storage: Indefinite – no backup battery required
Antenna: Built-in patch, MCX-type connector for optional external GPS antenna connection
Performance:
Receiver: 12 parallel channel
Acquisition time: Cold – appr. 45 seconds
Warm - appr. 15 seconds
First time - appr. 2 minutes
Update Rate: 1 second continuous
Position Accuracy: less than 15 meters (49 ft)
less than 3 meters with WAAS

Navigation:
Waypoints: 500 with name and graphic symbol

Power:
Input: 12/24-volt DC
Usage: 15 watts max. @ 13.8-volt DC
Battery Life: 8 hours
Price:
Suggested Retail: $749.99 USD
Mean Price Available on Internet: $450.00 USD

---
Practical Use:
The Garmin StreetPilot c340 is a small to medium sized model. It's halfway between an i2/i3/i5 and the 26xx/27xx StreetPilots. It's an attractive unit. You can customize the unit's appearance with several choices of colored faceplates (sold separately). The power button, USB port, and volume control is on the right side. On the left is the SD card slot. Both sides have a speaker. The 12-volt adapter cable connects to the suction cup mount, under the receiver itself. Also provided is an adhesive disk in order to provide the suction cup with a smooth surface to attach to.
Out of the box, the first thing is to install the USB drivers to the PC - quick and easy. At this point, you can connect the c340 and turn it on. The maps are already loaded on to the unit - coverage for the U.S., Canada, and Puerto Rico.
Garmin has succeeded in making this model easy to use even though it does quite a bit. I needed to go to the local post office and navigating through the necessary screens to find that particular address was quick and intuitive. The volume of the voice seemed adequate but in situations with high noise level it may be marginal. The text-to-speech feature was very good at pronouncing street names.
Route calculation and re-calculation was fairly quick. (For those wondering what "re-calculation" is, if you're navigating and you decide, for instance, to take a shortcut, the c340 will detect you're off the planned route and will re-calculate a new appropriate route.)
I ran into two navigation problems, though. First, the announcement of an upcoming turn often came too late to comfortably make the turn. This has not been a problem with any Garmin models in the past. Second, the voice would tell me to, for instance, "turn right on Main Street, then turn left." When this occurs (instructions to turn after another turn in one statement), it implies that the second turn occurs immediately after the first.
One more than one occasion (different locations), the unit told me this when, in fact, it was just plain wrong. If I had followed the instructions, I would have turned one street too soon. In other words, there was one street between turns. It is a case of the voice prompts directly contradicting the mapped route. This has never happened with any previous Garmin (or any other) products.
---
Cons and Pros:
Cons:
Some misleading navigation directions
Upcoming street announcement too late
Pros:
Relatively mall size
Can be used while on foot
Optional traffic information capability
---
Conclusion:
The StreetPilot c340 is quite easy to use and I would be pleased except for the misleading navigation directions and upcoming street announcement problems (see Practical Use, above). I'm not sure if I would be comfortable with that. Maybe it would be okay if you're likely to use it mostly for long-distance driving. If you plan on doing a lot of driving in unfamiliar cities, I would be hesitant until Garmin addresses these issues.
This place often has the best GPS prices...
---