GPS Review - Lowrance iWay 500c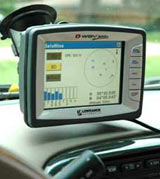 August, 2006
by: J. Snively
Introduction:
Portable color GPS + WAAS navigation system with touch-screen display and voice and visual guidance. Large 20GB internal hard drive, with 10GB allocated to built-in, high detail mapping and 10GB reserved for MP3 music storage to be used with the built-in MP3 player.
This place often has the best GPS prices...
---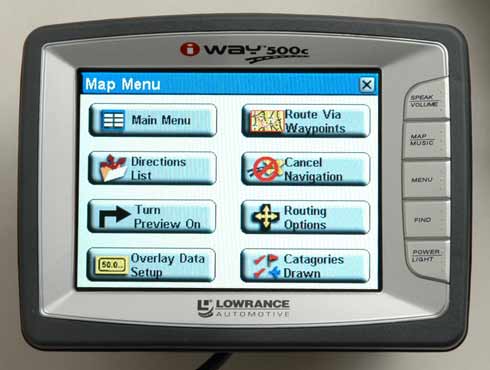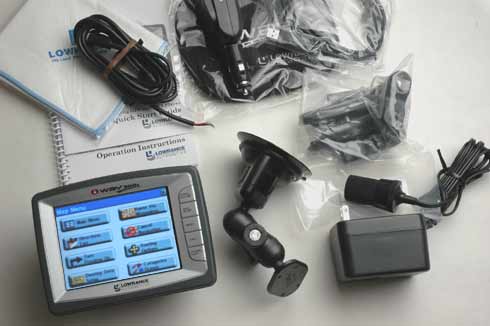 What You Get:
The Lowrance iWay 500c GPS receiver, suction cup mounting bracket, short and long mounting arms, motorcycle handlebar bracket, external speaker with 12-volt adapter, AC power adapter, USB interface cable, hardwire adaptor for stereo, protective cover, screen cleaning cloth, owner's manual, quick reference guide.
Optional accessories: Remote GPS antenna, iWay DVD mapping update.
---
What It Does:
Although there are five buttons on the front of the unit, most of the controls are on the touch screen. The five buttons are: Speak/Volume - to control volume and make the unit repeat current instruction; Map/Music - to switch between the two; Menu - to show all menus and sub-menus; Find - to find destinations and POIs; Power/Light - to turn the unit off and on and control the backlight.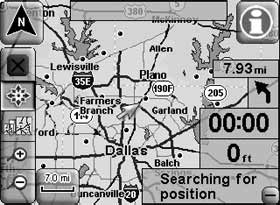 The Mapping Mode includes all navigation features. All of the buttons and overlay boxes are covering portions of the map. You can make these overlays more readable by decreasing transparency or you can make the map beneath more visible by increasing transparency.
The Map Display toolbar has the following functions:
Clear Cursor
Move Map
Zoom Box
Zoom In
Zoom Out
You can orient the map North up, track up, or 3D.
Location Information button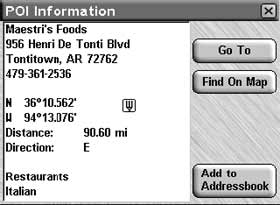 There is also a Location Information button. This button brings up a screen showing details on the location selected by the map cursor. This could be a Point of Interest (POI) such as a restaurant or motel or a contact that you've saved. The Informaton Button allows you to create and save contacts, select, edit, and delete contacts, as well as navigate to a contact.
Map Menu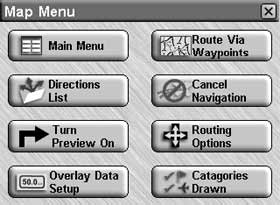 The Map Menu does the following:
Main Menu - leads to options and menus that allow you to customize the 500c
Directions List - contains a list of all the turns from the start of your route to the end
Turn Preview - a screen designed to prepare you for upcoming turns
Overlay Data Setup - allows you to select and customize which overlays appear on the map
Route Via Waypoints - allows you to add intermediate locations along your route
Cancel Navigation - self explanatory
Routing Options - controls how the unit generates a route from your current position to a selected destination
Categories Drawn - lets you choose how much of the mapping detail you want shown on the screen.
---
Specifications:
Physical:
Size: 4.5"H x 6.1"W x 2.2"D (11.6 x 15.5 x 5.5 cm)
Display: 5" diagonal touch screen TFT display; 320 x 240 pixels

Navigation:
12 parallel channels and WAAS
Price:
Mean Price Available on Internet: $424.50 USD

---
Practical Use:
I took delivery of the 500c from the FedEx man and when he handed it to me I could not believe how heavy it was. I thought there must be books or something in this box. Well, when I opened it, it was indeed the 500c itself that weighed so much. That became a problem. Even though the suction cup mount is fairly substantial, the 500c almost continually bounced and shook - even on smooth roads.
The iWay 500c has the maps pre-loaded so there is no need to connect to your PC except to load MP3 files. It's an attractive unit and it has a large screen that proved to be easy to see even in bright sunlight conditions. The touch screen was easy to use and fairly intuitive. I say "fairly" because there were certain functions that required trial and error to figure out. It has screens for just about anything you would want to do - even GPS status information.
When I first turned the unit on, it got a lock on six satellites within about 45 seconds. Then what happened next is a little hard to describe. The map of my general area appeared on the screen but the map kept jumping around, centering on various areas within a few tenths of a mile of my location. I waited for it to settle down but after about one minute (which is a long time), I got too frazzled and decided to push the "Find" button in order to get it to stop.
I guess I'm spoiled by the newer Garmins that announce the street name - the 500c did not in many cases. Having the street name spoken is a great feature, especially for times when two streets are close together and "turn left in 500 feet" is simply not clear. In urban areas, the unit tended to use highway route numbers as opposed to street names. I found this to be an inconvenience as most people are much more familiar with street names in urban areas. This may be a little picky, but when it announced highway names, it would say "O H 48" instead of "Ohio 48" or "state route 48."
In order to test the routing capabilities, I chose a destination on the map. The way I did this was to "pan" the map with my finger on the touch screen until I found an icon for an eatery. Touching the icon and then choosing "Go To" was a handy way to initiate a route. Then the directions given by the unit did not make a whole lot of sense. I was confused by where it wanted to take me - the route seemed neither the shortest nor the fastest. Then as I approached my destination, it was apparent that the 500c was taking me way past it. Not by a few hundred yards but by miles. I could see how this could happen if I had chosen the destination from a list by inadvertantly touching the one listed just above or below. But that was not the case as stated above - I had chosen the destination from a known location on the map!
During the course of another route, the 500c told me to "bear left." Fine. Except it was on a straight street with not a hint of anything that could be taken as "bear left." To be fair, there were times when it routed me ways that made a little more sense than the Garmins did.
---
Cons and Pros:
Cons:
Weighs a lot which means it is almost constantly bouncing around on its mount
Weighs a lot which means it sinks downward out of postion unless you tighten the mount with Herculean effort
A lot of routing errors and peculiarities
Pros:
Large, bright screen
Low price
---
Conclusion:
This is the first Lowrance unit I have reviewed and I'm sorry to say that it failed the test. Its routing oddities alone would be a deciding factor. But let's give it the benefit of the doubt and say that by coincidence I ran into obscure problems. There's the fact that it is so heavy that it jiggles around on even the smoothest roads. Lowrance has some work to do on this one.
This place often has the best GPS prices...
---