GPS Review – TomTom Go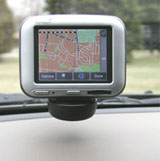 February, 2005
by: J. Chartwell
Introduction:
The TomTom Go is an all-in-one car navigation system with software, maps, GPS and car mount that works straight out of the box. 3D or 2D views with day and night variations, touch-screen with intuitive interface, and clear spoken instructions in many languages. It is also easy to fit and remove, has 1000s of points of interest, and has a long-life rechargeable battery.
This place often has the best GPS prices...
---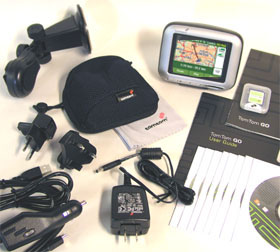 What You Get:
TomTom Go receiver
Suction mount cradle
Suction mount adaptor
USB cable
AC power cable
DC power cord w/ cigarette lighter plug
User guide
Screen cleaning cloth
Carrying case
7 Installation and map CDs
256 MB SD card
Optional accessories:
External Antenna
Additional maps
Professional docking kit
Additional mounting options
Deluxe carrying bag
Additional front covers
---
What It Does: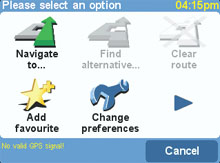 Options Menu
The options menu is where you start. From here you can choose to navigate, find an alternative route, or clear a route. This menu also allows you to add a favorite, change preferences, plan from A to B, browse the map, show status, or show route instructions. In addition, you can choose a guided tour of the TomTom Go.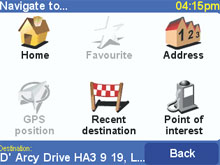 Navigation Page
Choose "Navigation" to plan a route. You can navigate to:
Home
Favorite
An address
GPS position
Recent destination
Point of interest
Choosing "Address" brings up a keyboard on the screen where you can enter the desired street and number. "Favorite" is where you can store frequently-used destinations. Choosing "Point of interest" brings up a screen with several choices of the most commonly used categories. From there you can go to the keyboard and enter a category if necessary.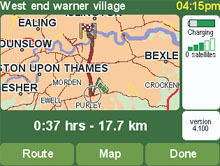 Once planned, the unit shows its route summary on a suitably-scaled map (the image at right). Tap on "Map" to zoom in and explore the route in the context of a street map. Tap the "Route" button to see a detailed list of turn instructions. Tapping on any individual route instruction switches to the map view zoomed in on the right junction.
Browse Map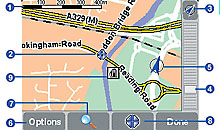 Scale bar
Cursor position
GPS button
Zoom bar
Your current GPS position
Options button
Search button
Cursor button
A Point Of Interest
Preferences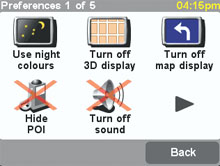 Preferences gives you the ability to adjust/customize 23 different functions. Some examples are:
Night/Day display
Show/hide POI
Change volume
GPS status
Turn sound on/off
Turn map display on/off
Turn 3D display on/off
Maintain favorites
Switch maps
Enable/disable POI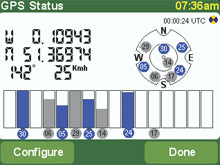 Change map colors
Large/small keyboard
Set name display
Change home location
Set metric units
Set schematic speed
Change voice
Switch language
Set clock
Turn screen upside down
Change brightness
---
Specifications:
Physical:
Size: 4.5"W x 3.6"H x 2.3"D (11.5 x 9.2 x 5.8 cm)
Weight: 310 grams (11 ounces)
Display: 320 x 240 pixel resolution with 262,144 colors
Data Storage: 256MB on SD card
Power Source: 5VDC by AC power supply or vehicle supply
Price:
Suggested Retail: $1056.16USD

---
Practical Use:
I started by turning the unit on, inserting the SD card, and making the power and PC connections. After inserting the first CD, I was asked to choose a language then install the maps. The multiple map region choices is a very handy feature. With other manufacturers you are limited to choosing one particular state or region to upload. What TomTom has done is populate the map choice list with a great number of region choices. For example: AR (Arkansas) only, AR + KS + MO + OK, AR + TX + OK + NM + LA, or AR + LA + MS + AL + GA + TN.
The SD card had much more information on it than the manual said it had, so I had to remove some of the map information from the card. After map installation, I needed to go to the TomTom code website (www.ttcode.com) and enter 1) the product code; 2) the device code; and 3) use the generated activation code to activate the TomTom Go.
The suction cup mount seemed to be adequate. The mechanics of the mount arm allow you to pivot the arm vertically and also horizontally in two places. A suction cup adaptor disc with an adhesive pad is supplied for mounting to surfaces that may not hold suction cup vacuum (such as a dashboard with a textured surface). A nice feature is the ability to switch the display 180 degrees in case you need to mount the unit upside down.
Upon turning the Go on, you are asked if you want to take a guided tour including the most important menu options and the map browser. After choosing "Navigate to," you have the choice of "Home," "Address," "Recent destination," and "Point of interest." I proceeded setting a route as described above.
The voice directions were clear and loud. The unit counted down the distance to the next turn in miles, then in yards and was fairly accurate. The voice would announce the next turn the first time in plenty of time. But the second prompt always occurred almost right on top of the turn. Several of the locations I wanted to go to were not in the points of interest. On a couple of occasions the addresses were not where they were supposed to be.
---
Cons and Pros:
Cons:
Point of interest data incomplete
Lacking certain functionality such as shortest/fastest routing and ability to navigate by longitude/latitude
No ability to view maps or create routes on the PC
Pros:
Excellent audio and video quality
Simple to operate
Multiple map region choices
---
Conclusion:
The designers of this unit clearly thought out much of the operation so that the average consumer has to do very little set up and is able to easily use it. It would, however, be somewhat of a disappointment to a "techie" person as it is lacking features such as the ability to tell it to route either faster or shorter and navigate to a longitude/latitude. Although it is a little on the expensive side, most people would be happy with the TomTom Go as long as they understand its limitations.
This place often has the best GPS prices...
---