GPS Watches: Monitor Your Performance
Published: September 25, 2004
Updated: March 2, 2012
There are currently at least six manufacturers of GPS watches: Nike, Tech4o, Timex, Garmin, Polar, and Suunto. Casio used to have one, but it's been discontinued. Garmin has a line of eight GPS watches. They are marketed as speed and distance systems for athletes - they do not provide location information.
The speed and distance systems are composed of two parts: a GPS receiver and a watch that are wirelessly connected by a radio signal. The GPS receiver can be worn on the arm or clipped to a belt. However, the following GPS watches do provide location information. One of these GPS watches is reviewed here.
(Browse all the other GPS articles and features.)
The Casio Pathfinder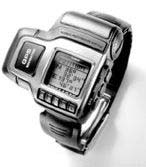 Casio introduced the world's first wristwatch with built-in GPS capability at the January 1999 Consumer Electronics Show in Las Vegas. It is now discontinued, but perhaps it can be found on eBay. The Casio is nice in that it provides location and altitude. It is a little bulky but at least it's all one piece. The Casio also can be connected to a PC for data exchange with the included software. With all it does, it is a good value - its price new was about $200.00.
The Sailing GPS Watch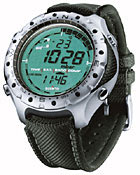 How about a sailing GPS watch? Suunto Yachtsman Wristop Computers can track speed and bearing in addition to providing you meteorological trend information from the integral barometer and thermometer.
It also detects changes in wind direction and provides the information necessary to take the shortest course. Price is about US$300.00.
See the Garmin Forerunner 305 GPS watch in action
Garmin Forerunner® 405CX
In addition to providing GPS capabilities, the Forerunner 405CX transmits information to your laptop concerning heart rate, distance walked or ran as well as pace. Other training features include analysis of calories burned, ability to share workouts with others who have Forerunner watches and monitoring of bicycling session distances and speeds.
Polar RS800CX RUN
Features include a stride sensor that records cadence and stride length and allows users to calibrate for three different types of shoes. An altimeter reveals elevation information that facilitates creation of optimal workout programs containing individualized settings targeting heart rate and recovery. You also receive a two-year manufacturer's warranty with the Polar RS800CX RUN.
Garmin Forerunner 405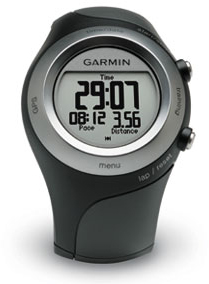 Users can store workout sessions in the Garmin Forerunner 405 to review whenever necessary in order to determine rate of improvement regarding pace, heart rate, and distance. With Garmin Connect, you will be able to wirelessly transmit information about each exercise session as well as share workouts with others involved in the online community. This watch is also designed to allow its GPS antenna better access to satellite signals that improves tracking when you are jogging near large buildings and trees.
Timex Ironman Triathlon
The Times Ironman Triathlon GPS watch provides users with SiRFstarIII GPS capability that does not need calibration. In addition to measuring distance, pace, and speed in real-time, users are able to record as many as 100 locations and recall 50 custom paths. Heart rate monitor, chronograph, and one year warranty is included with the purchase of a Timex Ironman Triathlon.
Garmin Forerunner 310XT
Specifically made for swimmers, this GPS-enabled watch resists water up to 164 feet deep, tracks heart rate, distance, and pace while walking or jogging and is capable of estimating swim distance and average speed. When you are ready to jump from the water onto land, the Forerunner 310XT easily transfers from your wrist to your bicycle with a quick release mechanism. By utilizing HotFix satellite predictions, this watch rapidly tracks your activity even when near trees or other obstructions.
Suunto X10 Military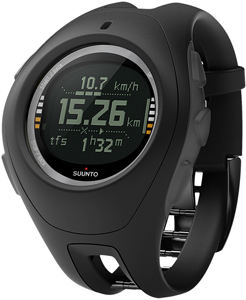 With the Suunto X10 Military watch, you can track distance and speed as well as designate waypoints and save route information. Also included is a barometer, compass, altimeter, stopwatch, alarms; it is resistant to water to a depth of 300 feet.
Suunto T6C
The Suunto T6C Running Pack GPS watch provides information regarding distance, altitude, and speed along with physiological details capable of transmission to your PC.
Polar RS300X G1
By combining the GPS sensor for recording of distance and speed and the heart rate monitor included with this watch, the Polar RS300X G1 allows users to understand what they have accomplished during a training session. In addition, you also receive the number of calories burned and data regarding your last 16 workout sessions.
Timex Ironman Triathlon Bodylink Trail Runner
Users receive detailed feedback concerning workout sessions as well as improved GPS technology. Other features include longitude, latitude, and altitude navigational capability, INDIGLO nightlight, dual time zones and a one-year warranty.
Garmin Forerunner 205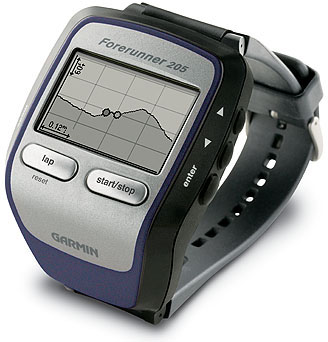 A functional sports design allows the Garmin Forerunner 205 to wrap around the wrist in a way that allows the GPS receiver to access the sky and provide better reception. You can also compare previous workouts with your more recent workouts to track improvement. Three different data screens also give immediate feedback regarding exercise sessions.
Garmin Forerunner 210
Train outdoors as well as indoors with the Garmin Forerunner 210 GPS watch. Create individualized interval programs and track the pace of each session. A heart rate alert tells you when you have exceeded your target heart rate or fallen below the rate. Additionally, this watch works with treadmills or stationary bicycles to store information about sessions with these types of exercise equipment. Track fat, water retention, and weight as well as six other health measurements when implementing the Tanita BC-1000 with the Forerunner 210 watch.
Garmin Forerunner 410
Specifications of the Garmin Forerunner 410 include water resistant, high-sensitivity GPS receiver, a 1000-lap history, and ability to store 100 waypoints. Features consist of heart rate monitor, Garmin Connect compatibility, competition against a virtual partner, auto lap/scroll/pause, and environmental temperature display.
Garmin Forerunner 610
Users have touch-screen capability with this watch, as all it takes is a finger tap to the screen to change pages in order to view more information regarding workout sessions. Other features include heart rate, distance, calories burned, pace, and GPS position. A new technology called the Virtual Racer allows user to vie against virtual races provided by this watch that incorporates real-time conditions.
Nike + Sportwatch GPS
When using Nike and a shoe sensor during indoor sessions, users can synchronize outdoor runs utilizing the GPS. You can also track heart rate, time, distance, pace, and calories burned while accessing a variety of Nike+ tools available online, such as coaching advice, challenges, and exploration of other users' workout programs by implementing Nike Top Routes.
Tech4o Discover GPS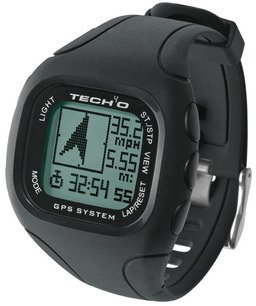 Highly versatile and functional, the Tech4o Discover GPS features automapping of routes, waypoint navigation, heart rate monitoring, digital compass, PC link-up, and water resistance to a depth of 100 feet. This watch implements state of the art technology that prevents other digitalized exercise equipment and watches from interfering with its performance.
Polar RCX5 MultiSport
The Polar RCX5 MultiSport is meant for weight trainers and other endurance athletes who desire a "virtual" coach that assists in pursuing optimal training sessions. Training programs are also available for download from Polarpersonaltrainer.com. Heart rate monitoring is available on land as well as water. Battery can last up to 11 months without recharging.
Garmin Forerunner 101 & 201 (discontinued)

Garmin has had the Forerunner 201 for several years. It will display longitude, latitude, and elevation, so it's not just for athletes. Sure it's a little bulky, but some people may like it better than having to have an extra piece. It does a lot for a small price - suggested retail is US$150. It also includes an A/C desktop charger and serial interface.
The Forerunner 101 has all the same features as the 201 but runs on 2 AAA batteries. It sells for about US$100.
Garmin Foretrex 201 (discontinued)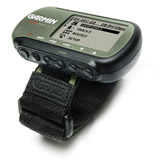 The Foretrex 201 has special features that will appeal to mariners as well as hikers. It includes a unique application for sailing and paragliding racers that allows them to configure the start sequence of a race. The countdown is displayed in a large-number format that audibly alerts the user at each phase of the start sequence.
The Foretrex 201 weighs less than 3 ounces and is waterproof. It has all the features of Garmin's handheld Geko 201. It will run for 15 hours on a single charge of its lithium battery. (This item now discontinued)
The newer Foretrex 101 has all the features of the 201, but it runs on 2 AAA batteries for those who would rather replace the batteries than recharge in the field. (This item now discontinued)
The Golf GPS Watch (discontinued)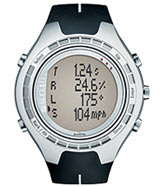 Yes, there is a GPS watch just for golfers. The principle idea behind the Suunto G6 is to measure and process data to help you make the right decisions while playing and practicing golf. The watch collects all the information during your round, and enables you to analyze your exact performance and thus improve your game.
The Suunto G6 tells the distance from the teeing point and gives you instant feedback on the length of each shot - an actual measure of your own performance. It also suggests the correct club by combining your game history (average length of your normal shots) and distance left to the green.
X9M/i GPS wristop computer (discontinued)
The Suunto X9M/i ("Military") replaces the X9i Global Positioning System wristop computer. It is designed for Military personnel looking for the ultimate field watch. The X9M/i allows you to plan and save routes or you can go out into the field without a pre-planned route and use it to keep track of your position, distance traveled, and speed. It will record your travel which you can save for later examination and you can use it to get back to your starting point. The X9M/i has a compass, altimeter, thermometer, and barometer. An option is the Solar Charger that allows you to navigate for longer periods of time and that charger can be used for other devices.
Browse all the other GPS articles and features.
---