Map of Indiana: A Source for All Kinds
of Maps of Indiana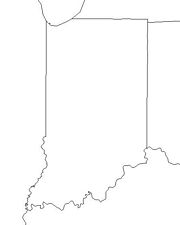 Click for printable map of Indiana
(Browse all the other World Maps.)
Map of Indiana links to other maps
Downloadable
Blank Outline Map - A printer-friendly document.
Roads - You can zoom in and print your own maps at a large scale.
Shaded Relief - Can be printed at two different zoom levels (click on the map to zoom).
For purchase
Indiana Of Interest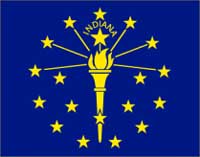 The region was first explored for France by Robert Cavelier in 1679. In 1763 the British claimed victory over the French for the area. American forces were led by George Rogers Clark against the British in the area during the Revolutionary War and Indiana was the scene of frequent Indian uprisings until the victory by Gen. William Henry Harrison at Tippecanoe in 1811. Indiana was organized as a territory in 1800 and admitted as the 19th state in 1816.
The state is a large producer of coal, and a leader in limestone quarrying. Much of the nation's building limestone originates here and the stone for the Empire State Building came from a site near Bedford.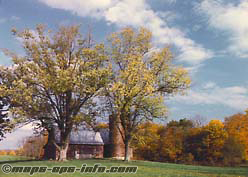 Northern Indiana's geography is dominated by what was once a glacial lake. It is separated from the central agricultural plain by the Wabash River. The southern third of the state is a series of bottomlands separated by gorges and valleys, ridges and knolls. Mineral springs, as at French Lick and West Baden Springs, and limestone caves, such as the big Wyandotte Cave, are located in this area.
About three quarters of the land in Indiana is utilized for agriculture although it is primarily a manufacturing state. The farms have very good yields. Cattle, hogs, and poultry are important with meatpacking tops of the many industries related to agriculture. A variety of vegetables and fruits are grown in Indiana. Grain crops, mainly corn and wheat, are important and also support livestock and dairying industries. Soybeans and hay are also produced here in large quantities.
See related information at United States Maps
Browse all the other World Maps.
---