Map of India: A Source for All Kinds
of Maps of India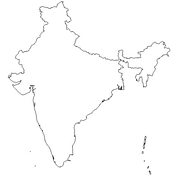 Click for printable map of India
(Browse all the other World Maps.)
Map of India links to other maps
For purchase
India Travel Map - Well-detailed folding map of India.
INDIA Political Wall Map - Exclusively developed by Maps.com and GRAPHI-OGRE and not available in any store, this wall map was created using high resolution vector digital imagery with state-of-the-art print on demand technology. This process allows Maps.com to offer over-sized laminated wall maps. Ideally suited for light reference, this political wall map includes cities, airports, rivers, lakes, and major roads (not numbered). Available in three sizes.
India Of Interest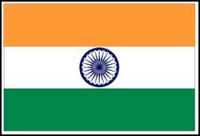 At 1,261,810 square miles, India is about one-third the size of the U.S. The terrain is upland plains in south, flat to rolling plain along the Ganges, deserts in west, and the Himalayan Mountains in the north. The climate varies from tropical monsoon in the south to temperate in the north. Its highest point is Kanchenjunga at 28,210 feet.
India has had a continuous civilization since 2500 B.C. when people inhabited the Indus River Valley. This civilization lasted until around 1500 B.C. During the second millennium, B.C., Aryan-speaking tribes migrated from the northwest into the middle Ganges River valley. Ancient and medieval India was made up of a variety of kingdoms. In the 4th and 5th centuries A.D., northern India was under the rule of the Gupta dynasty. During this period, known as India's Golden Age, Hindu culture achieved prominence. From the 11th until the 15th centuries, southern India was dominated by the Hindu Chola and Vijayanagar dynasties.
The British first established an outpost in India in 1619. Later in the century, the East India Company opened permanent trading stations. The British expanded their influence from these footholds until they ruled over most of present-day India, Pakistan and Bangladesh in the mid 19th century. Great Britain began administrating most of India 1857. The country achieved independence in 1947 largely due to the efforts of Mahatma Gandhi.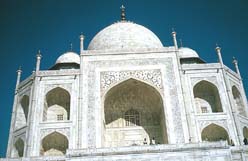 India's population of 1,065,070,607 is divided into the following religions: Hindu 81.3%, Muslim 12%, Christian 2.3%, Sikh 1.9%, other groups including Buddhist, Jain, Parsi 2.5%. English is the most important language for national, political, and commercial communication. Hindi is the national language and primary tongue of 30% of the people. India also has 14 other official languages.
See related information at United States Maps
Browse all the other World Maps.
---