Map of Michigan: A Source for All Kinds
of Maps of Michigan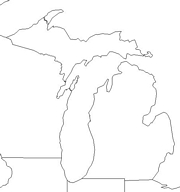 Click for printable map of Michigan
(Browse all the other World Maps.)
Map of Michigan links to other maps
Downloadable
Blank Outline Map - A printer-friendly document.
Roads - You can zoom in and print your own maps at a large scale.
Shaded Relief - Can be printed at two different zoom levels (click on the map to zoom).
For purchase
Michigan Of Interest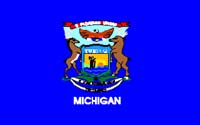 French explorer Étienne Brulé came to the area in 1622 and is probably the first white man to see Lake Superior. In 1760 the French surrendered Fort Pontchartrain to the British, ending French rule in Detroit. The Michigan Territory was created in 1805 and it became a state in 1837.
Michigan borders four of the five Great Lakes and is bisected into Upper and Lower peninsulas by the Straits of Mackinac, which link lakes Huron and Michigan. The two parts of the state are connected by the Mackinac Bridge, one of the world's longest suspension bridges. To the north, connecting lakes Huron and Superior, are the busy Sault Ste. Marie Canals.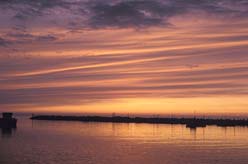 The eastern part of the Upper Peninsula has swampy areas and rolling hills on the Lake Michigan shore, while bluffs rise suddenly from Lake Superior. In the west the land rises to forested hills which hold much copper and iron. A great deal of northern Michigan is wilderness and has numerous inland lakes. The state has over 3,000 miles of shoreline.
Michigan leads the nation in automobile manufacturing and in addition to transportation-related items, Michigan manufactures a wide variety of products. The tourist business is one of the state's largest income producers. The state ranks first nationally in the production of blueberries, red tart cherries, and potted Easter lilies and geraniums.
See related information at United States Maps
Browse all the other World Maps.
---