Map of Mexico: A Source for All Kinds
of Maps of Mexico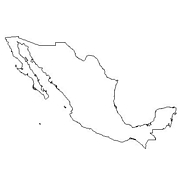 Click for printable map of Mexico
(Browse all the other World Maps.)
Map of Mexico links to other maps
For purchase
Mexico Of Interest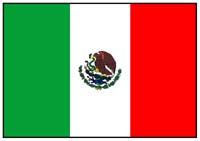 Mexico is about three times the size of Texas at 753,665 square miles and has a 5784-mile coastline. The land is comprised of high, rugged mountains, low coastal plains, high plateaus, and a significant amount of desert. The climate varies from tropical to desert. The highest point is Volcan Pico de Orizaba at 18,702 feet.
The population is 104,959,594 (July 2004 estimate). Its ethnic groups are mestizo (Amerindian-Spanish) 60%, Amerindian or predominantly Amerindian 30%, and white 9%. Roman Catholics make up 89% of the people and Protestant 6%. They speak Spanish, various Mayan, Nahuatl, and other regional indigenous languages.
Officially known as United Mexican States, the administrative divisions are 31 states. The government type is a federal republic. The country gained independence from Spain on the 16th of September, 1810. Vicente Fox of the National Action Party (PAN) was sworn in on December 1st, 2000, as the first chief executive elected in free and fair elections.
Mexico has a free market economy with a mixture of modern and outmoded industry and agriculture, increasingly dominated by the private sector. Recent administrations have expanded competition in seaports, railroads, telecommunications, electricity generation, natural gas distribution, and airports. Per capita income is one-fourth that of the US. Principal industries are food and beverages, tobacco, chemicals, iron and steel, petroleum, mining, textiles, clothing, motor vehicles, consumer durables, and tourism.
See related information at United States Maps
Browse all the other World Maps.
---