Map of New York: A Source for All Kinds
of Maps of New York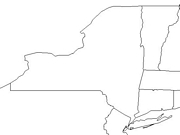 Click for printable map of New York
(Browse all the other World Maps.)
Map of New York links to other maps
Downloadable
Blank Outline Map - A printer-friendly document.
Roads - You can zoom in and print your own maps at a large scale.
Shaded Relief - Can be printed at two different zoom levels (click on the map to zoom).
For purchase
New York Of Interest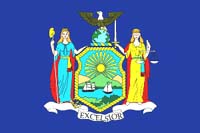 In 1524 Italian explorer Giovanni de Verrazano was the first European in the New York territory. Henry Hudson, an English Navigator, claimed the area for the Netherlands in 1609. The first settlement was established in 1624 at Fort Orange. New York was named in honor of James, the Duke of York and brother of King Charles II, in 1665 after the English seized it from the Dutch. New York became a state in 1788.
Northeastern New York is quite hilly. Mount Marcy is the highest point in the state at 5,344 feet. The Hudson River, Lakes Champlain and George are in this area. West of the lakes are the rugged Adirondack Mountains. Also found here are great wildernesses and sports centers like Saranac Lake and Lake Placid. The St. Lawrence River and Lake Ontario both separate New York from Ontario, Canada. The New York State Canal System's Erie Canal was once a major route to the midwestern United States and the Great Lakes. The Mohawk River, which flows from Rome into the Hudson north of Albany is part of this system.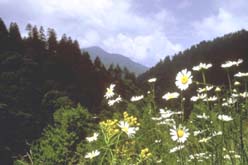 New York's main industries are electronic equipment, instruments, printing and publishing, industrial machinery and equipment. The state ranks seventh in the nation in manufacturing, with over 800,000 employees. New York farms produce corn, cattle, poultry, vegetables, and fruits and is a major wine producer. The tourist and convention business is also a large source of income.
New York was the first state to require license plates on cars and the Thomas E. Dewey Thruway is the longest toll road in the United States. The first railroad in the U. S. was 11 miles long and ran between Albany and Schenectady. Oneida has the world's smallest church (3.5' X 6') and the first daily Yiddish newspaper was published in 1885 in New York City. Adirondack Park is larger than Grand Canyon, Yellowstone, Yosemite, Olympic, and Glacier Parks combined.
See related information at United States Maps
Browse all the other World Maps.
---