Map of Ohio: A Source for All Kinds
of Maps of Ohio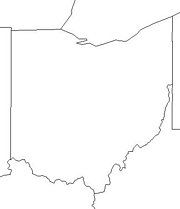 Click for printable map of Ohio
(Browse all the other World Maps.)
Map of Ohio links to other maps
Downloadable
Blank Outline Map - A printer-friendly document.
Roads - You can zoom in and print your own maps at a large scale.
Shaded Relief - Can be printed at two different zoom levels (click on the map to zoom).
For purchase
Ohio Of Interest
The French explorer La Salle reached the Ohio River in 1669 and the British and the French began the struggle for control of the area in the 1750s. At the end of the French and Indian Wars, Britain gained control of the territory by the treaty of 1763, but settlement was prohibited. Britain handed over the region to the United States in 1783. Settlement was allowed by the Ordinance of 1787, which established the Northwest Territory. Ohio became a state in 1803.
Akron is the rubber capital of the world and to control that rubber, America's first traffic light was installed in Cleveland. The cash register and the pop-top can were both invented in Dayton as well as the airplane. Ohio is the leading producer of greenhouse and nursery plants and Ohio also produced the first man to walk on the moon.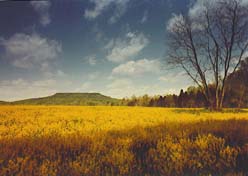 Ohio also has a great deal of farmland and produces large amounts of wheat, soybeans, corn, hay, hogs, cattle, and dairy commodities. The state's soil was augmented eons ago by the addition of limestone deposits as a result of the glaciers. Although Ohio is quite industrialized, it also draws economic riches from the ground. It is an historic center of the ceramic and glass industries and a national leader in the production of clays, lime, and salt.
Railroads and highways crossing the state since the 19th century have played a large role in Ohio's economy, transporting large amounts of raw materials and manufactured goods. Lake Erie ports, chiefly Toledo and Cleveland, handle iron and copper ore, coal, oil, and finished materials (including steel and automobile parts). The state's manufacturing industries produce the largest of income. With an emphasis on heavy industry, chief products are fabricated metals, transportation equipment, and machinery.
See related information at United States Maps
Browse all the other World Maps.
---