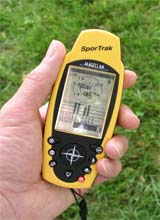 Introduction:
The Magellan SporTrak is the most basic of the SporTrak range of GPS receivers. It supports WAAS technology for accuracy to within 3 meters. It comes loaded with a database of over 11,000 worldwide cities and thousands of points of interest can be loaded from the optional DataSend CD.
This place often has the best GPS prices…
---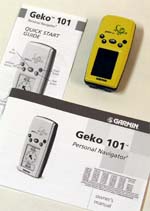 What You Get:
SporTrak GPS receiver
User manual
2 AA batteries
Wrist strap
Optional accessories:
Belt clip carrying case
Swivel mounting bracket
Vehicle mounting bracket
Bicycle mounting bracket
12V external power cable
External power/data cable w/bare wires
External power/data cable
DataSend CD for points of interest
---
What It Does:
The SporTrak has nine navigation screens: Status, Position, NAV 1, Compass, NAV 2, Plot, Road, Speed, and Time.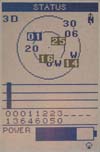 The Status screen gives some general information about the receiver. It shows satellite positions, identifies satellite numbers, displays the signal strength of each satellite and indicates remaining battery life.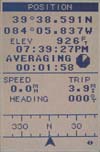 The Position screen displays the coordinates of your last computed position and basic navigation data. The position icon shows your current position on the compass. Also shown is the estimated position error and you have the choice of using a secondary coordinate system.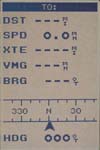 The NAV 1 screen displays your destination with a 'destination icon' shown on the compass. The four navigational fields are customizable. The options to choose from are: bearing, distance, speed-over-ground, course-over-ground, velocity made good, course to steer, estimated time of arrival, estimated time enroute, cross track error, turn, altitude, and blank.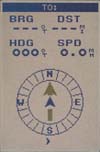 As well as displaying the customizable navigatin data, the Compass screen provides a pointer compass and a steering indicator, which shows the bearing of the destination relative to the course-over-ground. This screen also has a destination icon and a course-over-ground indicator, which shows the direction you are traveling.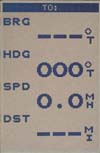 The NAV 2 screen has a large display of four fields, designed so the information can be seen from a distance. The four navigational fields have the same options as NAV 1 above.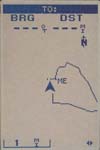 The Plot screen is a mini map that shows where you have traveled and where you want to travel. You can view the active route, your current position, the other waypoints, and destination here. The active route indicates the direction required to reach your destination. The track history automatically records where you have been and the plot scale can be changed through a range from 0.1 to 200 miles.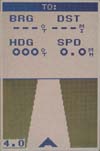 The Road screen displays four customizable navigation data fields at the top of the screen and shows your position on the desired route. You have the option of having the data fields show bearing, distance, speed -over-ground, course-over-ground, velocity made good, course to steer, and blank.

While using the Speed screen, you can view the graphical speedometer, odometer, and trip odometer as well as the numerical bearing, course-over-ground and speed-over-ground. The graphical speedometer scale can be adjusted and there is also an instantaneous speed which is a grpahical representation of speed-over-ground.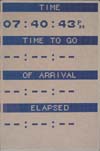 The Time screen displays the current time, estimated time enroute, time of arrival, and elapsed time in regards to the route you are navigating.
When marking waypoints you can select a 6-character alpha-numeric name and create a message associated with that waypoint. With the �Goto� feature you select a waypoint that was saved and the receiver guides you to that point. �Backtrack� allows you to retrace your steps back to your starting point.
The SporTrak has several alarm features: The anchor alarm notifies boaters if their craft has moved from the set position. It also has alarms for arrival, cross track error, proximity and poor GPS fix. Be advised when shopping for the DataSend CD, make sure it is version 2.12 or higher – any version prior to that will not work with the SporTrak.
---
Specifications:
Physical:
Case: Rubber Armored Impact Resistant Plastic waterproof to one meter for 30 minutes
Size: 5.6″H x 2.2″W x 1.2″D (142 x 56 x 30 mm)
Weight: 6.1 oz. (173 g) with 2 AA batteries
Display Size: 2.2″ x 1.4″ (56 x 36 mm)
Display Resolution: 160 x 104 pixels
Antenna: Quadrifilar Helix
Temperature Range: 14F to 140F (-10C to 60C), operating -4F to 158F (-20C to 70C), storage
Performance:
Receiver: 12 Parallel Channel, WAAS Enabled
Acquisition time: Cold � less than 2 minutes
Warm – less than 60 seconds
Hot – less than 15 seconds Update Rate: 1 second continuous
Position Accuracy: less than 7 meters, horizontal
less than 3 meters, w/ WAAS
10 meters, vertical
Navigation:
Waypoints: 500
Trackpoints: 2000
Routes: 20
Map datums: 76

Power:
Input: Two AA batteries
Battery Life: Up to 14 hours
Price:
Suggested Retail: $169.99
Mean Price Available on Internet: $154.00 USD
---
Practical Use:
The Magellan SporTrak is a medium-sized receiver and has enough weight to give it a quality feel, but still not too heavy. The nine buttons on the face of the unit are easy to use. It is narrow, meaning most people can wrap their hands around it and use their thumb to access the buttons, allowing comfortable one-handed use. As with most devices that have a great variety of options, navigating through all the menus takes some getting used to.
Two minor inconveniences: Attaching the PC cable requires tedious manipulation to align the screw to its hole and twist a small "D" ring few times. Likewise, the battery compartment is accessed by turning another small "D" ring nine full turns. I found that holding the "D" ring and turning the receiver was easier.
The TTFF out of the box was a fairly decent 2 minutes and 4 seconds. Subsequent cold starts were about 36 seconds. At walking speed, the estimated position error was anywhere from 25 to 40 feet unless it was receiving WAAS. According to the specs, WAAS accuracy is less than 3 meters (10 feet). Marking and naming waypoints was relatively simple and the SporTrak offers 20 different icons to represent waypoints.
The �Goto� feature is fundamental to a GPS receiver. After reaching the most distant point of my walk, and enabling �Goto,� the screen displayed the direction I needed to go to reach my starting point. As I followed the indicated direction, the time to arrival and distance is also displayed. The distance is shown in miles down to one-tenth of a mile, then switches to feet. Upon arriving at my starting point, the distance remaining was off by under 30 feet, which is pretty good.
Enabling the "Backtrack" feature allows you to retrace your steps. Just choose "Backtrack" from the menu and the unit will point you in the direction of a series of backtrack points, counting down the distance to each successive point. These points are set by the receiver automatically along the route you are traveling.
Using Magellan's DataSend CD, I uploaded a set of waypoints to the SporTrak. I chose a park about 8 miles away and enabled the "GoTo" feature. Following the directions on the Road screen, I was able to navigate an appropriate route. The unit displays the distance to the chosen waypoint and as I arrived at the destination, the unit indicated I was within 300 feet. 300 feet is not too hateful considering it was an 8 mile trip and I should point out that the error was likely due, in part, to the uploaded information from the CD. If you acquire a SporTrak and wish to supplement its use with a DataSend CD, make sure it's version 2.12 as the version 2.11 works only with the GPS 315 and GPS 320 units.
Testing under conditions of moderate foliage cover and next to 60-foot sheer cliffs showed that the SporTrak held its signal quite well, with a lock on more than enough satellites with at least medium signal strength.
---
Cons and Pros:
Cons:
PC cable is difficult to attach.
Battery compartment difficult to access.
Pros:
Holds fix well under heavy foliage and in vehicles.
Many features for the price.
---
Conclusion:
It should be noted that this is not a mapping receiver, as are the other models in the SporTrak line. Because it is not a mapping GPS, it is more suited to hiking and marine use as opposed to street vehicle use. The basic SporTrak operates on an older software system, so its display and functionality are slightly different than the other SporTraks. Knowing its limitations, it's a good unit for the first-time user and a good value. Additionally, Magellan's technical support is available by a toll-free phone number and I have found them to be very courteous and helpful.
This place often has the best GPS prices…
Read more: http://www.maps-gps-info.com/gp-rvw-mag-sptrk.html#ixzz5k1HiRTkh