Introduction:
The pocket-sized eXplorist 100 recreational GPS receiver is rugged and affordable. The eXplorist 100 features TrueFix technology which takes advantage of 14 parallel channels, supported by WAAS and EGNOS for fast signal acquisition, minimal signal loss and reliable accuracy to within 3 meters. Save up to 3 track log files, 500 points of interest and 20 routes to guide you back to your favorite spots or your starting point.
This place often has the best GPS prices…
---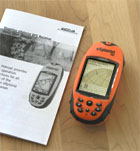 What You Get:
TeXplorist 100 GPS receiver
User manual
Optional accessories:
Bike mounting bracket
Swivel mounting bracket
Vehicle mounting bracket
Carrying case
---
What It Does:
The eXplorist 100 has three navigation screens: Position, Compass, and Map.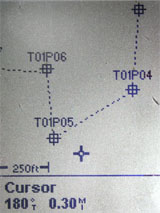 The Map screen displays your present position using a map of the area as the background. You can zoom in or out using the zoom in/out buttons to show just the portion of the map you need. The Map screen can also display your track history as well as a visual indicator of a route you may be navigating on.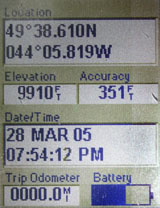 The Position screen dispalys your present position using the coordinate system selected in Preferences. Also displayed is your elevation accuracy, date and time, trip odometer and battery life.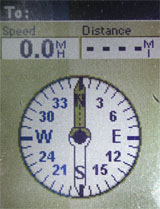 The Compass screen uses a graphical compass to provide you with information used to navigate to your destination. An icon outside the compass ring indicates your destination and the compass points in the direction you are heading.
You can press the Mark button to save a waypoint (also called a POI – point of interest). There are 42 different icons available to represent your waypoint. In the "name" field you can enter an alpha-numeric name of up to 8 characters. The "location" and "elevation" fields can be made any value you want. The message field will hold a message of up to 30 characters.
Pressing the GOTO button will prompt the eXplorist 100 to ask you whether you want your stored POIs to be displayed alphabetically or by nearest to your position. Once you choose which POI you want to navigate to, the bearing and distance to the chosen location is displayed at the bottom of the screen.
As you travel with the unit on, it will continuously record your track. Track is then a history of everywhere you have gone. At anytime you want to reverse your direction and head back to where you started, you can create a Backtrack route. You can create your own routes by choosing POIs from the list or adding new POIs.
The Help function contains about 25 different items in six categories that will answer many common questions. Preferences allows you to adjust map unit settings, adjust power management settings, personalize the eXplorist 100, change languages, and clear the memory.
---
Specifications:
Physical:
Size: 4.7″H x 2.2″W x 1.3″D (119 x 56 x 33 mm)
Weight: 5.7 oz. (161 g) with 2 AA batteries
Display: 1.4″ x 1.8″ (36 x 46 mm)
Display Resolution: 160 x 120 pixels
Antenna: Patch
Construction: Rubber armored impact-resistant plastic, water-resistant seal
Temperature Range: 14F to 140F (-10C to 60C)
Performance:
Receiver: 14 Parallel Channel, WAAS/EGNOS Enabled
Acquisition time: less than 2 minutes-cold start
less than 1 minute – warm start
less than 15 seconds – hot start
Update Rate: 1 second continuous
Position Accuracy: less than 7 meters, horizontal
less than 3 meters, horizontal w/ WAAS or EGNOS
10 meters, vertical

Navigation:
Waypoints: 500
Trackpoints: 2000
Map datums: 75
Routes: 20
Power:
Input: Two 1.5 volt AA batteries
Battery Life: Up to 18 hours
Price:
Suggested Retail: $119.99 USD
Mean Price Available on Internet: $115.45 USD
---
Practical Use:
The Magellan eXplorist 100 is bright orange and kind of chubby and rounded compared to Magellan's SporTrak series. It has 8 buttons on the front and one on each side near the top. The unit is surrounded by a strip of rubber for good gripping and a little style. The battery compartment is secured by a "D" ring that you turn 4 times to open or close. The battery compartment is also gasketed, as the unit is waterproof to one meter for 30 minutes.
One of the buttons on the front of the unit is a joystick type which is handy for getting around in the menus. Out-of-the-box satellite acquisition time was about 80 seconds. After that, cold starts were about 40 seconds. Satellite strength was good with my eXplorist 100 receiving signals from 9 satellites at times. Right now on my desk the unit is receiving 4 satellites for a 3D fix. And my desk is inside the building where most desks usually are.
One test was to take a walk and then use the "GOTO" to guide me back home. Estimated accuracy got as low as 10 feet. As this is a very basic receiver, there was not a whole lot of information displayed as a result of the GOTO. The map page showed a straight line from my current position to the home location. It also shows the bearing numerically and the distance to go. But after all, that is really all you need. Upon reaching my destination, the distance to go was within 20 feet of being correct.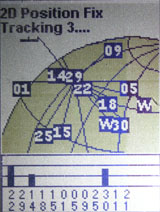 The eXplorist line of receivers has a new look for the satellite status page (shown at right). The backlighted display has two intensity levels. The 8 buttons on the front are a little on the small side but still managable. The power button on one side and the backlight button on the other side are both somewhat stiff to depress which is how they should be to prevent unwanted power on/off or accidently turning on the battery-draining backlight.
---
Cons and Pros:
Cons:
Not a lot of bells and whistles
Pros:
Inexpensive
Good position accuracy
Easy to navigate the menus
---
Conclusion:
This review is a little shorter than most simply because this is a basic unit. But it is very reasonably priced, appears to be well built, and performs very well. As long as you know that it is limited in its functions there is no reason not to like this unit. It's a great choice for a first-time GPS receiver.
NOTE: (Added 01-17-06) I got an email from an eXplorist user that he used his unit in temperatures below -10 degrees C/14 F and it failed. Yes, the temperature was below what the specs say, but be advised if you want to use it below this temperature it will most likely fail.