Map of Czech Republic: A Source for All Kinds
of Maps of Czech Republic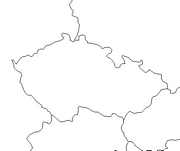 Click for printable map of Czech Republic
(Browse all the other World Maps.)
Map of Czech Republic links to other maps
For purchase
Czech Republic Of Interest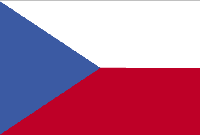 The Czech Republic is in central Europe southeast of Germany and covers 30,442 square miles. The climate is temperate with cool summers and cold, cloudy, humid winters. Bohemia in the west consists of rolling plains, hills, and plateaus surrounded by low mountains; Moravia in the east consists of very hilly country. The highest point is Snezka at 5256 feet above sea level.
Following the First World War, the Czechs and Slovaks merged to form Czechoslovakia. After World War II, a truncated Czechoslovakia fell within the Soviet sphere of influence. In 1968, an invasion by Warsaw Pact troops ended the efforts of the country's leaders to liberalize Communist party rule and create "socialism with a human face."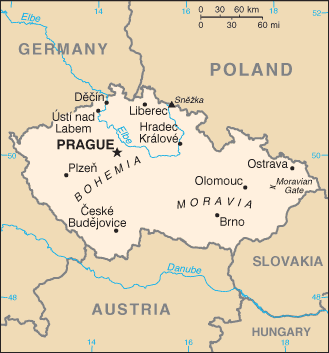 With the collapse of Soviet authority in 1989, Czechoslovakia regained its freedom through a peaceful "Velvet Revolution." On 1 January 1993, the country underwent a "velvet divorce" into its two national components, the Czech Republic and Slovakia. The Czech Republic joined NATO in 1999 and the European Union in 2004.
The country's population is 10,241,138 (July 2005 est.); 90.4% are Czech, 3.7% are Moravian, and Slovaks make up 1.9%. The major industries are metallurgy, machinery and equipment, motor vehicles, glass, and armaments. Agricultural products include wheat, potatoes, sugar beets, hops, fruit; pigs, and poultry. The Czech Republic's natural resources are hard coal, soft coal, kaolin, clay, graphite, and timber.
See related information at United States Maps
Browse all the other World Maps.
---