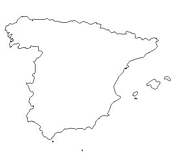 Click for printable map of Spain
(Browse all the other World Maps.)
Map of Spain links to other maps
Free Spain map online resource
Outline – Unlabeled printer-friendly map of Spain
Shaded Relief – (click on the image to enlarge)
Political – (click on the image to enlarge)
Roads – Go to MapQuest and enter an address to get a custom map of Spain.
Earthquake Activity
Flags – Click on the map of Spain to see each province's flag.
eBook Maps – Free eBook maps for eBook devices.
For purchase
Andalucia Travel Guide – A great site highlighting the best sights in Andalucia – Learn about this great region of Spain and what not to miss! Flights, hotels, shopping, transport, dining, attractions, entertainment and much, much more… Read on to discover places I have seen on my extensive travels through Southern Spain.
Malaga Express
An independent and practical guide for new residents coming to Malaga, on the Costa del Sol. Information on purchasing property, schools, healthcare and a fascinating insight into Malaga towns.
Spain Of Interest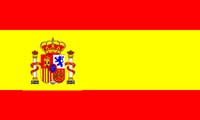 Spain is in Southwestern Europe, bordering the Bay of Biscay, Mediterranean Sea, North Atlantic Ocean, and Pyrenees Mountains, southwest of France. It covers 194,884 square miles, which is about twice the size of Oregon. The country is divided into 19 autonomous communities including Balearic Islands and Canary Islands, and three small Spanish possessions off the coast of Morocco – Islas Chafarinas, Penon de Alhucemas, and Penon de Velez de la Gomera.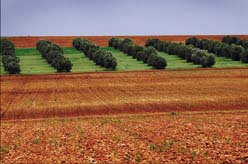 The terrain is a large, flat to dissected plateau surrounded by rugged hills. The Pyrenees are in the north. The climate is temperate; clear, hot summers in the interior, more moderate and cloudy along the coast; cloudy, cold winters in the interior, partly cloudy and cool along the coast. Pico de Teide (Tenerife) on the Canary Islands is the highest point at 12,199 feet.
Spain's population of 40,280,780 (July 2004 estimate) is 94% Roman Catholic. The ethnic groups are a composite of Mediterranean and Nordic types. Languages are as follows: Castilian Spanish 74%, Catalan 17%, Galician 7%, and Basque 2%. Castilian is the official language nationwide; the other languages are official regionally.
The labor force by occupation is divided as such: services 64%, manufacturing, mining, and construction 29%, and agriculture 7%. Primary industries are textiles and apparel (including footwear), food and beverages, metals and metal manufactures, chemicals, shipbuilding, automobiles, machine tools, and tourism.
See related information at United States Maps
Browse all the other World Maps.