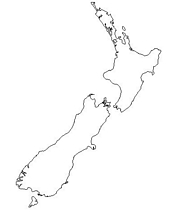 Click for printable map of New Zealand
(Browse all the other World Maps.)
Map of New Zealand links to other maps
Outline – Unlabeled printer-friendly map of New Zealand
Shaded Relief – (click on the image to enlarge)
Political – (click on the image to enlarge)
Roads – Go to MapQuest and enter a city to get a custom map of New Zealand.
Earthquake Activity – Northern New Zealand
Earthquake Activity – Southern New Zealand
Flags – Click on the map of New Zealand to see each province's flag.
eBook Maps – Free eBook maps for eBook devices.
For purchase
National Geographic Atlas Wall Map – This National Geographic map contains extensive political information, focusing on countries, capitols, and other cities. Political boundaries are presented very clearly, with different color-bands for each country.
Political Wall Map – Exclusively developed by Maps.com and GRAPHI-OGRE and not available in any store, this wall map was created using high resolution vector digital imagery with state-of-the-art print on demand technology. This process allows Maps.com to offer over-sized laminated wall maps. Ideally suited for light reference, this political wall map includes cities, airports, rivers, lakes, and major roads (not numbered). Available in three sizes.
New Zealand Of Interest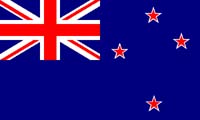 New Zealand is located in Oceania, as islands in the South Pacific Ocean, southeast of Australia. The land area covers 104,454 square miles. This includes includes Antipodes Islands, Auckland Islands, Bounty Islands, Campbell Island, Chatham Islands, and Kermadec Islands. The terrain is predominately mountainous with some large coastal plains. The climate is temperate with sharp regional contrasts. The country's highest point is Aoraki-Mount Cook at 12,317 feet.
New Zealand's government type is a parliamentary democracy and its administrative divisions are 13 regions. Its legal system is based on English law, with special land legislation and land courts for the Maori. The country gained independence from the United Kingdom in 1907.
The population is 3,993,817 (July 2004 estimate) and is divided among the following ethnic groups; New Zealand European 74.5%, Maori 9.7%, other European 4.6%, Pacific Islander 3.8%, Asian and others 7.4%. People of the Anglican faith make up 24%, Presbyterian 18%, Roman Catholic 15%, Methodist 5%, Baptist 2%. The official languages are English and Maori.
Over the past 20 years the government has transformed New Zealand from an agrarian economy dependent on concessionary British market access to a more industrialized, free market economy that can compete globally. This dynamic growth has boosted real incomes (but left behind many at the bottom of the ladder), broadened and deepened the technological capabilities of the industrial sector, and contained inflationary pressures. New Zealand is heavily dependent on trade – particularly in agricultural products
See related information at United States Maps
Browse all the other World Maps.