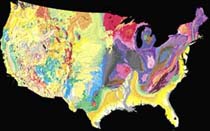 If you're searching for United States maps, you can use this page to help you find the type of map you want. The maps suggested here are generally the United States as a whole (except for "Individual States") although many exclude Alaska and Hawaii.
We've identified 5 main categories: (Some maps may fall in more than one category)
Education
Reference/Research
Travel
Decor
Individual States
All United States maps listings below are free unless otherwise noted.
---
Educational: (See also Reference/Research below)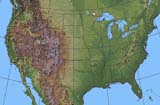 • Agricultural – This site has an extensive range of online United States maps on just about any agricultural subject.
• Capitals – This is a PDF file of a map that shows the capitals of the 50 states – you must have Adobe Reader to view this file.
• Create A Map – The National Atlas mapmaker allows you to create maps on many general subjects such as Biology, Climate, History, Transportation and more.
• Geography, General – Enchanted Learning has a good range of United States maps viewable online. They can also be printed, but to print them conveniently, the site requires membership for a nominal annual fee.

• Geology – The National Atlas mapmaker allows you to create any combination of themes to make a printable map.
• History – Go to Perry-Castaneda Library for an extensive selection of historical maps.
• Outline (blank) Maps – Printer-friendly online maps – with and without state outlines.
• Shaded Relief – See "Create A Map" above
• States Games – Play these games online – learn the locations, capitals, abbreviations and over 500 important facts about our 50 states.
• Purchase Educational Maps – Shop at National Geographic for a large selection of maps. All National Geographic purchases support research and education as they are a nonprofit organization.
---
Reference/Research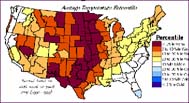 • Census Maps – The U. S. Census Bureau offers a number of different choices at this site. Please note that not all of these are full national maps. Here you will find free online-viewable and downloadable products as well as paper maps and CD-ROMS for purchase.
• Climate – The Spatial Climate Analysis Service has United States maps for precipitation, temperature, and dewpoint dating back to 1997.
• Earthquake – The USGS Earthquake Hazards Program has online and downloadable maps of recent activity, historical activity, and statistics. You are going to have to do some exploring once you get to this site, as not all these maps are national, nor are they all accessed from one page.
• Geology – Paper maps for purchase. This link takes you to the National Geologic Map Database catalog search page. Click on the "State-Wide Map" button and it will allow a search for maps of the entire U. S.
• Lightning – A map of all lightning strikes in the U.S. in the last two hours in 15 minute increments.
• Lightning – A lightning density map of the U.S.
• Shaded Relief – The National Atlas mapmaker allows you to create maps on many subjects. One of the options under "geology" is shaded relief.
• Shaded Relief maps for purchase at National Geographic. All purchases there support research and education as they are a nonprofit organization.
• Weather – We have found three choices for government weather sites: The National Weather Service Interactive Weather Information Network; The NWS Doppler Radar map; and the NWS Hydrometeorological Prediction Center. A commercial source for a wide range of weather maps is Intellicast.com.
• Wind Energy – The Wind Energy Resource Atlas of the United States has about 15 United States maps showing various statistics.
• ZIP Codes – A really cool interactive United States map showing the hierarchical zones of any ZIP code. Helpful hint: If after entering a ZIP code you wish to enter another, use the "backspace" key on your keyboard to erase the first ZIP code.
---
Grand Canyon Maps – Sources for Grand Canyon maps, including FREE maps available online. Info on Grand Canyon vacations, tours, rafting, mule rides and more.
---
Travel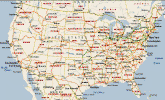 • Online Map/Driving Directions – Maps.com online map and driving directions.
• Online Map/Driving Directions – MapQuest is another online map and driving directions choice. However, MapQuest at times may be not easy to use as Maps.com (above).
• Highway Atlas for purchase from Rand McNally. They carry a variety of road atlases and United States maps.
• Highway, Interstates for purchase from Maps.com. An inexpensive, up-to-date folding map by Rand McNally.
• eBook Maps – Free eBook maps for your eBook device.
• Individual State highway maps: See Individual States below.
---
Horse Trails and Campgrounds Directory – The Horse Trails and Campgrounds Directory provides trail riders information about horse trails, horse campgrounds, overnight stay facilities, and bed & breakfasts; including trail-specific weather and horse trail and campground ratings.
Last Minute Vacations and Travel Guide is packed with money-saving tips on last minute deals, airfares, rental cars, hotels, and cruises.
---
Decor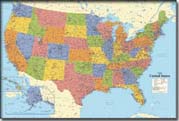 Almost any wall map could be considered "decor," so we've included them here. Many are available laminated, and are suitable for framing or hanging. All listed here are for purchase.
• Vintage Leather Maps – These are not exclusively United States maps, but may be of interest to you. NOVICA is an organization affiliated with National Geographic. It serves as an online agent for hundreds of artists all over the world. The NOVICA Web site has information about the artists and their cultures, photographs of their work and a selection of more than 8,500 handcrafted works.
• Wall Maps from Maps.com – Follow this link for a vast selection of wall maps. There is a heading for "Wall Maps," but also look under the other headings for "Wall Maps."
• Wall Maps from National Geographic. Follow this link and click on the large graphic that says "Wall Maps." All purchases there support research and education as they are a nonprofit organization.
---
Individual States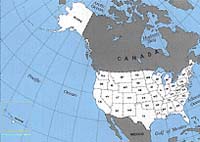 We have researched available maps for the 25 most popular states. Along with links to different kinds of maps, we've included a brief history and some interesting facts about each state. There are, of course, many more maps than those listed, but we've chosen what we've determined to be the most useful.
| | | | | |
| --- | --- | --- | --- | --- |
| Alaska | Georgia | Michigan | North Carolina | Tennessee |
| Arizona | Hawaii | Minnesota | Ohio | Texas |
| California | Illinois | Missouri | Oregon | Virginia |
| Colorado | Indiana | New Jersey | Pennsylvania | Washington |
| Florida | Louisiana | New York | South Carolina | Wisconsin |
---
Return to Maps GPS Info Home