There are many different kinds of world maps and many different reasons one searches for world maps. There are all kinds of interesting maps available that you may have never thought about.
Through extensive research we have brought you links to some of the best world maps availble online (free).
See below for individual continents and selected individual countries.
A Few Quick Earth Facts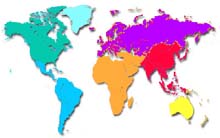 The diameter of the Earth at the equator is 7926 miles.
The diameter of the Earth through the poles is 7900 miles.
The Earth weighs 598,000,000,000,000,
000,000,000 metric tons (598 sextillion).
Earth orbits around the Sun at 66,000 miles per hour.
The speed of the Earth spinning on its axis at the equator is about 1250 miles per hour.
---
Last Minute Vacations and Travel Guide is packed with money-saving tips on last minute deals, airfares, rental cars, hotels, and cruises.
---
World Maps Resources
Antique Maps – A brief primer.
Continent Location – (click on the map to enlarge)
Continental Drift – Five maps showing the progression from 225 million years ago through the present.
Distance Calculator – Not a map, but a useful map-related tool. Enter "from" and "to" cities and the results are given in "as-the-crow-flies" miles.
Earthquake – Recent earthquake activity – click on the map to see more detail.
Gross Domestic Product – (per capita – click on map to enlarge)
Geochron – Information about the popular timekeeping piece that indicates where the sun is shining at any given moment.
Globes – A brief history of the globe and other useful globe information.
Historical World Maps – Go to the Perry-Castaneda Library and select from about a dozen historical world maps.

History of World Maps – A brief primer.
Latitude/Longitude Finder – Not a map, but a useful map-related tool. Enter just about any city or town and the results give longitude and latitude.
Lightning – Distribution of worldwide lightning strikes (click on the map to enlarge)
Shaded Relief – A PDF file – click on the zoom buttons to enlarge or shrink.
Time Zones (click on the map to enlarge)
World Political Map An inexpensive wall map for purchase. We have one of these in our office – very nice for the price.
---
Individual Continents
Africa
Australia
(Including Oceania)
North America
Asia
Europe
South America
---
Individual Countries
Canada
France
Japan
Scotland
China
Germany
Mexico
Spain
Croatia
Greece
Netherlands
Sweden
Czech Republic
India
New Zealand
Thailand
Egypt
Ireland
Russia
Turkey
England