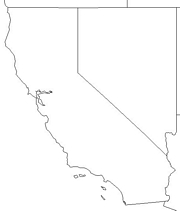 Click for printable map of California
(Browse all the other World Maps.)
Map of California links to other maps
Downloadable
Blank Outline Map – A printer-friendly document.
Roads – You can zoom in and print your own maps at a large scale.
For purchase
California Of Interest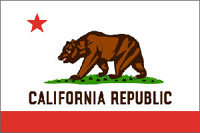 In 1535, explorer Hernando Cortes entered the land we now know as California. Sir Francis Drake claimed the area for England's Queen Elizabeth after he explored the coast in 1579. Mexico took control of California in 1825, but gave it up again in 1848. It finally became a state in 1850.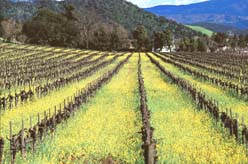 San Francisco Bay is the world's largest landlocked harbor and California has what is considered to be the most fertile valley in the world. It has the oldest known living organism – a 4,600 year old bristlecone pine, and the largest living tree – a California redwood with a trunk 101.6 feet in circumference.
California has a huge productive economy. If it were a nation it would be one of the ten largest economies in the world. Grapes, cotton, flowers, and oranges are the state's most valuable crops. California leads the nation in the production of vegetables and fruits, including tomatoes, strawberries, carrots, lettuce, broccoli, onions, and almonds. The state produces the greatest share of the nation's domestic wine. California's farms are highly productive due to a long growing season, good soil, and the use of modern agricultural methods. Irrigation is key, especially in the Imperial and San Joaquin Valleys. The picking and shipping of crops is done mostly by seasonal migrant workers, primarily Mexicans.
See related information at United States Maps
Browse all the other World Maps.