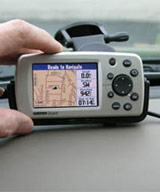 July, 2005
by: J. Snively
Introduction:
The Garmin Quest is a very compact automobile navigation system that can also easily be carried if you're on foot. It has automatic routing with turn-by-turn directions and voice guidance and with 115 MB of storage, there is quite a bit of room for maps.
This place often has the best GPS prices…
---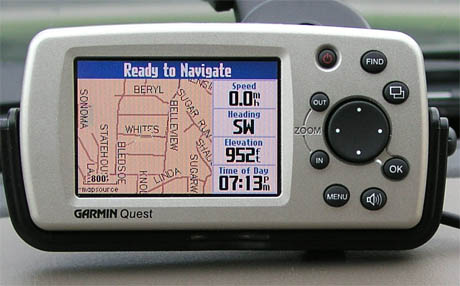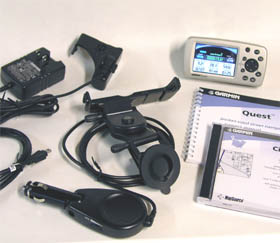 What You Get:
The Garmin Quest GPS receiver, MapSource� City Select CD-ROM with Unlock Certificate, Vehicle Suction Cup Mount, External Speaker with 12-volt Adapter Cable, A/C Power Adapter, PC/USB Interface Cable, Owner's Manual, Quick Reference Guide.
Optional accessories: Remote GPS Antenna and antenna mounts, Deluxe Carrying Case, MapSource CDs, Marine mount, Handlebar mount bracket, Motorcycle mounting kit (unit bracket, power/audio cable), Automotive friction mount w/ext. speaker with 12/24-volt adapter.
---
What It Does:
Note: What I've chosen to include here are the most important features – the Quest does a lot more. If you want to know everything this unit does, visit Garmin's website and look at the Quest's owner's manual.
The Map Page is one of the Quest's main operating pages. This screen is the first one you see after the opening screens, and it's the one you see as you navigate. The Map page is made up of many features. What you see is a map that displays your current location as well as nearby street detail. Also, depending on the current driving mode, data fields will provide information such as your driving direction, your current speed, and names of upcoming streets. You can look past your current postion by panning (moving around the Map page). You can also zoom into any particular location to view greater street detail or you can zoom out to get the big picture ahead on your route.
On the Map page, your current location is shown by the position icon. If you're panning the map the position icon may move out of view. When this happens, a "Distance Bar" appears on the screen and it tells you the coordinates of the map pointer's location as well as the distance.
Trip Information Page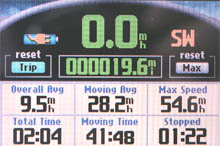 While navigating a route you can view the Trip Information Page. This page normally shows you the following information:
Power
Speed
Heading
Trip odometer
Speed-overall avg.
Speed-moving avg.
Speed-maximum
Trip time-total
Trip time-moving
Trip time-stopped
If you wish, you can change these data fields to a wide choice of other functions.
The Find Page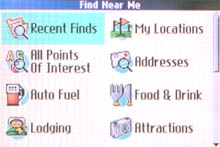 The Find feature is very useful in a number of ways. Most of the locations it's able to find can be found by name, near here, near [destination], near other (this means to find a place not near your current location), or near the map pointer. You can find cities, addresses or intersections, highway exits, waypoints, places to eat, sleep, shop, and visit. Also available is the ability to measure distance and find "recently found" places. "Recently found" allows you to recall the 50 most recent finds in the memory.
The Quest has a "Where Am I?" feature. Anytime you want, just press a key and your current location as well as the nearest intersection is displayed. The "TracBack" feature allows you to navigate back the way you came.
Route Options Page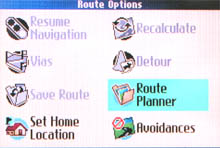 The Route Options Page has different options for planning routes:
Stop or resume navigation
Vias – Adds or removes an extra stop to be reached on the way to a final destination.
Save route
Set home location – Allows you to set a location that you will return to frequently.
Recalculate – Recalculates the current route for shorter distance or faster time.
Detour – Calculates a new route by avoiding part of the current route.
Route planner – Allows you to create a new route.
Avoidances – Allows you to avoid certain road types.
The Quest allows you to do a great deal of customization. Change colors, hide or display elements, adjust map detail, and lots more. The Avoidance button allows you to avoid certain roads types and features you may not want to experience. You can avoid U-turns, toll roads, interstates and major highways, unpaved roads, and even create custom avoidances.
GPS Page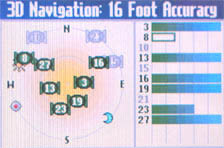 The GPS Status Page displays several different data: a graphical representation of the relative postions of the satellites in the sky; the signal strength of the satellites the unit is receiving; and the status bar. The status bar will tell you whether you're in 2D or 3D mode as well as the accuracy in feet. It also shows other information such as "lost satellite reception," "poor GPS coverage," as well as the positions of the sun and moon.
---
Specifications:
Physical:
Case: Fully-gasketed, waterproof to one meter for 30 minutes
Size: 2.2�H x 4.5�W x 0.9�D (5.6 x 11.4 x 2.3 cm)
Weight: Appr. 5.5 ounces (156 g)
Display: 1.5″H x 2.2″W (3.8 x 5.6 cm), 240 x 160 pixels, 256-color, high resolution, transflective TFT with backlighting
Internal memory: 115 MB
Antenna: Flip-up patch, MCX-type connector for optional external GPS antenna
Performance:
Receiver: 12 parallel channel
Acquisition time: Cold � appr. 45 seconds
Warm – appr. 15 seconds
First time – appr. 2 minutes
Update Rate: 1 second continuous
Position Accuracy: less than 15 meters (49 ft)
less than 3 meters with WAAS
Data storage: Indefinite; no memory battery required

Navigation:
Waypoints: 500 with name, category, comment, and graphic symbol
Track Log: 10,000 track log points
Routes: 50
Power:
Input: 5 volt DC
Usage: 6 watts max. @ 13.8-volt DC
Battery: Rechargeable lithium-ion
Battery Life: Up to 20 hours
Price:
Suggested Retail: $449.99 USD
Mean Price Available on Internet: $465.00 USD

---
Practical Use:
The first thing that struck me when I opened the box is that the Quest is SMALL. It would be quite easy to hide or carry around for security purposes. To begin, I installed the MapSource software from the included CDs. I had a little problem here and I think it was because I already had an earlier version of MapSource on my machine. The new software would load only after I removed the old. The Quest comes preloaded with the Americas basemap. Street-level maps needed to be installed from the CDs. The 115 MB memory should be more than enough space for most people.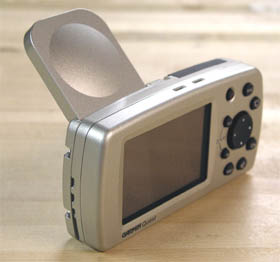 The Quest got a first time lock on 4 satellites within 30 seconds. Satellite signal strength seemed to be good. The flip-up antenna can be positioned so that it is parallel to the ground no matter what angle the receiver is mounted.
I found that when entering an address to route to, navigating around the menus and using the on-screen keyboard was somewhat cumbersome, time-consuming, and not overly intuitive. There is a definite advantage to the touch-screen models with their ease of use, but apparently the screen on the Quest is too small for that feature. Yes, the screen is smaller than with other automotive navigation systems, but it didn't seem to bother me much except sometimes you have to scroll up and down as well as left and right to see all that certain menus have to offer.
Many features are offered on the Quest. For example, if you need to detour while navigating a route, you can specify how far out of the way you want to go. Another handy feature is the "off route" function which re-calculates your route should you vary from the planned route. When you plan your route you can set a route including stops you may want to make along the way. Alternately, the unit can sort multiple destinations and calculate the best route that includes all the chosen waypoints.
The volume level of the voice instructions was disappointing. It would be easy to miss a command at highway speeds or with the blower on max. On the other hand, the quality and brightness of the screen were very good. The suction cup mount was sufficient to hold the Quest to the windshield but in my stiff-riding SUV, the unit bobbed up and down somewhat. A bean bag mount would have taken care of that. Unfortunately, Garmin does not offer a bean bag mount for this model. (In case you're unfamiliar with the bean bag mount, it's a friction mount, sort of like a bean bag, that just sits on your dashboard.)
---
Cons and Pros:
Cons:
Voice guidance could be louder (Note: A reader provided the following relevant information: "…I figured out how to make it a lot louder. If you hold down the volume button for 1 second on the unit the "motorcycle earbud volume control" pops up. It actually controls the volume of the unit…combined with the volume on the 12V plug it gets very loud…" – Thanks to Derek from the US)
Data entry time-consuming
Pros:
Small size
Can be used while on foot
Many features
---
Conclusion:
The Quest gets high marks in most categories except audio volume level and ease of data entry. If you're willing to put up with those disadvantages and need the small size, this unit should please you. And with the built-in lithium-ion battery, it can be used out of the car.
This place often has the best GPS prices…
Return to GPS Home.