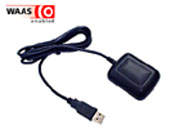 There are several ways to put together a laptop GPS system. For use in an automobile, there are GPS receivers that are made to connect to a laptop via a cable. This allows the receiver to be placed near the windshield where it can gather satellite signals. The wired GPS receivers for a laptop are the most inexpensive way to go. An example of one of these can be found at Mighty GPS. They have a thorough product overview of this item.
(Browse all the other GPS articles and features.)
Bluetooth
Another choice for automobile use is a Bluetooth unit. The wireless technology of Bluetooth allows for greater flexibility. A Bluetooth unit will usually cost more than a cabled receiver. However, Deluo has a relatively inexpensive Bluetooth solution. Mount their Bluetooth GPS receiver anywhere in the vehicle and it will send data to your Bluetooth-enabled laptop. One small catch – it requires an antenna be placed either on the dash or package tray or attached to the outside of the automobile with a magnet. The good thing about an external antenna is that it makes for the best reception (and the antenna is rather small).
CF and PCMCIA

Laptop GPS can also be achieved by means of a compact flash (CF) or PCMCIA card. This method requires that you attach the GPS receiver directly to the laptop. The better PCMCIA/CF models have the capability of adding an external antenna. Placing an external antennas on the vehicle makes for ideal reception. If you're using a laptop GPS without an external antenna, performance of the system will be questionable. However, if the cockpit (be it aircraft, marine vessel, or automobile) is fiberglass, reception is usually satisfactory. Of course, if you want to use a PCMCIA/CF card for laptop GPS outdoors, reception will be fine.
USB GPS Receivers
USB GPS receivers are devices that need to be connected to the USB port of a laptop in order to transform it into a GPS navigator. In general, GPS receivers are compact and can be used with any kind of laptop or netbook. Here is a USB GPS Comparison table that can help you decide which receiver would be best for you.
Laptops and Mapping Software
Laptops make sense in an automobile if there is going to be a passenger to do the navigating. The large screen of a laptop is great for viewing GPS maps. Street atlas and topo map software is available for the laptop. The mapping software can be seen at DeLorme. DeLorme has been producing maps since 1976 and puts out fine products. They have a 30-day money back guarantee if for any reason you're not satisfied.
See related information at GPS and PCMCIAand
GPS Antennas.
Browse all the other GPS articles and features.