Click for printable map of Germany
(Browse all the other World Maps.)
Map of Germany links to other maps
Outline – Unlabeled printer-friendly map of Germany
Shaded Relief – (click on the image to enlarge)
Political – (click on the image to enlarge)
Roads – Go to MapQuest and enter an address to get a custom map of Germany.
Earthquake Activity
Languages
Flags – Click on the map of Germany to see each state's flag.
eBook Maps – Free eBook maps for eBook devices.
For purchase
Germany Of Interest
At almost the size of Montana, Germany is 137,699 square miles. The country can be divided into three major geographic regions: the ranges of the Central Alps and other uplands in the south, the central German uplands, and the low-lying North German plain. Almost two thirds of the country's extensive forests are coniferous. The climate is temperate although there is considerable variation.
Germany has a population of 82,424,609 and is Europe's most populous country. The ethnic groups are German, comprising 92% of the people, Turkish with a little over 2%, and other minorities making up 6%. These are mostly Greek, Italian, Polish, Russian, Serbo-Croatian, and Spanish. Almost all citizens speak German. Danes, Frisians, Gypsies, and Sorbs or Wends comprise the indigenous non-German-speaking minorities. Religions are divided thusly: Protestant 34%, Roman Catholic 34%, and Muslim 3.7%.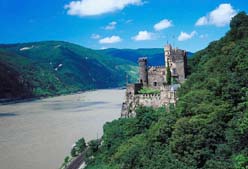 The country is a federal republic with 16 states that have their own governments, constitutions, and legislatures which can pass laws on all matters except those that are the exclusive right of the federal government.
Germany is one of the world's largest exporters. The main economic interests are manufacturing and service industries. Agriculture accounts for about 1% of the gross national product. Manufactured goods include motor vehicles, iron and steel, electronics, machinery and machine tools, chemicals, ships, and food and beverages. Coal and lignite are mined. The chief German agricultural products are potatoes, wheat, rye, sugar beets, fruit, and dairy products. Large numbers of cattle, hogs, and poultry are raised.
See related information at United States Maps
Browse all the other World Maps.