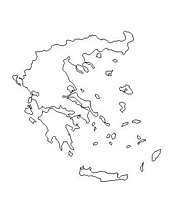 Click for printable map of Greece
(Browse all the other World Maps.)
Map of Greece links to other maps
Outline – Unlabeled printer-friendly map of Greece
Shaded Relief – (click on the image to enlarge)
Political – (click on the image to enlarge)
Earthquake Activity
eBook Maps – Free eBook maps for eBook devices.
For purchase
Travel – Well-detailed folding map by Michelin.
Greece Political Wall Map – Exclusively developed by Maps.com and GRAPHI-OGRE and not available in any store, this wall map was created using high resolution vector digital imagery with state-of-the-art print on demand technology. This process allows Maps.com to offer over-sized laminated wall maps. Ideally suited for light reference, this political wall map includes cities, airports, rivers, lakes, and major roads (not numbered). Available in three sizes.
Greece Of Interest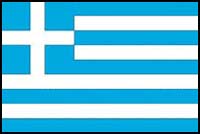 At 50,944 square miles, Greece is about the size of an average U.S. state. The terrain is mostly mountains with ranges extending into the sea as peninsulas or chains of islands. The climate is temperate with mild, wet winters and hot, dry summers. Its highest point is the 9571-foot Mount Olympus.
Excavations show that the first settlement dates from the Palaeolithic era (11,000-3000 BC). Then Greece gave rise to the great civilizations of the Minoan (2600-1500 BC), the Mycenaean (1500-1150 BC) and the Cycladic people on the islands of the Aegean. It was in the Golden Age of Greece that the greatest philosophers and mathematicians lived. This is known as the Classical Period, which lasted from the 6th until the 4th centuries, B.C.
Then the Macedonians formed a strong Empire, followed by the Romans and the Byzantine Empire which ended with the invasion of the Turks. In an attempt to win their freedom, people organized themselves and revolted in response to the Turkish oppressors. The Independence War started in 1821 and lasted 10 years and resulted in the establishment of the new and independent Greek State.
Industry has replaced agriculture as Greece's leading source of income. Tourism is a part of the growing service sector and provides an important source of revenue. The main manufactured goods are processed food and tobacco, metal products, textiles, chemicals, and construction materials. The chief minerals mined are iron ore, lignite, bauxite, and zinc. Greece has a large merchant fleet, and there is a sizable fishing industry in the coastal areas.
See related information at United States Maps
Browse all the other World Maps.