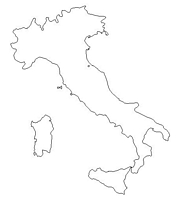 Click for printable map of Italy
(Browse all the other World Maps.)
Map of Italy links to other maps
Outline – Unlabeled printer-friendly map of Italy
Shaded Relief – (click on the image to enlarge)
Political – (click on the image to enlarge)
Roads – Go to MapQuest and enter an address to get a custom map of Italy.
Earthquake Activity – Northern Italy
Earthquake Activity – Southern Italy
Flags – Click on the map of Italy to see each region's flag.
eBook Maps – Free eBook maps for eBook devices.
For purchase
Italy Of Interest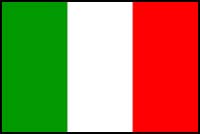 At 116,303 square miles, Italy is about the size of Arizona. It is in Southern Europe and is a peninsula extending into the central Mediterranean Sea. Its terrain is mostly rugged and mountainous, with some plains and coastal lowlands. Italy's climate is predominantly Mediterranean; Alpine in the far north; hot and dry in the south. The highest point is 15,578-foot Mont Blanc de Courmayeur (a secondary peak of Mont Blanc).
About 2000 B.C., the tribes of Italy began engaging in trade which was to delineate the country's history. The Roman republic was founded around 500 B.C., and became prominent with its concept of specific laws, centralized government, city planning, and engineering. The cultural influence shifted to the east (Constantinople) as Rome declined from a population of nearly one million to about 20,000 in the Dark Ages. The 12th and 13th centuries were characterized by strain between the Imperial Power and the Papal Power.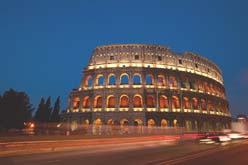 The 15th century marked the beginning of the Italian Renaissance, a period recognized by the revival of the economy, resulting in renewed awareness of classical art, improved quality of life, art, literature, music, university study, and free trade. As the Renaissance grew into the baroque period, Rome emerged once again as a major power. Italy then struggled with the dominations of France and Spain, leading to the unification by Garibaldi in the 1860s.
Italy's 58,057,477 people are predominately Roman Catholic with mature Protestant and Jewish communities and a growing Muslim immigrant community. The languages are Italian (official), German (parts of Trentino-Alto Adige region are predominantly German speaking), and French (small French-speaking minority in Valle d'Aosta region). Italy's chief industries are tourism, machinery, iron and steel, chemicals, food processing, textiles, clothing, and ceramics.
See related information at United States Maps
Browse all the other World Maps.