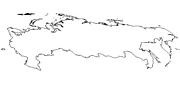 Click for printable map of Russia
(Browse all the other World Maps.)
Map of Russia links to other maps
Outline – Unlabeled printer-friendly map of Russia
Shaded Relief – (click on the image to enlarge)
Political – (click on the image to enlarge)
Roads – Go to MapQuest and enter a city to get a custom map of Russia.
Earthquake Activity
Languages (Europe) – Choose from two detailed maps.
Languages (Asia) – Choose from six detailed maps.
Flags – Click on the map of Russia to see each region's flag.
eBook Maps – Free eBook maps for eBook devices.
For purchase
Russia Of Interest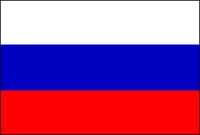 At 6,591,100 square miles, Russia is the world's largest country. It is almost twice the size of the U.S. and has 23,383 miles of coastline. The climate ranges from steppes in the south through humid continental in much of European Russia and subarctic in Siberia to tundra climate in the polar north. Winters vary from cool along the Black Sea coast to frigid in Siberia and summers vary from warm in the steppes to cool along the Arctic coast.
The population of 143,782,338 (July 2004 estimate) is divided among the ethnic groups of Russian 81.5%, Tatar 3.8%, Ukrainian 3%, Chuvash 1.2%, Bashkir 0.9%, Belarusian 0.8%, and Moldavian 0.7%. The main religions are Russian Orthodox and Muslim.
The government type is a federation and the administrative divisions are 49 oblasts, 21 republics, 10 autonomous okrugs, 6 krays, 2 federal cities, and 1 autonomous oblast. Russia gained its independence from the Soviet Union on August 24th, 1991.
Russia ended 2003 with its fifth straight year of growth, averaging 6.5% annually since the financial crisis of 1998. Although high oil prices and a relatively cheap ruble are important drivers of this economic rebound, since 2000 investment and consumer-driven demand have played a noticeably increasing role. Industries include mining coal and metals, production of oil and gas, aircraft and space vehicles, shipbuilding, road and rail transportation equipment, agricultural machinery, construction equipment, electric power generating and transmitting equipment.
See related information at United States Maps
Browse all the other World Maps.