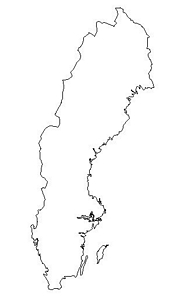 Click for printable map of Sweden
(Browse all the other World Maps.)
Map of Sweden links to other maps
Outline – Unlabeled printer-friendly map of Sweden
Shaded Relief – (click on the image to enlarge)
Political – (click on the image to enlarge)
Roads – Go to MapQuest and enter an address to get a custom map of Sweden.
Earthquake Activity – Use the blue "up" arrow to see the northern part of the country.
Flags – A clickable map showing the flags of the counties.
eBook Maps – Free eBook maps for eBook devices.
For purchase
Sweden Of Interest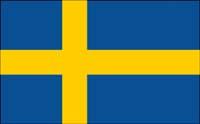 Sweden covers an area of 173,731 square miles, which is a little larger than California. The climate is temperate in the south with cold, cloudy winters and cool, partly cloudy summers in the subarctic north. The terrain is mostly flat or gently rolling lowlands with some mountains in the west. Its highest point is Kebnekaise at 6926 feet.
Sweden's early inhabitants were generally hunters and fishermen. About 500 A.D. the country's inhabitants settled and became a primarily agricultural society. During the Viking Age they went through a period of primarily eastward expansion. Around the 11th century, the provinces of Sweden united to form one country. At approximately the same time, the country became Christianized, although remnants of the pagan Nordic religion survived for another 100 years.
Sweden continued expanding and had taken over Finland during the 12th and 13th centuries. In 1389, Denmark, Norway, and Sweden united under the Danish Queen Margareta. This union broke up in 1521 after the Swedes rebelled when a Danish union king had scores of Swedish officials executed. After that, Gustav Vasa was elected king and for the next 140 years Sweden conquered many areas in the Baltic. A military power during the 17th century, the country has not participated in any war in almost two centuries.
The indigenous population is made up of Swedes and Finnish and Sami minorities. Foreign-born or first-generation immigrants are Finns, Yugoslavs, Danes, Norwegians, Greeks, and Turks. Roman Catholics make up 87% of the population. The official language is Swedish.
Agriculture products are barley, wheat, sugar beets, meat, and milk. Industries include iron and steel, precision equipment (bearings, radio and telephone parts, armaments), wood pulp and paper products, processed foods, and automobiles.
See related information at United States Maps
Browse all the other World Maps.