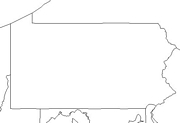 Click for printable map of Pennsylvania
(Browse all the other World Maps.)
Map of Pennsylvania links to other maps
Downloadable
Blank Outline Map – A printer-friendly document.
Roads – You can zoom in and print your own maps at a large scale.
For purchase
Pennsylvania Of Interest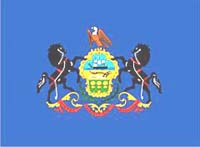 The first known European, Captain John Smith, visited the area in 1608. King Charles II signed the Charter of Pennsylvania in 1681 and it was named in honor of William Penn's father. Pennsylvania became a state in 1787.
Pennsylvania has interesting topography. The Appalachian Plateau lies across the northern and western parts of Pennsylvania and covers more than half of the state. The Great Lakes Plain joins the Appalachian Plateau in the northwestern part of the state. The Allegheny Mountains border the eastern side of the plateau and run northeast to southwest. The Tuscarora, Jacks, and Blue Mountains make up a ridge and valley region bordered by the Great Appalachian Valley to the south and east. The Piedmont Plateau gradually slopes to the Atlantic Coastal Plain in the southeastern portion of the state.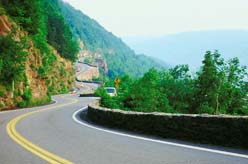 In the west Pennsylvania is drained by the Allegheny and the Monongahela rivers, which form a confluence at Pittsburgh to make the Ohio River. Eastern Pennsylvania is drained by the Delaware and the Susquehanna river systems. The watershed of the central part of the state empties into Chesapeake Bay by way of the West Branch of the Susquehanna.
America's first piano was built in Philadelphia in 1775 . The Declaration of Independence was signed in Philadelphia in 1776 and it was also there that Betsy Ross made the first American flag. The Kinzua Railroad Bridge near Mount Jewett was the highest and longest railroad viaduct in the world when built in 1882. It rises 301 feet from the valley floor at its center, with a total length of 2100 feet.
See related information at United States Maps
Browse all the other World Maps.